By Johanna Read, TravelEater.net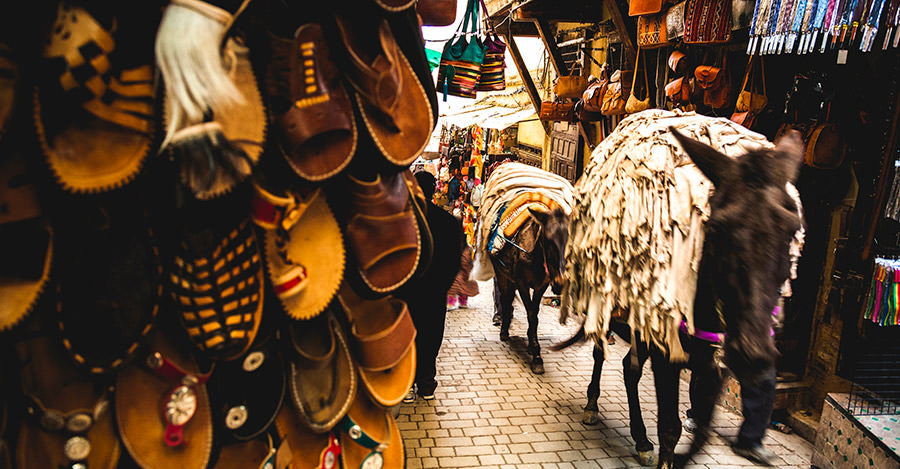 The sights, sounds, and smells of Morocco can be exhilarating. But, especially when you first arrive, they can be overwhelming.
The medina is the oldest part of a north African city, almost always still walled. Historic medinas, several with UNESCO World Heritage status, are popular with tourists, and therefore crowded with visitors and with those who hope to make money from them, on top of the people who live there. As these neighbourhoods are old, they tend to have narrow streets and alleys, usually too narrow for cars. The medina of Fès is said to be the largest car-free urban area in the world. Some medinas were designed to slow down any ancient invaders who could get past the walls, and they are purposely maze-like.
Visiting the medina is an essential part of any trip to Morocco. In fact, you should stay in a hotel — a riad or a dar — within the medina to soak up the Moroccan atmosphere. But to minimize the stressful aspects of the medina, here are some know-before-you-go tips.
Getting lost is half the fun
You will get lost, but you will find your way again. When you leave your hotel in the morning, look around carefully for permanent landmarks. The bright scarves and intricate carpets on display in the shops will be hidden behind closed doors in the evening when you come back from dinner. Instead, look for large potted plants or signs high up on the walls.
Google Maps is an essential tool. When you're in the wifi zone of your hotel, open Google Maps and drop a pin at the location of your hotel. Search a destination you'd like to go to, and have Google plan a route for you. When you're out walking around, the GPS in your phone will be able to track where you are, and you'll see the little blue dot representing your phone move as you walk. This works without a wifi connection and without cell service, though it doesn't work perfectly. The medina maps are not 100% accurate and the GPS can be fooled by the high walls of some of the buildings. But you will be able to find your way, with only one or two wrong turns.
Don't believe "helpful" advice
Local people will offer directions and advice to you, sometimes helpfully and sometimes not. The frequent comment of "c'est fermé" (it's closed) can mean several things:
the alley you're walking down is a dead end
it's a street they assume is not of interest to tourists
they want you to turn around and head to their cousin's shop
they want to help you go somewhere else and receive a tip for doing it.
A useful reply is "I'm exploring", "I'm trying to learn the streets", or "I'm looking for photographs". With a smile — you may end up walking past them again when you realize the street really was a dead end. Refuse help if anyone starts to walk with you, though, or you'll be expected to pay a few dirhams for their assistance.
You don't need a guide, unless you are shopping for specialty items
Even in Fès' labyrinth of 9000 streets and alleyways, you don't need a guide. Google Maps and some patience will always get you where you want to go, eventually.
If you're short on time or looking for a very specific item to buy, a guide can be helpful. But know that all guides will take you shopping and that they will get a cut of the price you pay.
Shopping secrets
Shopkeepers will call out to you as you pass by. There is no need to answer them, though a smile or a nod is polite. Keep moving unless you want negotiations to start.
If a shopkeeper turns aggressive, grabs your elbow to get your attention, or follows you down the street, your best strategy is to ignore them. Engaging in further conversation will only escalate the situation.
When a shopkeeper asks where you're from and whether this is your first visit to Morocco, he is being friendly, but he is also trying to determine the size of your budget and your knowledge about bartering. Fixed-price shops exist, but you will pay a premium for avoiding the time and effort of bargaining.
But bargaining is the norm, and is part of the fun of being in Morocco. It is expected that both parties bargain politely, with good humour and in good faith, and that each will try to get the best price s/he can.
Prices are based not on how much it cost to manufacture, transport and store the goods, but on how much the item is of value to the potential buyer. Pay only as much as the item is worth to you, and you won't feel ripped off. Start your bargaining at about ¼ to ⅓ of the price initially offered. Remember that when you offer a price, you have committed to buy if the seller accepts it. If you accept the mint tea offered, it means you are seriously considering buying. Walking away is a good way to determine if the seller will go lower. But don't haggle too much — your aim should be a fair price. You want the artisan to be paid fairly for his work so that goods aren't mass produced, and you want the shopkeeper to be able to stay in business so that unique stores and products continue.
Beware of touts
Marrakech's Jemaa el-Fnaa square is the worst for aggressive touts. Keep your distance from the snake charmers and men with monkeys. By ignoring them, they may eventually decide that taunting snakes and forcing Barbary macaques to perform tricks for tourists' tips is not lucrative, and this animal cruelty will stop. Plus, you don't want to be surprised by a python or monkey on your shoulder.
The henna ladies are also best avoided. They will grab your hand and start painting a henna design on you if you hesitate even a few seconds, and then demand ridiculous fees from you. If you refuse to pay, they'll smear the design and leave you with a wet, sticky, staining mess. If you'd like a henna tattoo, ask at your hotel to ensure you pay a fair price and the artist uses quality henna.
Drink the orange juice and explore
The orange juice sold at street carts is fresh-squeezed and delicious. Costing under $1, it's like bringing sunshine to your lips. Plus it will give you energy to explore more of Morocco outside of Fès' and Marrakech's busy medinas — try the capital of Rabat, the blue city of Chefchaouen, and the charming holy city of Moulay Idriss next door to the UNESCO Volubilis ruins.
Johanna Read is a Canadian freelance writer and photographer specializing in travel, food and responsible tourism. She writes for a variety of print and digital publications to promote unique destinations and experiences and encourage sustainable travel. In one year Johanna visited six continents, but since then has only been able to hit five annually (not yet getting back to Australia, with Antarctica still eluding her). Follow Johanna on Instagram and on Twitter. Links to her writing and photographs are at TravelEater.net.