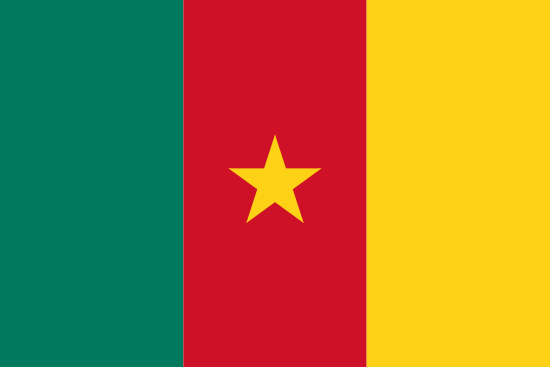 Travel Vaccines and Advice for Cameroon
Cameroon is home to famous national parks and is noted for its biodiversity.
It is known as "Africa miniature" because of its diversity. It is home to over 200 different linguistic groups. The country also houses the tallest mountain in sub-Saharan Africa, Mt. Cameroon. The capital of Cameroon is Yaounde, which is located in the south-central part of the country.
Tourism in Cameroon is steadily increasing. Tourists are also fond of the cultural traditions and superb hospitality provided by the locals.
Do I Need Vaccines for Cameroon?
Yes, some vaccines are recommended or required for Cameroon. The National Travel Health Network and Centre and WHO recommend the following vaccinations for Cameroon: COVID-19, hepatitis A, hepatitis B, typhoid, cholera, yellow fever, rabies, meningitis, polio and tetanus.
See the bullets below to learn more about some of these key immunisations:
See the tables below for more information:
Recommended Travel Vaccinations for Cameroon

VACCINE
HOW DISEASE SPREADS
DETAILS

COVID-19
Airborne
Recommended for all travellers
Hepatitis A
Food & Water
Recommended for most travellers to the region, especially if unvaccinated.
Hepatitis B
Blood & Body Fluids
Accelerated schedule available
Tetanus
Wounds or Breaks in Skin
Recommended for travelers to most regions, especially if not previously vaccinated.
Typhoid
Food & Water
Jab lasts 3 years. Oral vaccine lasts 5 years, must be able to swallow pills. Oral doses must be kept in refrigerator.
Cholera
Food & Water
Recommended for travel to most regions.
Yellow Fever
Mosquito
Required for all travellers over 9 months of age.
Rabies
Saliva of Infected Animals
High risk country. Vaccine recommended for long-stay travellers and those who may come in contact with animals.
Meningitis
Airborne & Direct Contact
Located in the meningitis belt, vaccination is recommended during the dry season (Dec. – June)
Polio
Food & Water
Polio is present in Cameroon. Vaccination recommended for some travellers.
There is a risk of contracting the dengue or malaria whilst in Cameroon. Both mosquito-borne diseases are potentially life-threatening. Be sure to use mosquito repellents and consider taking a antimalarial medication.
There is a threat of meningitis due to the country's location in Africa. Travellers should receive a meningitis vaccine, especially if visiting between December and June.
Traveller's diarrhoea is a risk for those visiting Cameroon. Ensure to include a traveller's diarrhoea kit on your packing list.
Visit our vaccinations page to learn more. Travel safely with Passport Health and schedule your appointment today by calling or book online now.
Do I Need a Passport for Cameroon?
To visit Cameroon, a visa is required. Passports must have at least six months validity. Proof of yellow fever vaccination is required to enter the country. If you do not have proof of vaccination, you may be vaccinated on site, quarantined or returned to your previous location.
Cameroon Entry Requirements

Do I Need A…
For My Trip to Cameroon?

Passport
Tourist Visa
Business Visa
Vaccinations
Sources: Embassy of Cameroon and GOV.UK
What is the Climate Like in Cameroon?
The climate in Cameroon is very diverse.
The south is very hot and dry from November to February, and the rainy season lasts from June to October.
Temperatures in the North are more diverse. The rainy season is from May to October. Inland, the grasslands tend to be much cooler than coastal regions and experience regular rainfall.
The best months to visit Cameroon are January through April.
How Safe is Cameroon?
Travellers should exercise a high level of caution when visiting Cameroon. The Boko Haram terrorist group is active and targets foreign residents, tourists, and government leaders in northern regions. Boko Haram is also responsible for dozens of suicide bombings in the North and Far North region.
Avoid travelling to the north and far north regions, parts of eastern Cameroon, and the Adamawa regions. These areas experience a high level of violent crime and terrorist threats.
Travellers should also exercise extreme caution when travelling within 100 kilometres of bordering countries. While visiting, monitor security messages from the embassy for updates.
Dja Faunal Reserve
The Dja Faunal Reserve is a UNESCO World Heritage Site. It is one of the largest and best protected rainforests in Africa as 90% of the area is undisturbed. It is home to 107 mammal species, including 5 that are threatened. The Dja Faunal Reserve is often noted for its biodiversity, and primate habitats. For travellers who seek to witness the untouched natural beauty of Africa, the Dja Faunal Reserve is a must-see.
What Should I Pack for Cameroon?
Cameroon is not your average destination and requires a bit extra travel preparation. Ensure you bring the following items with you:
Insect repellent to help ward off mosquitoes and ticks. There is a risk of contracting Zika in Cameroon. Take appropriate precautions to prevent mosquito bites.
A rain jacket and umbrella. Especially if you are travelling to Cameroon during the rainy season.
A pair of good walking boots for hikes. There are numerous beautiful hiking trails available to tourists. Hiking boots are highly encouraged as some of these trails can be treacherous and muddy.
Electrical adapters. There are both French and UK plugs throughout Cameroon.
Cool cotton garments are great for the heat in Cameroon. It important to dress modestly when attending religious sites.
Water purification tablets if you plan on camping or visiting remote areas.
Embassy of the United Kingdom in Cameroon
If you are in Cameroon and have an emergency (for example, been attacked, arrested or someone has died) contact the nearest consular services. Contact the embassy before arrival if you have additional questions on entry requirements, safety concerns or are in need of assistance.
British High Commission Yaounde
British High Commission in Yaounde
Avenue Winston Churchill
Yaounde
Centre Region
547
Cameroon
Telephone: +237 222 22 07 96
Emergency Phone: +237 222 22 07 96
Fax: +237 222 22 01 48
Email: bhc.yaounde@fco.gov.uk
If you have any questions about travelling to Cameroon or are wondering which jabs you may need for your trip, schedule an appointment with your local Passport Health travel medicine clinic. Ring us up at or book online now and protect yourself today.
On This Page:
Do I Need Vaccines for Cameroon?
Do I Need a Passport for Cameroon?
What is the Climate Like in Cameroon?
How Safe is Cameroon?
Dja Faunal Reserve
What Should I Pack To Cameroon?
Embassy of the United Kingdom in Cameroon