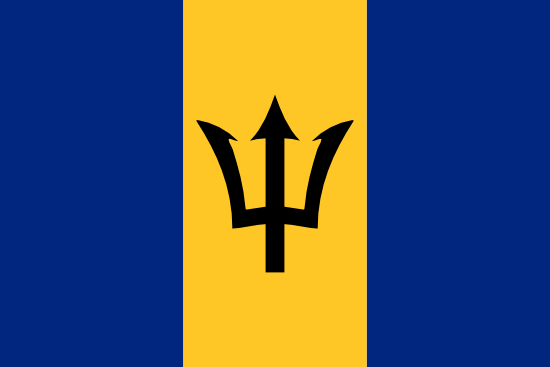 Travel Vaccines and Advice for Barbados
Barbados is one of the most beautiful and welcoming islands in the Caribbean.
The island is deeply-rooted in a history of sugarcane exports. But, over time, the country's famous seasides became a common tourist-attraction. There are nearly 100 white and pink-sand seasides meeting teal-blue ocean water.
From kite-surfing and jet-skiing, to deep-sea fishing and sailing, Barbados offers many offshore activities.
Do I Need Vaccines for Barbados?
Yes, some vaccines are recommended or required for Barbados. The National Travel Health Network and Centre and WHO recommend the following vaccinations for Barbados: COVID-19, hepatitis A, hepatitis B, yellow fever, rabies and tetanus.
See the bullets below to learn more about some of these key immunisations:
See the tables below for more information:
Recommended Travel Vaccinations for Barbados

VACCINE
HOW DISEASE SPREADS
DETAILS

COVID-19
Airborne
Recommended for all travellers
Hepatitis A
Food & Water
Recommended for most travellers to the region, especially if unvaccinated.
Hepatitis B
Blood & Body Fluids
Accelerated schedule available
Tetanus
Wounds or Breaks in Skin
Recommended for travelers to most regions, especially if not previously vaccinated.
Yellow Fever
Mosquito
Required if travelling from a country with risk of yellow fever transmission.
Rabies
Saliva of Infected Animals
Vaccine recommended for long-stay travellers and those who may come in contact with animals.
Dengue and Zika viruses are both present in Barbados. These mosquito-borne infections pose a risk to all travellers, especially pregnant women. Ensure you're protected by using mosquito netting and repellents.
Visit our vaccinations page to learn more. Travel safely with Passport Health and schedule your appointment today by calling or book online now.
Do I Need a Passport or Visa for Barbados?
A visa is not required for travel to Barbados. Upon entry, a specific period of stay is determined. Staying beyond that time will incur penalties.
Passports must be valid for the duration of the stay. Proof of yellow fever vaccination may be required if you are travelling from a region where yellow fever is present.
A departure tax of between $35 and $70 USD is applied, but usually included in the price of a ticket.
Barbados Entry Requirements

Do I Need A…
For My Trip to Barbados?

Passport
Tourist Visa
Business Visa
Vaccinations
Sources: Embassy of Barbados and GOV.UK
What Is Barbados's Climate?
Given the country's tropical location, Barbados is sunny and warm year round. Being in the middle of the ocean, there is a constant breeze that keeps even the hottest months bearable. There isn't much rain, but when there is, it usually comes and leaves in quick spurts.
Given the size of the island, there is little fluctuation in climate. Everywhere will be warm and temperate throughout the year, with towns right on the coast being cooler.
How Safe and Secure is Barbados?
Barbados is one of the safest locations in the Caribbean. There are occasional petty crimes such as pick-pocketing. But, as long as travellers take minimal precautions, there should be no issues. As with most places, travel in pairs and avoid walking around more remote areas at night.
Is the Food In Barbados Safe?
The food in Barbados is generally safe to eat. Try to only go to trusted restaurants or street vendors. Most dishes include some form of meat. To avoid illness, ensure the food is cooked all the way through. If it is served underdone (such as sushi) ensure it is from a nearby, fresh source.
Be sure to bring a traveller's diarrhoea kit in case any of the food creates a gastric problem.
Visit a Famous Horse Racing Track
Barbados has been a destination for horse-racing since the mid 1800's. The Garrison Savannah Barbados Racetrack has been a cultural attraction for over a century. The racetrack offers intimate proximity to the track and a world-class lounge with Caribbean flare. Sport a pastel kit, a classy, over-the-top hat and bet on your favourite horse.
What Should I Take to Barbados?
When packing for Barbados, travellers should plan for the warm weather. Be sure to include:
Lightweight and airy shirts and trousers
Sun hats and sunnies
Mosquito repellent
A light jumper or jacket because temperatures tend to cool off in the late evenings
Embassy of the United Kingdom in Barbados
If you are in Barbados and have an emergency (for example, been attacked, arrested or someone has died) contact the nearest consular services. Contact the embassy before arrival if you have additional questions on entry requirements, safety concerns or are in need of assistance.
British High Commission, Bridgetown
Lower Collymore Rock
PO Box 676
Bridgetown
Barbados
Telephone: + 1 246 430 7800
Emergency Phone: + 1 246 430 7800
Fax: + 1 246 430 7860
Email: ukinbarbados@fco.gov.uk
Stay safe abroad with Passport Health. Ring or book online now and start travelling safely today!
On This Page:
Do I Need Vaccines for Barbados?
Do I Need a Passport or Visa for Barbados?
What Is Barbados's Climate?
How Safe and Secure is Barbados?
Is the Food In Barbados Safe?
Visit a Famous Horse Racing Track
What Should I Take to Barbados?
Embassy of the United Kingdom in Barbados