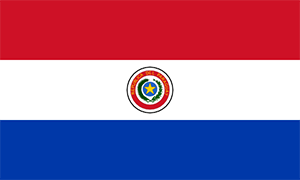 Travel Vaccines and Advice for Paraguay
Paraguay is located in central South America. It is a landlocked country that is bordered by Argentina, Brazil, and Bolivia. It is also on the Paraguay River and is often referred to as the Heart of South America.
There are many activities in Paraguay for travellers to do. You can take a day trip to Iguassu Falls, see the Itaipu Dam, go on the Foz Iguacu City Tour, and so much more. You can also visit some of Paraguay's top attractions like the Yaguaron Church and the Colonist's Museum.
Whether you're a nature lover, want to see the sites or are interested in Paraguay's culture, it is a perfect place to be. There is so much to see and do when you come to Paraguay.
Do I Need Vaccines for Paraguay?
Yes, some vaccines are recommended or required for Paraguay. The National Travel Health Network and Centre and WHO recommend the following vaccinations for Paraguay: COVID-19, hepatitis A, typhoid, yellow fever, rabies and tetanus.
See the bullets below to learn more about some of these key immunisations:
See the tables below for more information:
Recommended Travel Vaccinations for Paraguay

VACCINE
HOW DISEASE SPREADS
DETAILS

COVID-19
Airborne
Recommended for all travellers
Hepatitis A
Food & Water
Recommended for most travellers to the region, especially if unvaccinated.
Tetanus
Wounds or Breaks in Skin
Recommended for travelers to most regions, especially if not previously vaccinated.
Typhoid
Food & Water
Jab lasts 3 years. Oral vaccine lasts 5 years, must be able to swallow pills. Oral doses must be kept in refrigerator.
Yellow Fever
Mosquito
Required if travelling from a region with yellow fever. Recommended for all travellers over 9 months of age.
Rabies
Saliva of Infected Animals
High risk country. Vaccine recommended for long-stay travellers and those who may come in contact with animals.
While Paraguay has not had a yellow fever outbreak in recent years, some bordering countries have. Ensure you receive a yellow fever vaccine before your trip.
Malaria and dengue are also present in Paraguay. Be sure to bring repellent and netting. Antimalarials may be recommended depending on your travel plans.
See our vaccinations page to learn more about these infections and vaccines. Ready to protect yourself? Book your travel health appointment today by calling or schedule online now.
Do I Need a Passport or Visa for Paraguay?
No visa is required for stays under 90 days in Paraguay. Passports must be valid for the duration of your trip. Proof of yellow fever vaccination may be required if you are travelling from a region where yellow fever is present.
Paraguay Entry Requirements

Do I Need A…
For My Trip to Paraguay?

Passport
Tourist Visa
Business Visa
Vaccinations
Sources: Embassy of Paraguay and GOV.UK
What Is the Climate like in Paraguay?
The climate is subtropical, and their rainy season occurs in the summer from October to April. Rainfall is determined by how close a certain region is located to the sea. The rainfall increases in the east and decreases in the western areas.
Chaco has warm summers as well as warm winters. December to March has temperatures in the high-20's. The winters are dry and temperate with temperatures in the high-10's. It is the best time to visit Paraguay during the months from May to September.
How Safe Is Paraguay?
Paraguay, like any place you go to, has some things you should be aware of before you travel.
Terrorism — There's no specific danger to lookout for says the Embassy of the United Kingdom. But, you should still be aware of your surroundings. The Ejercito del Paraguayo is an anti-government militant group present in some regions.
Crime — Arms and narcotic trafficking is something travellers should be cognizant of. If you are planning to travel outside the capital, stick to your set travel itinerary. Street crimes and thievery also exist in Paraguay. Again it's important to be aware of your surroundings and don't let suspicious people into your home.
The Snow Park
If you love to be active, the Snow Park in Paraguay is a great place to ice skate as well as sledge. It's a fun place for not only adults but children as well. This indoor winter wonderland is located at Av Doctor Luis Maria Argana, Ciudad del Este. The park has a Christmas like atmosphere that will amaze the kids and bring out the kid in you.
What Should I Take to Paraguay?
There are some things you will need to bring on your trip to Paraguay.
Passport and Visa — You must have a valid passport to travel to Paraguay. A blank page is required to be stamped. A visa is also required to come to this country.
Clothes — Casual clothes are good to pack. Neutral colours and wearing neat clothing to restaurants are recommended. Jeans, t-shirts for the summer, and long sleeves and jumpers for the winter. You should also bring sun cream, sunnies, and a sun hat to protect you from the sun's rays.
Health — It's important to pack for your health and safety. Prescription medicines, medical supplies, and over-the-counter medicines should be taken with you. You will also need supplies to prevent illness or injury as well as a first aid kit.
Embassy of the United Kingdom in Paraguay
If you are in Paraguay and have an emergency (for example, been attacked, arrested or someone has died) contact the nearest consular services. Contact the embassy before arrival if you have additional questions on entry requirements, safety concerns or are in need of assistance.
British Embassy Asunción
Edificio Citicenter, Piso 5
Av. Mariscal López y Cruz del Chaco
Asunción
Paraguay
Telephone: + 595 (21) 614 588
Emergency Phone: (021) 614 588
Contact Form: Click Here
Stay safe abroad with Passport Health. Ring or book online now and start travelling safely today!
On This Page:
Do I Need Vaccines for Paraguay?
Do I Need a Passport or Visa for Paraguay?
What Is the Climate like in Paraguay?
How Safe Is Paraguay?
The Snow Park
What Should I Take to Paraguay?
Embassy of the United Kingdom in Paraguay