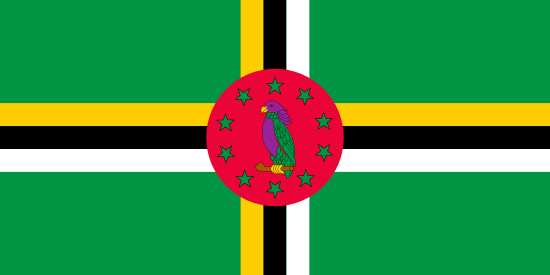 Travel Vaccines and Advice for Dominica
Dominica has been nickname the "Nature Isle of the Caribbean" due to its beautiful natural environment. Marked with lush rainforests, tall mountains, and filled with exotic flora and fauna, the island is a must-visit.
Travellers can go to small fishing villages, giving them a chance to snorkel or dive and see sunken ships. There are also beautiful hiking trails through the rainforest and mountains. Those looking to relax in one of many hot springs in the country. The more adventurous can even find zip-lines to get an amazing view of the country.
Do I Need Vaccines for Dominica?
Yes, some vaccines are recommended or required for Dominica. The National Travel Health Network and Centre and WHO recommend the following vaccinations for Dominica: COVID-19, hepatitis B, yellow fever, rabies and tetanus.
See the bullets below to learn more about some of these key immunisations:
See the tables below for more information:
Recommended Travel Vaccinations for Dominica

VACCINE
HOW DISEASE SPREADS
DETAILS

COVID-19
Airborne
Recommended for all travellers
Hepatitis B
Blood & Body Fluids
Accelerated schedule available
Tetanus
Wounds or Breaks in Skin
Recommended for travelers to most regions, especially if not previously vaccinated.
Yellow Fever
Mosquito
Required if travelling from a country with risk of yellow fever transmission.
Rabies
Saliva of Infected Animals
Vaccine recommended for long-stay travellers and those who may come in contact with animals.
Dengue and Zika are both present on the island. Ensure your protected with repellents or netting. Pregnant women or women who may become pregnant should take extra precautions against Zika.
Visit our vaccinations page to learn more. Travel safely with Passport Health and schedule your appointment today by calling or book online now.
What are Dominica's Entry Requirements?
A visa is not required for Dominica, but entry is provided for a specified period. You must apply for a visa for additional time. Passports must be valid for the duration of your stay. Proof of yellow fever vaccination may be required if you are travelling from a region where yellow fever is present.
A departure tax of about $23 USD is assessed when leaving the country.
Dominica Entry Requirements

Do I Need A…
For My Trip to Dominica?

Passport
Tourist Visa
Business Visa
Vaccinations
Sources: Embassy of Dominica and GOV.UK
What is the Climate Like in Dominica?
Dominica is nearly always warm, with temperatures remaining stable throughout the year. Rains are less common the coast than inland, but are not uncommon. Peak hurricane season is late August to early September.
Roseau – The temperatures in Dominica's capital are nearly always high. The hottest month is August, with average highs around 31 degrees Celsius. The coolest month is December. November has the most rain. Prepare according to the time of your visit.
Marigot – Marigot is located in northeastern Dominica. The warmest month is August, with average temperatures around 26 to 30 degrees Celsius. Winter months bring rain, whilst summers are dry.
How Safe is Dominica?
Crimes such as murder, rape, robbery, and burglary do occur in Dominica. Travel only in well-lit areas and avoid travelling alone if possible. Do not leave valuable items unattended in public areas including seasides.
Petty crime, such as pick-pocketing or bag-snatching, can also occur. Avoid carrying unnecessary valuables with them. Avoid demonstrations or large gatherings, as they are good opportunities for pick-pocketing.
Take extra precautions at seasides, night clubs or other public areas. Try to travel in groups and avoid wearing anything that will attract undue attention.
Visiting Papillote Wilderness Retreat
Papillote Wilderness Retreat is Dominica's first eco-tourist area. Located on the rainforest slope Morne Macaque, it is near two different rainforests and volcanic pools.
The gorgeous hot pools are fed by a constant stream of natural spring water.
For those who get too warm, there are many cold rivers flowing through the grounds to cool off in. There are also ten acres of wilderness to explore, which have a plethora of exotic flora and fauna.
What Should I Take to Dominica?
Caribbean nations are some of the most popular destinations for travel. But, it's important to ensure you have everything you need before travelling.
Light Clothing – It can get very hot and humid in Dominica. You will be most comfortable in light, flowy clothing.
Sun Cream – Lounging on the seaside or exploring the outdoors is a must in Dominica. Ensure to lather up in sun cream first to preventing burning.
Mosquito Repellent – Mosquito-borne diseases are common in many parts of Dominica. Ensure you're protected with repellents and any needed vaccinations.
Jumper or Jacket – Nights can be chilly in some areas at various times of the year. Ensure to bring a light jacket or jumper just in case.
Embassy of the United Kingdom in Dominica
If you are in Dominica and have an emergency (for example, been attacked, arrested or someone has died) contact the nearest consular services. Contact the embassy before arrival if you have additional questions on entry requirements, safety concerns or are in need of assistance.
While there is no consulate or embassy in Dominica, it is served by the British embassy in Barbados:
British High Commission, Bridgetown
Lower Collymore Rock
PO Box 676
Bridgetown
Barbados
Telephone: + 1 246 430 7800
Emergency Phone: + 1 246 430 7800
Fax: + 1 246 430 7860
Email: ukinbarbados@fco.gov.uk
Ready to start your next journey? Ring us up at or book online now!
On This Page:
Do I Need Vaccines for Dominica?
What are Dominica's Entry Requirements?
What is the Climate Like in Dominica?
How Safe is Dominica?
Visiting Papillote Wilderness Retreat
What Should I Take to Dominica?
Embassy of the United Kingdom in Dominica