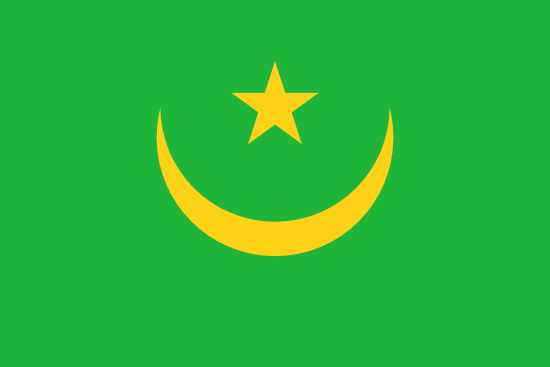 Travel Vaccines and Advice for Mauritania
Mauritania is one of the least-densely populated countries in the world, with many of its citizens residing in a single city. The majority of the population is concentrated in the south due to the desert region in the north.
Human Rights issues are present in Mauritania, mostly slavery, in which 4% of the population is enslaved. Mauritania has also received international scrutiny for its justice system.
Mauritania has a variety of languages including French, Pulaar, Soninke, and different forms of Arabic. Nearly everyone in the country practices Islam.
Do I Need Vaccines for Mauritania?
Yes, some vaccines are recommended or required for Mauritania. The National Travel Health Network and Centre and WHO recommend the following vaccinations for Mauritania: COVID-19, hepatitis A, hepatitis B, typhoid, cholera, yellow fever, rabies, meningitis, polio and tetanus.
See the bullets below to learn more about some of these key immunisations:
See the tables below for more information:
Recommended Travel Vaccinations for Mauritania

VACCINE
HOW DISEASE SPREADS
DETAILS

COVID-19
Airborne
Recommended for all travellers
Hepatitis A
Food & Water
Recommended for most travellers to the region, especially if unvaccinated.
Hepatitis B
Blood & Body Fluids
Accelerated schedule available
Tetanus
Wounds or Breaks in Skin
Recommended for travelers to most regions, especially if not previously vaccinated.
Typhoid
Food & Water
Jab lasts 3 years. Oral vaccine lasts 5 years, must be able to swallow pills. Oral doses must be kept in refrigerator.
Cholera
Food & Water
Recommended for travel to most regions.
Yellow Fever
Mosquito
Required if travelling from a region with yellow fever. Recommended for all travellers over 9 months of age travelling south of the Sahara.
Rabies
Saliva of Infected Animals
High risk country. Vaccine recommended for long-stay travellers and those who may come in contact with animals.
Meningitis
Airborne & Direct Contact
Located in the meningitis belt, vaccination is recommended during the dry season (Dec. – June)
Polio
Food & Water
Considered a routine vaccination for most travel itineraries. Single adult booster recommended.
Proof of yellow fever immunisation is required for entry to Mauritania. The mosquito-borne disease is still present in the African nation.
Malaria is also a risk for travellers to the region. Antimalarial medication is recommended.
Dengue and chikungunya are two more mosquito-borne infections found in Mauritania. While there is no vaccine against these diseases, repellents and mosquito netting are the best forms of protection.
Medical care is limited in Mauritania. There are facilities in large urban areas, but pharmacies may not be well-stocked. It is advised that you bring your own prescriptions and medicines.
See our vaccinations page to learn more about these infections and vaccines. Ready to protect yourself? Book your travel health appointment today by calling or schedule online now.
Do I Need a Visa or Passport for Mauritania?
A visa is required for all travel to Mauritania. Passports must have at least three months validity. Proof of yellow fever vaccination is required to enter the country. If you do not have proof of vaccination, you may be vaccinated on site, quarantined or returned to your previous location.
Mauritania Entry Requirements

Do I Need A…
For My Trip to Mauritania?

Passport
Tourist Visa
Business Visa
Vaccinations
Sources: Embassy of Mauritania and GOV.UK
What is the Climate Like in Mauritania?
The majority of the Mauritania is a desert climate. The southern regions are semi-desert in the summer monsoon season (June-October).
Day-time temperatures can reach over 37 degrees and nights are often under 12.
Trade winds and rain are the biggest factors determining temperatures.
How Safe is Mauritania?
There is currently a travel warning for all travellers to Mauritania. This travel warning is due to terrorist activity in the neighbouring country of Mali.
It is discouraged to travel outside of urban areas or use roads outside of urban areas. If this is a necessity for you, you should travel in a convoy and with a guide. There is a risk of landmines in the Western Sahara.
UK citizens have been targets for violent crimes in Nouakchott, including armed robberies.
Bird Watching in Mauritania
Along the Atlantic coast, Parc National du Banc d'Arguin welcomes birds of all species that are migrating from Europe to Africa. Recognized as a World-Heritage site, this national park is the perfect place for bird-watching and is considered one of the best places to bird-watch in Africa.
You can enter the park best by boat if you take one from a small village called Iwik. The park itself is made up of sand-dunes, swamps and coastal waters.
Millions of birds are recorded coming to this spot every year, including sandpipers, flamingos, pelicans, and egrets.
The best time of year to visit the park is in December and January, which is mating season.
What Should I Take To Mauritania?
Here are some essential items to consider for your trip to Mauritania:
Modest Dress – Any jewelry can be seen as immodest.
Scarf – Women should wear scarves to cover their heads.
Glasses – If you wear contacts, you might want to consider glasses due to blowing sand.
Water Purification Tablets – to avoid contaminated drinking water.
Embassy of the United Kingdom in Mauritania
If you are in Mauritania and have an emergency (for example, been attacked, arrested or someone has died) contact the nearest consular services. Contact the embassy before arrival if you have additional questions on entry requirements, safety concerns or are in need of assistance.
While there is no consulate or embassy in Mauritania, it is served by the British embassy in Morocco:
British Embassy Nouakchott
Rue 42-163,
B.P. 213,
Tevragh Zeina
Telephone: +222 45256986
If you have any questions about travelling to Mauritania or are wondering which jabs you may need for your trip, schedule an appointment with your local Passport Health travel medicine clinic. Ring us up at or book online now and protect yourself today.
On This Page:
Do I Need Vaccines for Mauritania?
Do I Need a Visa or Passport for Mauritania?
What is the Climate Like in Mauritania?
How Safe is Mauritania?
Bird Watching in Mauritania
What Should I Take To Mauritania?
Embassy of the United Kingdom in Mauritania