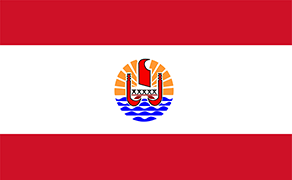 Travel Vaccines and Advice for French Polynesia
In French Polynesia travellers will see the many shades of blue of the ocean and experience cool waters. The mountain views will take your breath away with their moss green peaks. If you want to experience life at a slow pace and lay back and relax, French Polynesia is the place for you.
There are many activities to enjoy in French Polynesia. You can dive and snorkel in Rangiroa, watch the whales in Rurutu, and much more. There are also sites to experience art, music, and dance of French Polynesia.
French Polynesia offers travellers fresh ingredients like fish, taro, and fruits to experience. These ingredients are prepared in many ways. Cuisines include savoury vanilla sauces, Chinese specialties and gratins.
There is so much to discover in French Polynesia whether it's in the water or on land. If you're interested in island life, then this is the perfect fit for you. French Polynesia awaits you.
Do I Need Vaccines for French Polynesia?
Yes, some vaccines are recommended or required for French Polynesia. The National Travel Health Network and Centre and WHO recommend the following vaccinations for French Polynesia: COVID-19, hepatitis A, hepatitis B, typhoid, yellow fever, rabies and tetanus.
See the bullets below to learn more about some of these key immunisations:
See the tables below for more information:
Recommended Travel Vaccinations for French Polynesia

VACCINE
HOW DISEASE SPREADS
DETAILS

COVID-19
Airborne
Recommended for all travellers
Hepatitis A
Food & Water
Recommended for most travellers to the region, especially if unvaccinated.
Hepatitis B
Blood & Body Fluids
Accelerated schedule available
Tetanus
Wounds or Breaks in Skin
Recommended for travelers to most regions, especially if not previously vaccinated.
Typhoid
Food & Water
Jab lasts 3 years. Oral vaccine lasts 5 years, must be able to swallow pills. Oral doses must be kept in refrigerator.
Yellow Fever
Mosquito
Required if travelling from a country with risk of yellow fever transmission.
Rabies
Saliva of Infected Animals
Vaccine recommended for long-stay travellers and those who may come in contact with animals.
Dengue is present in some parts of French Polynesia. This mosquito-borne disease can be deadly. Be sure to bring mosquito repellent and netting.
Visit our vaccinations page to learn more. Travel safely with Passport Health and schedule your appointment today by calling or book online now.
Do I Need a Visa for French Polynesia?
A visa is not needed for stays in French Polynesia under 90 days. Passports must be valid for the duration of a traveller's stay.
French Polynesia Entry Requirements

Do I Need A…
For My Trip to French Polynesia?

Passport
Tourist Visa
Business Visa
Vaccinations
Sources: Embassy of French Polynesia and GOV.UK
What Is the Climate like in French Polynesia?
This country has a mixture of tropical climates. French Polynesia's higher regions have a subtropical climate because of the temperatures. A tropical savanna climate and unpredictable weather are what French Polynesia mainly experiences.
The western islands of Tahiti and Bora Bora have dry and wet seasons. From June until October travellers will see the least amount of precipitation. But, after these months pass the precipitation increases. The north, south, and east islands don't see this increase in precipitation.
French Polynesia is located in a region with severe tropical weather. Hurricane season starts from the end of October until June.
How Safe Is French Polynesia?
French Polynesia has a low crime rate. But, petty crimes like pick pocketing and purse snatching do occur. Travellers should keep an eye on their valuables and be aware of their surroundings at night. Do not purchase forged or pirated goods because you're breaking the law.
Grotte aux pas (Cave of Footprints)
There is much to do in French Polynesia. It's also known as the cave of footprints and is located in Marquesas, which is near the south east coast of Ua Huka.
The cave has a spooky like feel to travellers who come upon the cave at the seaside. Fine sand covers the entrance of the cave. Travellers can see the footprints of unknown beings in the sand before the tide comes in.
What Should I Take to French Polynesia?
Before you come to French Polynesia, there are some things you need to take with you on your trip.
Currency — French Polynesia's currency is the Pacific French Franc (CFP). There are banks on the main islands and hotels that also help with the exchange of currency.
Cash and Credit Cards — You can bring both. Not all places accept credit cards. Travellers' checks are also another option. ATMs are available on the main islands to use for credit and debit cards.
Health and Safety — Ensure to bring all recommended medications with you for your trip.
Embassy of the United Kingdom in French Polynesia
If you are in French Polynesia and have an emergency (for example, been attacked, arrested or someone has died) contact the nearest consular services. Contact the embassy before arrival if you have additional questions on entry requirements, safety concerns or are in need of assistance.
While there is no consulate or embassy in French Polynesia, it is served by the British embassy in New Zealand:
British High Commission New Zealand
44 Hill Street
Thorndon
Wellington 6011
New Zealand
Telephone: +64 (0) 4 924 2888
Fax: +64 (0) 4 473 4982
Contact Form: Click Here
Stay safe abroad with Passport Health. Ring or book online now and start travelling safely today!
On This Page:
Do I Need Vaccines for French Polynesia?
Do I Need a Visa for French Polynesia?
What Is the Climate like in French Polynesia?
How Safe Is French Polynesia?
Grotte aux pas (Cave of Footprints)
What Should I Take to French Polynesia?
Embassy of the United Kingdom in French Polynesia