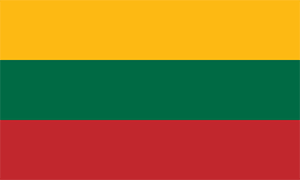 Travel Vaccines and Advice for Lithuania
Lithuania is a Baltic country nestled in northeastern Europe.
In Vilnius, the capital of Lithuania, is a historic stop on any Lithuanian holiday. While the city has many older sites, there is also great nightlife with restaurants, bars and pubs. There are also various high-end boutiques and expensive shopping destinations in Vilnius. The Old Town area of Vilnius is one of the largest medieval towns, and is a UNESCO World Heritage site.
With many diverse experiences, Lithuania is an elegant, captivating country.
Do I Need Vaccines for Lithuania?
Yes, some vaccines are recommended or required for Lithuania. The National Travel Health Network and Centre and WHO recommend the following vaccinations for Lithuania: COVID-19, hepatitis A, hepatitis B, tickborne encephalitis, rabies and tetanus.
See the bullets below to learn more about some of these key immunizations:
See the table below for more information:
Recommended Travel Vaccinations for Lithuania

VACCINE
HOW DISEASE SPREADS
DETAILS

COVID-19
Airborne
Recommended for all travellers
Hepatitis A
Food & Water
Recommended for most travellers to the region, especially if unvaccinated.
Hepatitis B
Blood & Body Fluids
Accelerated schedule available
Tetanus
Wounds or Breaks in Skin
Recommended for travelers to most regions, especially if not previously vaccinated.
Tickborne Encephalitis
Ticks or Unpasteurised Products
Transmission is widespread. Spread is most common from early spring to late autumn.
Rabies
Saliva of Infected Animals
High risk country. Vaccine recommended for long-stay travellers and those who may come in contact with animals.
See our vaccinations page to learn more about these infections and vaccines. Ready to protect yourself? Book your travel health appointment today by calling or schedule online now.
Do I Need a Passport or Visa for Lithuania?
No visa is required for stays under three months in Lithuania. Passports must be valid for the duration of your stay.
Lithuania Entry Requirements

Do I Need A…
For My Trip to Lithuania?

Passport
Tourist Visa
Business Visa
Vaccinations
Sources: Embassy of Lithuania and GOV.UK
What Is The Climate Like In Lithuania?
Lithuania has a humid continental climate. In January, temperatures will dip to around -5 degrees with plenty of snow. Summers are warmer, usually in the high-10's. Be sure to bring weather appropriate clothing for your trip.
How Safe Is Lithuania?
Lithuania is a generally safe destination. But, there are some key items to be aware of.
Avoid public demonstrations, which often occur in large cities, whilst in Lithuania.
Ethnic groups, foreigners and members of the LGBTI community have been targets of robbery and harassment. These often are more likely to occur at night, near nightclubs or bars.
The most common crimes in Lithuania are crimes of opportunity, such as pick-pocketing. These occur in tourist areas, public transportation and in restaurants. Always be aware of your surroundings and avoid walking alone at night. Car theft and robberies in cars are common. Avoid leaving valuables in hire cars. Only use trusted taxi services arranged by phone.
Traversing Transportation in Lithuania
While on holiday in Lithuania, you will need a mode of transportation. While you can motor with a valid licence in Lithuania, there are other choices. Pick-pocketing on public transport is common.
Do not take unregistered taxis. Call for your taxis from a recognized, reputable company. You may even ask your hotel receptionist to do so for you.
Walking in Lithuania may also be a concern if you are not vigilant or prepared. Pick-pocketing can occur whilst on your feet, especially in crowded areas, so stay aware. Bring shoes that will be comfortable for walking if you plan to do most of your transportation on foot.
What Should I Pack for Lithuania?
Lithuania is a diverse country. Ensure what you pack reflects what you may need.
Jacket – Evenings in Lithuania, even in the summer, can be chilly. Packing a light jacket ensures you will stay warm.
Nice Clothing – In Europe it is recommended to pack at least one nicer, dressier kit to wear out. The cities of Lithuania are no exception. Many others tend to dress up, particularly in the evening, so you'll be sure to fit right in with local fashion.
Comfortable Shoes – There is a lot of walking when traversing through Lithuania. You'll need to pack a pair of comfortable shoes, to maximise your comfort. In the winter, a pair of comfortable boots will be necessary as you will be facing some snow.
Sunnies – Many travellers to Lithuania recommend bringing sunnies. In the warmer months, the sun can be bright and you will need those glasses to protect your eyes. In the winter, the harsh glare from the vast amounts of white snow can also hurt your eyes.
Embassy of the United Kingdom in Lithuania
If you are in Lithuania and have an emergency (for example, been attacked, arrested or someone has died) contact the nearest consular services. Contact the embassy before arrival if you have additional questions on entry requirements, safety concerns or are in need of assistance.
British Embassy Vilnius
Antakalnio str. 2
Vilnius
LT-10308
Lithuania
Telephone: +370 5 246 2900
Emergency Phone: +370 5 246 2900
Fax: +370 5 246 2901
Contact Form: Click Here
Visit our vaccinations page to learn more. Travel safely with Passport Health and schedule your appointment today by calling or book online now.
On This Page:
Do I Need Vaccines For Lithuania?
Do I Need a Passport or Visa for Lithuania?
What Is The Climate Like In Lithuania?
How Safe Is Lithuania?
Traversing Transportation in Lithuania
What Should I Pack for Lithuania?
Embassy of the United Kingdom in Lithuania