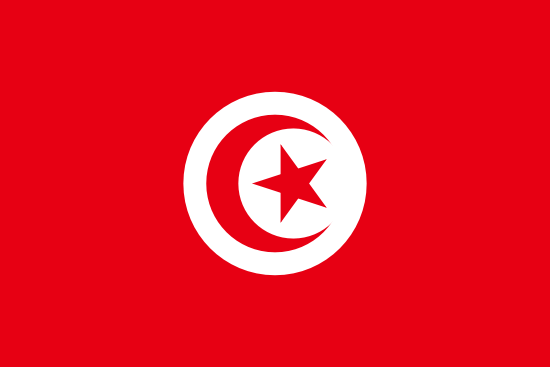 Travel Vaccines and Advice for Tunisia
Tunisia is a small North African country known for its beautiful landscapes and stunning coasts. It's also a good location for travellers who want to experience the Sahara Desert.
Tunisia is home to many impressive archaeological sites, including the city of Carthage.
Today, Tunisia is the perfect destination for travellers who love seafood, and is also known as one of the most liberal Arab countries.
Do I Need Vaccines for Tunisia?
Yes, some vaccines are recommended or required for Tunisia. The National Travel Health Network and Centre and WHO recommend the following vaccinations for Tunisia: COVID-19, hepatitis A, hepatitis B, typhoid, rabies and tetanus.
See the bullets below to learn more about some of these key immunisations:
See the tables below for more information:
Recommended Travel Vaccinations for Tunisia

VACCINE
HOW DISEASE SPREADS
DETAILS

COVID-19
Airborne
Recommended for all travellers
Hepatitis A
Food & Water
Recommended for most travellers to the region, especially if unvaccinated.
Hepatitis B
Blood & Body Fluids
Accelerated schedule available
Tetanus
Wounds or Breaks in Skin
Recommended for travelers to most regions, especially if not previously vaccinated.
Typhoid
Food & Water
Jab lasts 3 years. Oral vaccine lasts 5 years, must be able to swallow pills. Oral doses must be kept in refrigerator.
Rabies
Saliva of Infected Animals
High risk country. Vaccine recommended for long-stay travellers and those who may come in contact with animals.
For more details on any of the above vaccinations, visit the detailed Passport Health specialty vaccination pages or make an appointment with your local Travel Medicine Specialist. Ring or book online to schedule your appointment today.
Do I Need a Visa or Passport for Tunisia?
No visa is required for stays under three months in Tunisia. Passport validity must be for at least three months to be allowed entry.
Tunisia Entry Requirements

Do I Need A…
For My Trip to Tunisia?

Passport
Tourist Visa
Business Visa
Vaccinations
Sources: Embassy of Tunisia and GOV.UK
What Is the Climate Like in Tunisia?
In the north, Tunisia's climate is Mediterranean, with desert in the south. Summer in Tunisia is hot and dry, and winters tend to be rainy.
August is the hottest month and January is the coldest, with average temperatures reaching 25 and 12 degrees respectively.
The Sahara can get extremely hot, with temperatures reaching around 40. Sandstorms and dust storms are common.
Is Tunisia Safe?
The government of the UK recommends that all travellers exercise a high degree of vigilance whilst travelling in Tunisia due to threats of terrorism and civil unrest. Visitors should avoid all travel in southeastern Tunisia, in western mountainous regions and along the borders with Algeria and Libya.
In particular, the UK government's travel warning recommends travellers avoid: Jendouba south of Ain Drahem and west of RN15, Kef, and Kasserine, next to the Algerian border; Ben Guerdan and Medenine, next to the Libyan border; Gafsa and Sidi Bou Zid in central Tunisia. The desert south of Remada is designated as a military zone by the Government of Tunisia. If travellers wish to enter the military zone, special authorization is required.
Travellers should be aware of risks of petty crime and street crime and maintain vigilance whilst travelling. Terrorist attacks and kidnappings have increased, with tourist attractions, government buildings and public areas all being targets.
Public demonstrations and protests frequently end in violent encounters between police and protesters, and they should be avoided. Tunisia has been in a state of emergency since 2015, which gives military and security forces significant discretionary powers.
Visitors should consider being accompanied by a guide or let a guide plan their trip.
Public seasides around major cities are sometimes unsafe to swim in due to pollution. Travellers should exercise caution to ensure water is safe to swim in.
All travellers should be keenly aware of the risks, particularly the terrorism and civil unrest, present in Tunisia. All travellers should read the government of the UK's travel warning for Tunisia.
Tunisian Rules and Laws
In Tunisia, it dress conservatively. Also note, consensual same-sex relations are criminalized in Tunisia.
It is illegal to take pictures of government and security offices.
Religious proselytizing is illegal, and Islam is the recognized state religion.
You may be detained for questioning if you do not have your passport with you.
It is illegal to import or export Tunisia currency.
Travellers should review Tunisia's laws before travelling to the country.
What Should I Take To Tunisia?
Tunisia is a great location to visit, but does require you to pack some extra items:
Insect repellent and sun cream.
Travellers may experience diarrhoea from water or food they are not used to. Consider bringing a traveller's diarrhoea kit.
Light but modest clothing for hot temperatures, with warmer options for cool nights.
Do not forget your passport! You may be detained for questioning if you do not have your passport with you.
Embassy of the United Kingdom in Tunisia
If you are in Tunisia and have an emergency (for example, been attacked, arrested or someone has died) contact the nearest consular services. Contact the embassy before arrival if you have additional questions on entry requirements, safety concerns or are in need of assistance.
British Embassy Tunis
Rue du Lac Windermere
Les Berges du Lac
Tunis
1053
Tunisia
Emergency Phone: +216 71 108 700
Fax: +216 71 108 779
Contact Form: Click Here
If you have any questions about travelling to Tunisia or are wondering which jabs you may need for your trip, schedule an appointment by calling or book online now.
On This Page:
Do I Need Vaccines for Tunisia?
Do I Need a Visa or Passport for Tunisia?
What Is the Climate Like in Tunisia?
Is Tunisia Safe?
Tunisian Rules and Laws
What Should I Take To Tunisia?
Embassy of the United Kingdom in Tunisia