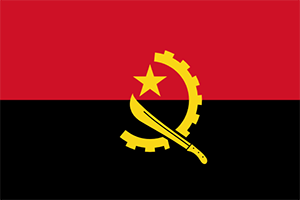 Travel Vaccines and Advice for Angola
Located in southern Africa, Angola has tropical seaside deserts and cultural history.
Travellers find themselves enchanted by hospitable communities and dazzling landmarks, like the Fortaleza de São Miguel.
Whether you are looking to set sail on a coastal escape up the Atlantic Ocean, to check an African safari off of your bucket list; Angola provides a trip filled with relaxation and exploration.
Do I Need Vaccines for Angola?
Yes, some vaccines are recommended or required for Angola. The National Travel Health Network and Centre and WHO recommend the following vaccinations for Angola: COVID-19, hepatitis A, hepatitis B, typhoid, cholera, yellow fever, rabies, polio and tetanus.
See the bullets below to learn more about some of these key immunisations:
See the tables below for more information:
Recommended Travel Vaccinations for Angola

VACCINE
HOW DISEASE SPREADS
DETAILS

COVID-19
Airborne
Recommended for all travellers
Hepatitis A
Food & Water
Recommended for most travellers to the region, especially if unvaccinated.
Hepatitis B
Blood & Body Fluids
Accelerated schedule available
Tetanus
Wounds or Breaks in Skin
Recommended for travelers to most regions, especially if not previously vaccinated.
Typhoid
Food & Water
Jab lasts 3 years. Oral vaccine lasts 5 years, must be able to swallow pills. Oral doses must be kept in refrigerator.
Cholera
Food & Water
Areas of active cholera transmission include Uige and Cabinda.
Yellow Fever
Mosquito
Required for all travellers over 9 months of age
Rabies
Saliva of Infected Animals
High risk country. Vaccine recommended for long-stay travellers and those who may come in contact with animals.
Polio
Food & Water
Recommended for some travellers to this region.
Yellow fever vaccination is required for all travellers over 9 months of age. Recent outbreaks in Brazil and various regions of Africa have underscored the importance of this vaccine.
Dengue, malaria and chikungunya are also present in Angola. Ensure to bring mosquito repellent and netting. Antimalarials may be recommended based on your itinerary.
Some tickborne infections are present as well. Be sure to take precautions.
Visit our vaccinations page to learn more. Travel safely with Passport Health and schedule your appointment today by calling or book online now.
Do I Need a Visa for Angola?
Travellers must apply for and obtain an Angola visa before arrival in the region. Passports must be valid for at least six months upon entry. Proof of yellow fever vaccination is required to enter the country. If you do not have proof of vaccination, you may be vaccinated on site, quarantined or returned to your previous location.
Angola Entry Requirements

Do I Need A…
For My Trip to Angola?

Passport
Tourist Visa
Business Visa
Vaccinations
Sources: Embassy of Angola and GOV.UK
What Is the Climate Like in Angola?
There are two seasons: a dry, cool season from June to late September, and a rainy, hot season from October to April or May. The average temperature is at 15° C. The weather is warmer along the coast and cooler on the central plateau.
Angola has a very distinct climate. The best time to visit Angola is during the winter months from May to October. Dry season occurs throughout May to October, and the hot rainy season which is November to April.
How Safe Is Angola?
This region of Africa can be dangerous. It is important to be aware of the potential dangers in the area.
Several epidemics have plagued the region of Angola. Yellow fever outbreaks are known to occur. Vaccination is required for entry to avoid the virus's spread.
Angola has also suffered war, and still affects certain areas of local life, to this day. Some of these areas contain large amounts of active landmines and explosives. Avoid wandering off of roads or trails in the rural Angola.
Crime rates are high throughout the country. Be careful in urban and rural areas. Avoid walking alone at night and travel in a group.
Parque Nacional de Kissama
Outside of Luanda, this park is a wildlife sanctuary with stunning natural environments. The park began as a preserve in 1938 and evolved into a National Park in 1957.
Following the civil war, the Parque Nacional de Kissama is the only functioning national park in Angola. The park's population of buffalo, elephants and sea turtles is currently thriving. The park also received 10 elephants by air from Russia in 2000.
What Should I Take to Angola?
Like many African nations, Angola requires a bit of extra prep work. Ensure you have everything you need before your trip.
Insect Repellent – Angola is known for its mosquitoes population. Insect repellent could prove to be a lifesaver whilst travelling throughout the country. The repellent will likely be used a lot, so try purchasing a cream or mild-spray.
Modest Attire – While not required for many places, be sure to bring some modest attire for visits to sacred areas.
Embassy of the United Kingdom in Angola
If you are in Angola and have an emergency (for example, been attacked, arrested or someone has died) contact the nearest consular services. Contact the embassy before arrival if you have additional questions on entry requirements, safety concerns or are in need of assistance.
British Embassy Luanda
Rua 17 de Setembro, Nº 4
Caixa Postal 1244
Ingombotas
Luanda, Angola
Telephone: +244 222 330 275
Emergency Phone: 244 222 334 583
Email: postmaster.luand@fco.gov.uk
Ready to start your next journey? Ring us up at or book online now!
On This Page:
Do I Need Vaccines for Angola?
Do I Need a Visa for Angola?
What Is the Climate Like in Angola?
How Safe Is Angola?
Parque Nacional de Kissama
What Should I Take to Angola?
Embassy of the United Kingdom in Angola