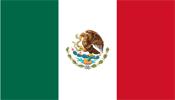 Travel Vaccines and Advice for Mexico
Mexico is known for its warm weather, natural beauty, and rich culture. Travellers can experience breathtaking seasides, to local celebrations and peculiar culinary history.
Among the most popular destinations in Mexico are Acapulco, Cancun, Los Cabos, and Cozumel. There is plenty to see and explore all across the country, from the dense rainforests to the arid deserts.
One of the greatest draws of Mexico is the remnants of ancient civilizations. Beyond these civilizations, many of the colonial buildings from the Spanish-era remain untouched.
To get the full experience of Mexico, it is best to interact with the locals as much as possible. They are generally friendly, and very proud of their culture. Sit and enjoy some agave spirits with the locals, and you may find yourself wishing you didn't have to leave.
Do I Need Vaccines for Mexico?
Yes, some vaccines are recommended or required for Mexico. The National Travel Health Network and Centre and WHO recommend the following vaccinations for Mexico: COVID-19, hepatitis A, typhoid, rabies and tetanus.
See the bullets below to learn more about some of these key immunisations:
See the tables below for more information:
Recommended Travel Vaccinations for Mexico

VACCINE
HOW DISEASE SPREADS
DETAILS

COVID-19
Airborne
Recommended for all travellers
Hepatitis A
Food & Water
Recommended for most travellers to the region, especially if unvaccinated.
Tetanus
Wounds or Breaks in Skin
Recommended for travelers to most regions, especially if not previously vaccinated.
Typhoid
Food & Water
Jab lasts 3 years. Oral vaccine lasts 5 years, must be able to swallow pills. Oral doses must be kept in refrigerator.
Rabies
Saliva of Infected Animals
High risk country. Vaccine recommended for long-stay travellers and those who may come in contact with animals.
Malaria is a risk in some parts of Mexico. Speak with a travel health specialist about your itinerary and the potential need for antimalarials.
Mexico is an affected area of the Zika virus . Women who are pregnant or may become pregnant should avoid travel to Mexico. Take extra precautions against Zika infection including insect repellents and mosquito netting.
Dengue is another mosquito-borne illness found in various parts of Mexico. Take the same precautions against this infection as you would Zika.
See our vaccinations page to learn more about these infections and vaccines. Ready to protect yourself? Book your travel health appointment today by calling or schedule online now.
Do I Need a Visa or Passport for Mexico?
No visa is required for tourists venturing to Mexico. Business, work and other travellers may be required to obtain a visa. Passports must be valid for the duration of your stay.
Mexico Entry Requirements

Do I Need A…
For My Trip to Mexico?

Passport
Tourist Visa
Business Visa
Vaccinations
Sources: Embassy of Mexico and GOV.UK
What is the Climate Like in Mexico?
Because of its size, Mexico has a diverse climate.
The Tropic of Cancer splits the country into temperate and tropical zones. Regions north of the 24th parallel have a cooler climate during the winter months. Regions to the south have a more constant climate throughout the year. On the coast on both sides of Mexico, the climate is generally hot and humid, especially in the summer.
In contrast, Mexico City's temperatures can drop to freezing in the winter. Areas of higher elevation can even see snow during these months. Most of the northwestern area of Mexico has a desert climate. The eastern coast has a tropical climate characterized by a wet season during the summer. Be sure to research the area that you are travelling to and bring appropriate clothing. Bring breathable clothing that you will not be adverse to sweating in.
How Safe is Mexico?
Violence from drug cartels is a major problem in Mexico. Do not travel out alone after dark, especially in heavily populated urban areas. Always be alert, and look out for strange behaviour. Keep track of your belongings, as pick-pocketing and other forms of petty theft are common. There have been instances of kidnappings by cartels in various parts of the country.
Possession of small amounts of narcotics is legal in Mexico, but it is best to avoid using drugs at all. The legal system is much harsher than in the United Kingdom. Consult with locals to find out where it is safe to travel without a guide, and what areas to avoid after the sun sets. They will be able to provide the most accurate information.
When swimming on the seaside, look out for riptides. They can be difficult to detect but very strong. Be sure to use sun cream, and be aware of jellyfish.
If you are travelling by bus, do not put your bag in the storage room of the bus. This is an easy way to have your belongings stolen. If you plan on using a taxi, call a taxi service and request one instead of hailing one from the street. Rideshare services like Uber are available in Mexico.
Diving and Snorkeling in Mexico
Mexico is an excellent destination for diving and snorkeling. With beautiful waters ripe with wildlife, there is plenty to see in the depths.
If you have a taste for danger, consider cage diving with Great White sharks off Guadalupe Island. You are kitted out with scuba gear, put into a metal cage, and lowered into the water. It is the closest you will be able to get to the sharks whilst remaining out of danger. It is not for the faint of heart.
If you are looking for a diverse array of aquatic life, look no further than the Sea of Cortez. It is very accessible to foreigners. It is a meeting point of tropical species from the south and species from the temperate zones of the north. This creates a peculiar ecosystem that will provide an unforgettable experience for travellers. There are plenty of local dive shops and places to charter a boat.
What Should I Take To Mexico?
Here are some essential items to consider for your trip to Mexico:
Private Hygiene Products – These can be expensive in Mexico, so it is best to bring them from home.
Medications – Pharmacies are different in Mexico. It is safest to bring your medications with you from home.
Close-toed shoes – It's tempting to wear sandals, but fire ants and scorpions are a common problem.
Breathable clothing – It can get quite hot in Mexico.
Water purification tablets – It is recommended that you do not drink the tap water in Mexico. But, if necessary, it is best to have tablets on hand.
Embassy of the United Kingdom in Mexico
If you are in Mexico and have an emergency (for example, been attacked, arrested or someone has died) contact the nearest consular services. Contact the embassy before arrival if you have additional questions on entry requirements, safety concerns or are in need of assistance.
British Embassy Mexico City
Paseo de la Reforma 350 20th Floor,
Torre del Angel
Col. Juarez
06600 Mexico City
Mexico
Telephone: +52 (55) 1670 3200
Emergency Phone: (0052) 55 1670 3200
Contact Form: Click Here
If you have any questions about travelling to Mexico or are wondering which jabs you may need for your trip, schedule an appointment with your local Passport Health travel medicine clinic. Ring us up at or book online now and protect yourself today.
On This Page:
Do I Need Vaccines for Mexico?
Do I Need a Visa or Passport for Mexico?
What is the Climate Like in Mexico?
How Safe is Mexico?
Diving and Snorkeling in Mexico
What Should I Take To Mexico?
Embassy of the United Kingdom in Mexico