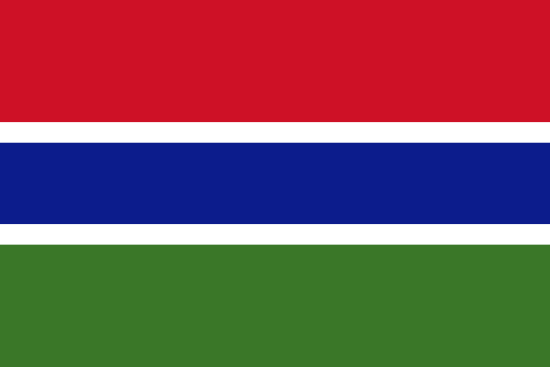 Travel Vaccines and Advice for Gambia
The Gambia is also called "The Smiling Coast of Africa". Its beautiful coastline and temperate weather attracts travellers from all corners of the globe.
Gambia is biologically diverse and is home to many national parks with a wide variety of species.
The country was once heavily involved in the slave trade. As a result, there are many monuments and museums that serve to educate travellers about the trade.
Whether you are looking to relax on the seaside, seeking an adventure, or dive into a different culture, Gambia has something to offer for every traveller.
Do I Need Vaccines for Gambia?
Yes, some vaccines are recommended or required for Gambia. The National Travel Health Network and Centre and WHO recommend the following vaccinations for Gambia: COVID-19, hepatitis A, hepatitis B, typhoid, cholera, yellow fever, rabies, polio, meningitis and tetanus.
See the bullets below to learn more about some of these key immunisations:
See the tables below for more information:
Recommended Travel Vaccinations for Gambia

VACCINE
HOW DISEASE SPREADS
DETAILS

COVID-19
Airborne
Recommended for all travellers
Hepatitis A
Food & Water
Recommended for most travellers to the region, especially if unvaccinated.
Hepatitis B
Blood & Body Fluids
Accelerated schedule available
Tetanus
Wounds or Breaks in Skin
Recommended for travelers to most regions, especially if not previously vaccinated.
Typhoid
Food & Water
Jab lasts 3 years. Oral vaccine lasts 5 years, must be able to swallow pills. Oral doses must be kept in refrigerator.
Cholera
Food & Water
Recommended for travel to most regions.
Yellow Fever
Mosquito
Required for all travellers over 9 months of age.
Rabies
Saliva of Infected Animals
High risk country. Vaccine recommended for long-stay travellers and those who may come in contact with animals.
Meningitis
Airborne & Direct Contact
Proof of vaccination may be required. Located in the meningitis belt, vaccination is recommended during the dry season (Dec. – June)
Polio
Food & Water
Considered a routine vaccination for most travel itineraries. Single adult booster recommended.
Proof of yellow fever vaccination is required for entry to Gambia.
Malaria is an ongoing threat in Gambia. It is strongly recommended individuals take antimalarial medication before visiting Gambia. Other measures such as repellents and netting will provide more protection.
Gambia is in the 'meningitis belt', a section of Africa known for meningitis transmission. Meningitis vaccination is recommended for individuals travelling from December to June.
'Banjul Belly' or travellers diarrhoea is common and precautions should be taken. Ensure to add a traveller's diarrhoea kit to your packing list.
Visit our vaccinations page to learn more. Travel safely with Passport Health and schedule your appointment today by calling or book online now.
Do I Need a Visa or Passport for Gambia?
No visa is required for stays under 28 days in Gambia. Passports must be valid for at least six months beyond the date of entry. Proof of yellow fever vaccination is required to enter the country. If you do not have proof of vaccination, you may be vaccinated on site, quarantined or returned to your previous location.
Gambia Entry Requirements

Do I Need A…
For My Trip to Gambia?

Passport
Tourist Visa
Business Visa
Vaccinations
Sources: Embassy of Gambia and GOV.UK
What is the Climate Like in Gambia?
Gambia has a wet and dry season. The wet seasons lasts from June to October. The dry season ranges from November to May.
The months of November to March are cool and involve a sporadic breeze. January to April is characterized by the Harmattan winds that blow from the Indian to the Atlantic Ocean. In Gambia the average daytime temperature is around 26 degrees.
How Safe is Gambia?
There has been a rise in attacks on tourists. It is important to exercise a high degree of caution whilst travelling in Gambia.
Pick-pocketing is very common, as is theft from hotel rooms and vehicles. Men called "bumsters" will often target tourists and offer themselves as tour guides. Beware of "bumsters" as they often demand high payments that are not agreed upon, politely decline any offers.
While in Gambia, monitor local media to avoid demonstrations and other large gatherings which often result in violence.
Many of the roads in Gambia, are narrow, poorly lit, and require a four wheel drive. Avoid motoring in rural areas after dark. Police road blocks are common, and you may be asked for identification. Always cooperate with the authorities and stop at all police roadblocks and checkpoints.
For river crossings, wooden pirogues are often used. Do not use wooden pirogues as they lack security measures and are prone to overcrowding.
Visit Janjangbureh and Basse
The town Janjangbureh, known as "Georgetown" is the old 'second' city of colonial times. Janjangbureh is one of the oldest river towns in Gambia. It serves as the administrative headquarters for the central river region.
Basse is another a river town with a lively feel. It is one of the major trading centers along the river. Basse is linguistically diverse with languages such as Arabic, French, Wolof, Serer, Mandinka, and English being spoken.
An excursion to Janjangbureh and Basse is ideal for a traveller seeking an adventure.
What Should I Take To Gambia?
Here are some essential items to consider for your trip to Gambia:
Boots for Bush Treks or Safaris – Nothing is worse than sore feet, ensure you're protected.
Cover-Ups – Gambia is a very modest society. Men and women may need to cover up in some areas.
Long Sleeves, Pants, and Hats – These will help protect you from the sun as well as mosquitoes.
Private Medical Kit – Some medical supplies can be difficult to find in Gambia. Ensure you bring a fully-stocked first-aid kit with you.
Embassy of the United Kingdom in Gambia
If you are in Gambia and have an emergency (for example, been attacked, arrested or someone has died) contact the nearest consular services. Contact the embassy before arrival if you have additional questions on entry requirements, safety concerns or are in need of assistance.
British High Commission Banjul
48 Atlantic Road
Fajara
PO Box 507
Banjul
Banjul
Gambia
Telephone: +220 4495133, +220 4494508
Email: UKinTheGambia@fco.gov.uk%20
Ready to start your next journey? Ring us up at or book online now!
On This Page:
Do I Need Vaccines for Gambia?
Do I Need a Visa or Passport for Gambia?
What is the Climate Like in Gambia?
How Safe is Gambia?
Visit Janjangbureh and Basse
What Should I Take To Gambia?
Embassy of the United Kingdom in Gambia