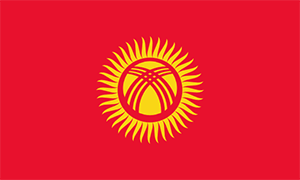 Travel Vaccines and Advice for Kyrgyzstan
Kyrgyzstan is in Central Asia. It is a landlocked country bordered by Kazakhstan, Uzbekistan, Tajikistan, and China. The capital is Bishkek.
Kyrgyzstan has amazing mountain lakes, great hospitality, and beautiful sunsets. Its natural beauty is clear to see by the country's spacious pastures and shepherd dwellings. Travellers will find most of the attractions in Kyrgyzstan are rural and high in altitude.
When travellers explore the sites, they should experience Lake Song-Kol, Alay Valley and Arelanbob. These places are perfect for the nature lover inside you.
Whether you enjoy the natural settings of Kyrgyzstan or the history and culture, you'll find everything you'll need.
Do I Need Vaccines for Kyrgyzstan?
Yes, some vaccines are recommended or required for Kyrgyzstan. The National Travel Health Network and Centre and WHO recommend the following vaccinations for Kyrgyzstan: COVID-19, hepatitis A, hepatitis B, typhoid, yellow fever, rabies and tetanus.
See the bullets below to learn more about some of these key immunisations:
See the tables below for more information:
Recommended Travel Vaccinations for Kyrgyzstan

VACCINE
HOW DISEASE SPREADS
DETAILS

COVID-19
Airborne
Recommended for all travellers
Hepatitis A
Food & Water
Recommended for most travellers to the region, especially if unvaccinated.
Hepatitis B
Blood & Body Fluids
Recommended for travellers
to most regions.
Tetanus
Wounds or Breaks in Skin
Recommended for travelers to most regions, especially if not previously vaccinated.
Typhoid
Food & Water
Recommended for travellers
to most regions.
Yellow Fever
Mosquito
Required if travelling from a country with risk of yellow fever transmission.
Rabies
Saliva of Infected Animals
High risk country. Vaccine recommended for long-stay travellers and those who may come in contact with animals.
See our vaccinations page to learn more about these infections and vaccines. Ready to protect yourself? Book your travel health appointment today by calling or schedule online now.
Do I Need a Visa for Kyrgyzstan?
No visa is required for Kyrgyzstan for stays under 60 days. E-visas are available for stays of up to 90 days. Travellers' passports must be valid for at least six months beyond the date of arrival. Proof of yellow fever vaccination may be required if you are travelling from a region where yellow fever is present.
Kyrgyzstan Entry Requirements

Do I Need A…
For My Trip to Kyrgyzstan?

Passport
Tourist Visa
Business Visa
Vaccinations
Sources: Embassy of Kyrgyzstan and GOV.UK
What Is the Climate like in Kyrgyzstan?
It is sunny most of the time in Kyrgyzstan. There is hardly any rainfall, but the west wind does bring heavy rains and snowfall. The ideal time to visit Kyrgyzstan is between May and October.
The winter is impacted by the arctic winds of Siberia and the Arctic Ocean. This can result in precipitation and snowfall. During this season you can see frequent fogs and sizzling rains. The precipitation often comes on suddenly. The south has cyclones that are come from the Mediterranean Sea.
The thermal zones in Kyrgyzstan experience changes. Spring is short and comes on in late February. Summer lasts from May to September with highs reaching over 35. In high altitudes it's very cool with even colder nights. Autumn arrives late with the autumn air lasting until December. Winter can be well below zero.
How Safe Is Kyrgyzstan?
While it's currently stable in Kyrgyzstan, there is potential for civil unrest because of the political and ethnic tension. There is especially potential in the south end southwest area of the country. Demonstrations are known to happen, especially in the capital Bishkek. Avoid demonstrations, political rallies, and gatherings as these can turn violent.
Robberies and mugging happen by hotels, public transportation, and other areas with foreigners. Do not travel alone at night. Only use reputable taxi services as scams are common.
Mount Sulaiman Too
Kyrgyzstan is a beautiful country with many attractions travellers can enjoy. Mount Sulaiman Too is a famous mountain in the southern city of Osh. Those of the Islamic faith know the mountain as a sacred place.
The area has a large museum that includes many historical sites and two 16th century mosques. They will also see many petroglyphs of humans, animals, and geometric shapes as well as a medieval bath. There are 17 places to worship. This site is a place where history and culture come together.
What Should I Take to Kyrgyzstan?
When you prepare for travel to Kyrgyzstan, there are some things you need to take with you on your trip.
Visa and Passport — You need a visa to travel to Kyrgyzstan if you're planning to stay more than 60 days. You will also need a passport that is valid from 6 months from the date of entry.
Health and Safety — It's important to pack for your health and safety in Kyrgyzstan. Prescription medicines, medical supplies, and over the counter medicines are what you need to consider before travelling to Kyrgyzstan. You should also pack supplies to prevent injury and illness and a first aid kit.
Embassy of the United Kingdom in Kyrgyzstan
If you are in Kyrgyzstan and have an emergency (for example, been attacked, arrested or someone has died) contact the nearest consular services. Contact the embassy before arrival if you have additional questions on entry requirements, safety concerns or are in need of assistance.
British Embassy in the Kyrgyz Republic
21 Erkindik Boulevard
Office 404
Bishkek
720040
Kyrgyzstan
Telephone: +996 (312) 303637
Emergency Phone: +996 (312) 303637
Email: ukin.kyrgyzrepublic@fco.gov.uk
Ready to start your next journey? Ring us up at or book online now!
On This Page:
Do I Need Vaccines for Kyrgyzstan?
Do I Need a Visa for Kyrgyzstan?
What Is the Climate like in Kyrgyzstan?
How Safe Is Kyrgyzstan?
Mount Sulaiman Too
What Should I Take to Kyrgyzstan?
Embassy of the United Kingdom in Kyrgyzstan