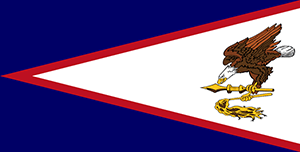 Travel Vaccines and Advice for American Samoa
American Samoa is made up of six islands and located about 3,500 kilometres Southwest of Hawaii. The Samoan culture "fa'asamoa" or the "ways of Samoa", is the oldest in Polynesia at about 3,000 years old.
American Samoa's rich landscapes include national parks on three separate islands. The National Park of American Samoa is 13,500 acres with 4,000 of that made up of ocean and coral reefs. It has fruit bats, subsistence farming, over 35 species of birds, and more.
Do I Need Vaccines for American Samoa?
Yes, some vaccines are recommended or required for American Samoa. The National Travel Health Network and Centre and WHO recommend the following vaccinations for American Samoa: COVID-19, hepatitis A, hepatitis B, typhoid, rabies and tetanus.
See the bullets below to learn more about some of these key immunisations:
See the tables below for more information:
Recommended Travel Vaccinations for American Samoa

VACCINE
HOW DISEASE SPREADS
DETAILS

COVID-19
Airborne
Recommended for all travellers
Hepatitis A
Food & Water
Recommended for most travellers to the region, especially if unvaccinated.
Hepatitis B
Blood & Body Fluids
Accelerated schedule available
Tetanus
Wounds or Breaks in Skin
Recommended for travelers to most regions, especially if not previously vaccinated.
Typhoid
Food & Water
Jab lasts 3 years. Oral vaccine lasts 5 years, must be able to swallow pills. Oral doses must be kept in refrigerator.
Rabies
Saliva of Infected Animals
Vaccine recommended for long-stay travellers and those who may come in contact with animals.
See our vaccinations page to learn more about these infections and vaccines. Ready to protect yourself? Book your travel health appointment today by calling or schedule online now.
Do I Need a Visa to Travel to American Samoa?
A visa is not needed for stays in American Samoa under 30 days. Passports must have at least six months validity. Proof of onward travel is necessary for entry.
American Samoa Entry Requirements

Do I Need A…
For My Trip to American Samoa?

Passport
Tourist Visa
Business Visa
Vaccinations
Sources: Embassy of American Samoa and GOV.UK
What is the Climate Like in American Samoa?
American Samoa has a warm, wet, tropical climate with rain and high temperatures all year round. Average temperatures range from 20 to 30 degrees.
Though rain can come at any time, it is more frequent from October to May. Rain can come for a few minutes or a few days. There is typically more rainfall in the higher mountain regions.
The June through September dry season is the drier and cooler part of the year.
November to April is hurricane and cyclone season.
American Samoa has stronger trade winds from May to October.
How Safe is American Samoa?
As a part of the United States, American Samoa is relatively safe. But, there are some items to be aware of.
Many secondary roads are made mainly from dirt and beach and are not steady for cars to motor on. These roads are often used by pedestrians and livestock.
Petty and violent crimes do occur in American Samoa. Keep yourself and your belongings safe at all times. Culture in American Samoa is quite conservative, particularly in regards to homosexuality.
Don't interact with stray dogs in case they become aggressive with you.
Illegal drug trafficking sentences are severe in American Samoa.
Be aware in case of earthquakes, tsunamis, cyclones, flooding, and landslides.
Explore the National Park of American Samoa
The National Park of American Samoa is not just for preserving land or animals. It is also home to the 3,000 year old "fa-asamoa" or "ways of Samoa" culture and traditions. Visitors can enjoy a quiet but vibrant experience spread out over three volcanic islands. The reserved area covers 13,500 acres – 4,000 of which is made up of ocean and coral reefs.
Subsistence farming on small plantations in the part is common. You can meet the many villagers who live on the islands and/or relax on the serene, remote seaside regions.
What Should I Pack for American Samoa?
Think ahead on what to pack by perusing these suggestions:
Appropriate Clothing – American Samoa can be hot and humid due to its tropical climate. Be sure to pack for the time of year and the activities you wish to do. Consider items such as sun cream, water-protective gear, and bathing suits.
Modest Swimwear – The National Park Service advises travellers to wear modest clothing and swimwear. Many locals wear "lavalava", which is a skirt-like worn in a variety of styles by both men and women. You can buy a lavalava at many local shops.
Insect Repellent – With dengue and chikungunya being present in American Samoa, it is important to use repellents.
Embassy of the United Kingdom in American Samoa
If you are in American Samoa and have an emergency (for example, been attacked, arrested or someone has died) contact the nearest consular services. Contact the embassy before arrival if you have additional questions on entry requirements, safety concerns or are in need of assistance.
While there is no consulate or embassy in American Samoa, it is served by the British consulate in Los Angeles:
British Consulate General Los Angeles
029 Century Park East, Suite 1350
Los Angeles CA 90067
USA
Telephone: +1 310 789 0031
Emergency Phone: +1 310 789 0031
Ready to start your next journey? Ring us up at or book online now!
On This Page:
Do I Need Vaccines for American Samoa?
Do I Need a Visa to Travel to American Samoa?
What is the Climate Like in American Samoa?
How Safe is American Samoa?
Explore the National Park of American Samoa
What Should I Pack for American Samoa?
Embassy of the United Kingdom in American Samoa