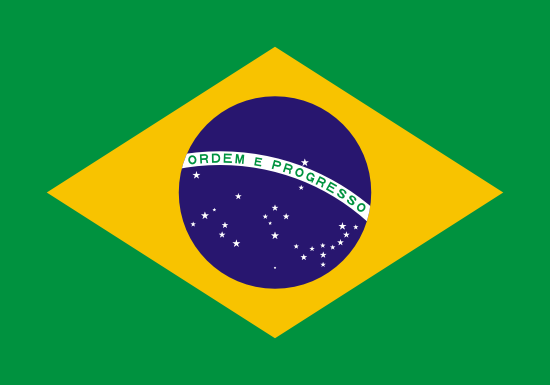 Travel Vaccines and Advice for Brazil
Rich with seasides, rainforests, and vibrant urban centers, Brazil offers a wide variety of attractions.
For the adventurous, there are mountains to climb and islands to explore. For the more historically inclined, there are whole settlements from the colonial era that have not been renovated since their construction.
To experience the rich culture of Brazil, it is best to come during the time of Carnaval. Dancers flood the streets showing off sambo rhythms and other aspects of Brazil's musical fabric. This is not to say Carnaval is the only time to behold such an event. Smaller versions of the festival happen throughout the year, and serve as a perfect window into the country's heart.
Due to Brazil's history as a trading port and colony, it is a melting pot of African, European, and Latin American cultures.
Brazil is also home to one of the most diverse ecosystems on the planet, offering an incredible range of flora and fauna. A trip to Brazil is a chance to experience a taste of everything.
Do I Need Vaccines for Brazil?
Yes, some vaccines are recommended or required for Brazil. The National Travel Health Network and Centre and WHO recommend the following vaccinations for Brazil: hepatitis A, typhoid, yellow fever, rabies and tetanus.
See the bullets below to learn more about some of these key immunisations:
See the tables below for more information:
Recommended Travel Vaccinations for Brazil

VACCINE
HOW DISEASE SPREADS
DETAILS

Hepatitis A
Food & Water
Recommended for most travellers to the region, especially if unvaccinated.
Tetanus
Wounds or Breaks in Skin
Recommended for travellers to most regions, especially if not previously vaccinated.
Typhoid
Food & Water
Jab lasts 3 years. Oral vaccine lasts 5 years, must be able to swallow pills. Oral doses must be kept in refrigerator.
Yellow Fever
Mosquito
Required if travelling from a Angola or the Democratic Republic of the Congo. Recommended for all regions except: Fortaleza, Recife, Rio de Janeiro, Salvador, and São Paulo
Rabies
Saliva of Infected Animals
High risk country. Vaccine recommended for long-stay travellers and those who may come in contact with animals.
A yellow fever vaccination is not required to enter Brazil, but is highly recommended. See the yellow fever section below.
Malaria and dengue are present in Brazil. Be sure to take proper precautions to avoid these mosquito-borne diseases. Bring repellents netting and antimalarials, if needed.
Zika virus has been found in Brazil. Some travellers are at an increased risk including women who are pregnant or may become pregnant. Ensure you use repellents and netting where needed.
Visit our vaccinations page to learn more. Travel safely with Passport Health and schedule your appointment today by calling or book online now.
Yellow Fever in Brazil
Brazil has been the site of multiple yellow fever outbreaks in the past few years. The most recent outbreak started in December 2016 and is still ongoing.
Yellow fever vaccination is highly recommended for travellers to:
Espirito Santo
Rio de Janeiro
São Paulo
Bahia
Do I Need a Visa or Passport for Brazil?
Visas are not required for tourist purposes in Brazil. Other types of visas are required. Passports must be valid for at least six months. Proof of yellow fever vaccination may be required if you are travelling from a region where yellow fever is present.
Immigration authorities may request proof of sufficient funds, return travel or similar items upon entry.
Brazil Entry Requirements

Do I Need A…
For My Trip to Brazil?

Passport
Tourist Visa
Business Visa
Vaccinations
Sources: Embassy of Brazil and GOV.UK
What is the Climate Like in Brazil?
Brazil's climate can vary depending on which region you are visiting.
In the northern parts of the country, the climate is tropical, whilst in the southern regions the climate is more temperate. Most of the population lives in cooler areas like high altitudes or the coast.
Popular tourist destinations like Rio de Janeiro suffer from an extremely hot climate. Temperatures there are usually above 38 degrees during the dry season.
In the areas closer to the Amazon rainforest, temperatures higher than 32 are rare. If you are travelling to cities in the upper region of the Amazon belt like Belem, heavy rainfall is common between December and April.
It is best to study the microclimate of the region you are visiting whilst planning a trip to Brazil.
How Safe is Brazil?
Be sure to travel with your passports on your person at all times and be prepared to present it to local law enforcement, if necessary.
As a whole, the danger level of Brazil is classified as high. The murder rate if four times that of developed nations, and the crime rate reaches similar numbers. Travellers should remain vigilant at all times. Try not to travel outside of where you are staying after dark.
Do not ever enter the favelas. They are mostly operated by gangs, and are extremely dangerous even for locals. It is best to avoid them completely. If you are planning on going somewhere that is off the beaten path, consult with locals first to find out if it is safe.
Avoid carrying large amounts of money with you. If necessary, divide it up between several pockets. The efficiency of the police force varies depending on the region. It is imperative that you do not attempt to bribe them for any reason.
Seaside in Brazil
Brazil is widely renowned for its gorgeous seaside.
The most famous areas are Ipanema and Copacabana in Rio de Janeiro. There are gems further north such as the Boa Vista and Porto de Galinhas that are worth checking out.
If you are planning on visiting one of the more well-known seasides, be prepared to be mingling with large crowds. These bring in tens of thousands of tourists, especially from Europe, throughout the year.
What Should I Take To Brazil?
Here are some essential items to consider for your trip to Brazil:
Medical Supplies – These can be expensive in Brazil. It is important to bring one's own. Ensure to include antidiarrhoeal medication, antimalarials, and basic over the counter aides.
Breathable Clothing – The climate of Brazil in the central areas like Rio de Janeiro can be quite hot. Wear clothing that is not too thick, and that you wouldn't mind sweating in.
Warm Clothing – This is advised if travelling to an area south of the Tropic of Capricorn where the climate is more temperate.
Documents – Be sure to bring your passport, visa and other forms of identification.
Cash – It is safest to operate on a cash-only basis whilst in Brazil.
Embassy of the United Kingdom in Brazil
If you are in Brazil and have an emergency (for example, been attacked, arrested or someone has died) contact the nearest consular services. Contact the embassy before arrival if you have additional questions on entry requirements, safety concerns or are in need of assistance.
British Embassy Brasilia
Quadra 801 – Conjunto K – Lote 08
Av. das Nações – Asa Sul
CEP 70408-900 Brasilia
Brazil
Telephone: +55 (61) 3329 2300
Emergency Phone: +55 61 3329 2300
Fax: +55 (61) 3329 2369
Contact Form: Click Here
If you have any questions about travelling to Brazil or are wondering which jabs you may need for your trip, schedule an appointment with your local Passport Health travel medicine clinic. Ring us up at or book online now!
On This Page:
Do I Need Vaccines for Brazil?
Yellow Fever in Brazil
Do I Need a Visa or Passport for Brazil?
What is the Climate Like in Brazil?
How Safe is Brazil?
Seaside in Brazil
What Should I Take To Brazil?
Embassy of the United Kingdom in Brazil