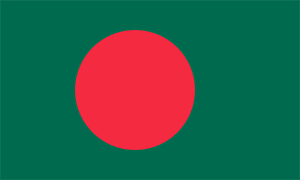 Travel Vaccines and Advice for Bangladesh
Bangladesh is one of Asia's most culture-rich destinations. The country is characterized by centuries of Hindu, Buddhist and, today, Muslim traditions.
The region has nearly 800 rivers, most of which run the full length of the country and spill out into the Bay of Bengal. Travel by boat is more common than travel by vehicle or any other means.
Bangladesh is relatively traveller-free area which lends to the country's authenticity. In most cities, the influences of tourism have yet to take hold. This is also partially due to the country's poverty.
Unfortunately, this beautiful country has seen disease outbreaks and terrorist activity. Some of the most recent attacks have involved tourists. Experts advise against travel to Bangladesh unless a trip is mandatory.
Do I Need Vaccines for Bangladesh?
Yes, some vaccines are recommended or required for Bangladesh. The National Travel Health Network and Centre and WHO recommend the following vaccinations for Bangladesh: COVID-19, hepatitis A, hepatitis B, typhoid, cholera, yellow fever, Japanese encephalitis, rabies and tetanus.
See the bullets below to learn more about some of these key immunisations:
See the tables below for more information:
Recommended Travel Vaccinations for Bangladesh

VACCINE
HOW DISEASE SPREADS
DETAILS

COVID-19
Airborne
Recommended for all travellers
Hepatitis A
Food & Water
Recommended for most travellers to the region, especially if unvaccinated.
Hepatitis B
Blood & Body Fluids
Accelerated schedule available
Tetanus
Wounds or Breaks in Skin
Recommended for travelers to most regions, especially if not previously vaccinated.
Typhoid
Food & Water
Jab lasts 3 years. Oral vaccine lasts 5 years, must be able to swallow pills. Oral doses must be kept in refrigerator.
Cholera
Food & Water
Recommended for travel to most regions.
Yellow Fever
Mosquito
Required if travelling from a country with risk of yellow fever transmission.
Japanese Encephalitis
Mosquito
Recommended depending on itinerary and activities. Recommended for extended travel, recurrent travellers and travel to rural areas. Present throughout country. Most cases from May to October.
Rabies
Saliva of Infected Animals
High risk country. Vaccine recommended for long-stay travellers and those who may come in contact with animals.
Dengue, malaria and chikungunya are present in Bangladesh. Be sure to bring and use repellents and netting. Antimalarials may be recommended, depending on your trip itinerary.
See our vaccinations page to learn more about these infections and vaccines. Ready to protect yourself? Book your travel health appointment today by calling or schedule online now.
Is a Visa Required for Bangladesh?
Visas are required for entry to Bangladesh. These can be obtained before your trip or on arrival. On arrival visas are for one month and are for official duty, business, investment and tourism.
Passports must be valid for the duration of your stay. Proof of yellow fever vaccination may be required if you are travelling from a region where yellow fever is present.
Bangladesh Entry Requirements

Do I Need A…
For My Trip to Bangladesh?

Passport
Tourist Visa
Business Visa
Vaccinations
Sources: Embassy of Bangladesh and GOV.UK
What Is the Climate in Bangladesh?
Although the rivers are beneficial for travel, they also bring humidity. The country has a subtropical monsoon climate with high temperatures and high humidity. Bangladesh has three prominent seasons: hot, humid summers, a rainy fall and cooler, dry winters.
Because climate varies by region, be sure to pack for your itinerary. A few regional differences include:
Khulna – At the southwest end of the country near the Sundarbans, Khulna has hot summers, cool winters and year-round off and on rainfall.
Dhaka – In the middle of the country, the capital has a tropical wet climate and harshly-dry winters.
Rangpur – At the northern tip of the country, this region has the most rainfall. Expect consistent monsoons and high levels of humidity.
How Safe Is Bangladesh?
Travel to Bangladesh is rewarding, but you should take precautions. Some of the most recent terrorist attacks targeted foreigners.
In some areas, tourists are sometimes seen as a nuisance. Be aware of your surroundings and consider using a licenced guide.
Petty crime such as pick-pocketing is also common. Travellers should exercise caution at all times. Avoid travelling at night and never travel alone.
Tour the Time-Tested Old Dhaka
Dhaka is the country's largest and most bustling city. A tour to Old Dhaka is well worth the trek. A tour guide who understands the culture, history and food of the area that has been centuries in the making. Be sure to stop by ancient sites such as the Hindu Dhakeswari Temple or one of the handful of local mosques.
What Should I Take to Bangladesh?
Unless travelling in winter, tourists should prepare for rain and humidity. Be sure you have everything you need for your trip.
Clothing – A light jumper for cooler nights plus long sleeves and trousers to avoid mosquitoes. Modest clothing is recommended for visits to religious sites.
Rain Gear – A kagoul or rain jacket that is lightweight and can be packed on day excursions.
Insect Repellent or Netting – Mosquito-borne diseases are common in southeast Asia. Be sure to bring repellents, netting and similar items.
Embassy of the United Kingdom in Bangladesh
If you are in Bangladesh and have an emergency (for example, been attacked, arrested or someone has died) contact the nearest consular services. Contact the embassy before arrival if you have additional questions on entry requirements, safety concerns or are in need of assistance.
British High Commission Dhaka
United Nations Road
Baridhara
P O Box 6079
Dhaka – 1212
Dhaka
Bangladesh
Telephone: +880 2 55668700
Emergency Phone: +88 02 55668700
Fax: +880 2 9843437
Email: consular.bangladesh@fco.gov.uk
Ready to start your next journey? Ring us up at or book online now!
On This Page:
Do I Need Vaccines for Bangladesh?
Is a Visa Required for Bangladesh?
What Is the Climate in Bangladesh?
How Safe Is Bangladesh?
Tour the Time-Tested Old Dhaka
What Should I Take to Bangladesh?
Embassy of the United Kingdom in Bangladesh