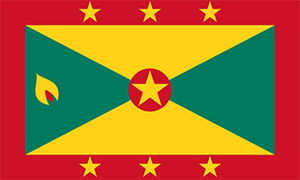 Travel Vaccines and Advice for Grenada
Known as "The Spice Isle", Grenada offers seasides, picturesque scenery and exquisite spices. Some striking natural landmarks include Mount St. Catherine and the Seven Sisters Falls.
The capitol of Grenada, St. George, is a destination spot in itself. The city features the Grenada National Museum, the Market Square, and the Christ of the Deep Monument. It is a city with tremendous history and a peculiar Grenadian treasure.
Do I Need Vaccines for Grenada?
Yes, some vaccines are recommended or required for Grenada. The National Travel Health Network and Centre and WHO recommend the following vaccinations for Grenada: COVID-19, hepatitis A, hepatitis B, yellow fever, rabies and tetanus.
See the bullets below to learn more about some of these key immunisations:
See the tables below for more information:
Recommended Travel Vaccinations for Grenada

VACCINE
HOW DISEASE SPREADS
DETAILS

COVID-19
Airborne
Recommended for all travellers
Hepatitis A
Food & Water
Recommended for most travellers to the region, especially if unvaccinated.
Hepatitis B
Blood & Body Fluids
Accelerated schedule available
Tetanus
Wounds or Breaks in Skin
Recommended for travelers to most regions, especially if not previously vaccinated.
Yellow Fever
Mosquito
Required if travelling from a country with risk of yellow fever transmission.
Rabies
Saliva of Infected Animals
Moderate risk country. Vaccine recommended for long-stay travellers and those who may come in contact with animals.
Dengue is a mosquito-borne disease found in Grenada. Ensure you bring repellents and netting to protect yourself against infection.
See our vaccinations page to learn more about these infections and vaccines. Ready to protect yourself? Book your travel health appointment today by calling or schedule online now.
Do I Need a Visa to Travel to Grenada?
A visa is not required for a trip to Grenada. Upon entry, a specific visa-free travel time will be allotted, usually 30 days. Passports must have at least six months validity for entry. Proof of yellow fever vaccination is required to enter the country. If you do not have proof of vaccination, you may be vaccinated on site, quarantined or returned to your previous location.
A departure tax is included in the cost of most flights.
Grenada Entry Requirements

Do I Need A…
For My Trip to Grenada?

Passport
Tourist Visa
Business Visa
Vaccinations
Sources: Embassy of Grenada and GOV.UK
What is the Climate Like in Grenada?
Grenada has a wet tropical climate. It is at times tempered by moderate trade winds from the northeast. The country has an average annual temperature in the high-20's Celsius and two main seasons.
The humid and hot rainy season is from June to December whilst the dry season is from January to May. The dry season is the most popular time for tourists as rainfall can be quite abundant later.
June to November is also the hurricane season. Grenada is not considered particularly risky for hurricanes. But, it is at the southernmost end of a hurricane belt.
With the island's mountains the nights can be cooler.
How Safe is Grenada?
While Grenada has a diverse history, the country is relatively safe to visit.
Tourists can be victim of theft in Grenada. Thieves steal items like credit cards, jewelry and passports. Carefully consider what valuables you wish to bring before travelling. Be watchful after dark, especially in or near high traffic areas.
Walking after dark, using the local coach system, and using taxis hired on the road are causes for extra caution. Only use taxis registered with the GTA (Grenada Taxi Association). Members must pass extra motoring tests and receive training from the Grenada Tourism Board.
In Grenada you can be prosecuted for using foul language in the presence of an officer of the law.
The Grenadian society is generally intolerant of homosexuality. The law does criminalise consensual same-sex sexual activities. There have been no reports of violence in Grenada connected with real or perceived orientation.
Tour the Spices of the Spice Isle
Grenada is called the "The Spice Isle" for its renowned selection and variety of spices. The island has many interesting spice-related activities to check out. There are tours which take you to several of the spice plantations.
Belmont Estate – This estate is the most famous plantation estate in the country. It's 300 years old and its main crop is cocoa. On a tour you can see the full process of how the estate's beans are fermented, dried and turned into chocolate.
Gouyave Nutmeg Processing Station – For a shorter tour option, you can go to the processing station. This is a 15 minute experience to learn a bit about the nutmeg industry on the island. You will see nutmeg being dried, sorted, and shined by locals.
St. George's Market – If you want to go straight to the spice-shopping, you'll be thrilled by the variety of products. You can get many selections of bagged spices or peculiar items such as nutmeg jam and vanilla essence.
What Should I Pack for Grenada?
Think ahead on what to pack by looking through these suggestions:
Clothing – Grenada can often be hot and humid due to its tropical climate and wet season. Be sure to pack accordingly for the time of year and the activities you wish to do. Consider bringing sun cream, water-protective gear, bathing suits, and something for the cooler nights.
Health Items – It is always useful to have important first aid kit items whilst travelling. the NaTHNaC also recommends a traveller's diarrhoea kit to help deal with the effects of the illness.
Insect Repellent – With the mosquito-borne illnesses of Grenada it is especially key to bring insect repellent.
Embassy of the United Kingdom in Grenada
If you are in Grenada and have an emergency (for example, been attacked, arrested or someone has died) contact the nearest consular services. Contact the embassy before arrival if you have additional questions on entry requirements, safety concerns or are in need of assistance.
While there is no consulate or embassy in Grenada, it is served by the British embassy in Barbados:
British High Commission, Bridgetown
Lower Collymore Rock
PO Box 676
Bridgetown
Barbados
Telephone: + 1 246 430 7800
Emergency Phone: + 1 246 430 7800
Fax: + 1 246 430 7860
Email: ukinbarbados@fco.gov.uk
Ready to start your next journey? Ring us up at or book online now!
On This Page:
Do I Need Vaccines for Grenada?
Do I Need a Visa to Travel to Grenada?
What is the Climate Like in Grenada?
How Safe is Grenada?
Tour the Spices of the Spice Isle
What Should I Pack for Grenada?
Embassy of the United Kingdom in Grenada