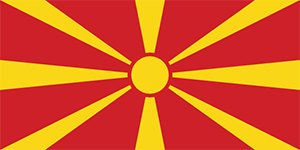 Travel Vaccines and Advice for North Macedonia
North Macedonia is a landlocked country located on the shaft of the Balkan peninsula. This young country borders Kosovo, Serbia, Bulgaria, Greece, and Albania.
Tourists are drawn to North Macedonia for many reasons. This includes the country's many ancient religious constructions. Entertainment is integral to the culture of North Macedonia. It's film-making history dates back 100 years and art even longer.
Do I Need Vaccines for North Macedonia?
Yes, some vaccines are recommended or required for North Macedonia. The National Travel Health Network and Centre and WHO recommend the following vaccinations for North Macedonia: COVID-19, hepatitis A, hepatitis B, rabies and tetanus.
See the bullets below to learn more about some of these key immunisations:
See the tables below for more information:
Recommended Travel Vaccinations for North Macedonia

VACCINE
HOW DISEASE SPREADS
DETAILS

COVID-19
Airborne
Recommended for all travellers
Hepatitis A
Food & Water
Recommended for most travellers to the region, especially if unvaccinated.
Hepatitis B
Blood & Body Fluids
Accelerated schedule available
Tetanus
Wounds or Breaks in Skin
Recommended for travelers to most regions, especially if not previously vaccinated.
Rabies
Saliva of Infected Animals
High risk country. Vaccine recommended for long-stay travellers and those who may come in contact with animals.
See our vaccinations page to learn more about these infections and vaccines. Ready to protect yourself? Book your travel health appointment today by calling or schedule online now.
Do I Need a Visa or Passport for North Macedonia?
British travellers do not need a visa for travel to North Macedonia that last less than three months. Passports must be valid for at least 90 days from entry.
North Macedonia Entry Requirements

Do I Need A…
For My Trip to North Macedonia?

Passport
Tourist Visa
Business Visa
Vaccinations
Sources: Embassy of North Macedonia and GOV.UK
What is the Climate Like in North Macedonia?
North Macedonia has a continental climate with warm dry summers and cool winters. The large mountain ranges that inhabit North Macedonia and the surrounding areas keep the temperatures cool.
The summer months in North Macedonia are in the low 20's. The winter months are generally around 0 degrees.
Expect a fair amount of rain during the months of April and May and snow during the months of November and December. Heavy thunderstorms are also common and likely during the warmest of summer days. However, you should be prepared for precipitation no matter what time of the year you travel here. It can and does rain and/or snow during every month of the year in North Macedonia.
How Safe is North Macedonia?
North Macedonia is generally a safe place for travelers. To stay safe, follow these tips:
Learn about the local customs, culture, and politics before your trip.
Keep your passport and important documents safe. Make copies or store digital versions.
Watch local news and weather updates.
Get travel insurance and check with your doctor for vaccinations and medications.
Be careful with money. Use ATMs in safe areas and watch out for pickpockets in crowded places.
Dress modestly, especially when visiting religious sites.
Share your travel plans with friends or family. Keep a working phone with you.
Use registered taxis or well-known ride-sharing services. Be careful on public transportation.
Follow the laws of North Macedonia and avoid illegal activities.
Know the local emergency phone numbers. The general emergency number is 112, and the police number is 192.
By following these tips, you can have a safe and fun trip to North Macedonia.
Ohrid Boardwalk
Ohrid is a town in North Macedonia that many tourists visit. It's known for being on a beautiful lake and having lots of old churches and monasteries. These places are very old and special, and were declared a UNESCO World Heritage Site. Visitors can also enjoy outdoor activities like hiking and biking, or go to cultural events like the Ohrid Summer Festival. The town has a lot of delicious food to try, too, like Turlitava, Trpeza, and Pindzur.
The lake is pretty and clear, and you can take a boat tour, swim or sunbathe on the beaches, or go fishing. If you like nature, you can visit Galicica National Park, which is nearby. Ohrid is a nice and relaxing place that has a little bit of everything for tourists to enjoy.
What Should I Take to North Macedonia?
When packing for North Macedonia, think about the season, how long you'll stay, and what you'll do. Here's a list of things to bring:
Clothes:
Light clothes for hot days (shorts, t-shirts)
Warm clothes for cold days (sweaters, long-sleeve shirts)
A waterproof jacket for rain and cool nights
Comfy shoes for walking
Socks, underwear, and sleepwear
Swimsuit for swimming
Hat, sunglasses, and sunscreen to protect from the sun
Scarf or shawl for girls, especially at religious places
Personal stuff:
Passport, visa, and travel insurance
Medicine and first-aid kit
Toothbrush, toothpaste, and deodorant
Bug spray
Electronics:
Phone, charger, and extra battery
Plug adapter for North Macedonia
Camera and headphones
Travel papers:
Itinerary, hotel info, and tour tickets
Guidebook, map, and language book
Emergency contact info
Extra things:
Reusable water bottle
Snacks and travel pillow
Small bag for daily trips
Money belt or hidden pouch
Umbrella
Check the weather before you go, and change this list based on your needs.
Embassy of the United Kingdom in North Macedonia
If you are in North Macedonia and have an emergency (for example, been attacked, arrested or someone has died) contact the nearest consular services. Contact the embassy before arrival if you have additional questions on entry requirements, safety concerns or are in need of assistance.
British Embassy Skopje
Todor Aleksandrov No.165
Skopje 1000
North Macedonia
Telephone: +389 (2) 3299 299
Emergency Phone: +389 2 3299 299
Fax: +389 (2) 2 3179 726
Contact Form: Click Here
Stay safe abroad with Passport Health. Ring or book online now and start travelling safely today!
On This Page:
Do I Need Vaccines for North Macedonia?
Do I Need a Visa or Passport for North Macedonia?
What is the Climate Like in North Macedonia?
How Safe is North Macedonia?
Ohrid Boardwalk
What Should I Take to North Macedonia?
Embassy of the United Kingdom in North Macedonia