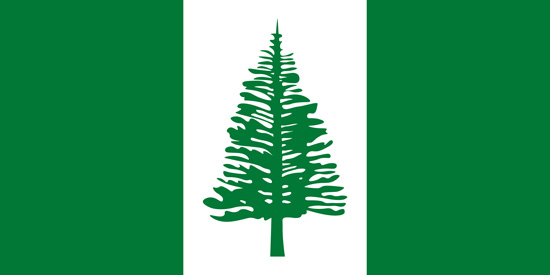 Travel Vaccines and Advice for Norfolk Island
Norfolk Island is an external territory of the Commonwealth of Australia. It is located in the Pacific Ocean between Australia and New Zealand.
The population of Norfolk Island is over 1,500 with the island spanning 400 square kilometres. Most of the population are descendants of the Bounty Mutineers, a ship from the late 1700's, and Pitcairn leaders. Other parts of the population are migrants from Australia and New Zealand.
The main languages spoken on Norfolk Island include English and Norfuk (a Creole language).
The largest cities on Norfolk Island include Burnt Pine and Kingston.
Do I Need Vaccines for Norfolk Island?
Yes, some vaccines are recommended or required for Norfolk Island. The National Travel Health Network and Centre and WHO recommend the following vaccinations for Norfolk Island: COVID-19, hepatitis A, hepatitis B, yellow fever, Japanese encephalitis, rabies and tetanus.
See the bullets below to learn more about some of these key immunizations:
See the table below for more information:
Recommended Travel Vaccinations for Norfolk Island

VACCINE
HOW DISEASE SPREADS
DETAILS

COVID-19
Airborne
Recommended for all travellers
Hepatitis A
Food & Water
Recommended for most travellers to the region, especially if unvaccinated.
Hepatitis B
Blood & Body Fluids
Accelerated schedule available
Tetanus
Wounds or Breaks in Skin
Recommended for travelers to most regions, especially if not previously vaccinated.
Yellow Fever
Mosquito
Required if travelling from a country with risk of yellow fever transmission. Excludes the Galapagos in Ecuador and Misiones in Argentina.
Japanese Encephalitis
Mosquito
Human cases are not common, but can occur.
Rabies
Saliva of Infected Animals
Although rare, rabies may be spread by bats on the island.
The medical facilities on Norfolk Island are very good and emergency services are available 24-hours a day.
To find out more about these vaccines, see our vaccinations page. Ready to travel safely? Book your appointment either ring or start booking online now.
Do I Need a Visa or Passport for Norfolk Island?
A visa is required for entry to Norfolk Island. An Electronic Travel Authority visa can be obtained online before arrival. Proof of yellow fever vaccination may be required if you are travelling from a region where yellow fever is present.
Norfolk Island Entry Requirements

Do I Need A…
For My Trip to Norfolk Island?

Passport
Tourist Visa
Business Visa
Vaccinations
Sources: Embassy of Norfolk Island and GOV.UK
What Is the Climate Like in Norfolk Island?
Norfolk Island is a subtropical climate so its temperatures remain mild year-round. Temperatures range from 12 to 24.
Rainfall is heavy all year round, but most of the rainfall occurs at night. Rains are a little less heavy from October-March.
How Safe is Norfolk Island?
Crime on Norfolk is low, but it's always important to practice basic safety precautions.
While motoring, keep on the left side of the road and always wear a seat belt.
Swimming is illegal in post parts of Norfolk Island as it is surrounded by a protected coral reef. The waves can be hazardous. If you're planning on swimming, you may do so at Emily Bay.
Local authorities are responsible for investigating and prosecuting crime if a crime should be committed against you.
Convict Settlement on Norfolk Island
The prison settlement near Emily Bay, that once held 1,000 prisoners, still remains. The British closed down the settlement in the late 1800's due to its terrible reputation. They gave the island to the Bounty Mutineers.
The Norfolk Island Jail and Goal are still standing and can still be visited by tourists as part of the Kingston and Arthur's Vale Historic Area. This location is part of the World Heritage List. They are well preserved and best seen through the guidance of a tour guide.
What Should I Take To Norfolk Island?
Here are some essential items to consider for your trip to Norfolk Island
Although the weather is mild, it's always good to pack in light layers.
Insect repellent and mosquito nets to protect against mosquito-borne illnesses.
Sun cream or other forms of sun protection.
Walking or hiking shoes
Embassy of the United Kingdom to Norfolk Island
If you are in Norfolk Island and have an emergency (for example, been attacked, arrested or someone has died) contact the nearest consular services. Contact the embassy before arrival if you have additional questions on entry requirements, safety concerns or are in need of assistance.
While there is no consulate or embassy in Norfolk Island, it is served by the British embassy in New Zealand:
British High Commission New Zealand
44 Hill Street
Thorndon
Wellington 6011
New Zealand
Telephone: +64 (0) 4 924 2888
Fax: +64 (0) 4 473 4982
Contact Form: Click Here
If you have any questions about travelling to Norfolk Island or are wondering which jabs you may need for your trip, schedule an appointment with your local Passport Health travel medicine clinic. Ring us up at or book online now and protect yourself today.
On This Page:
Do I Need Vaccines for Norfolk Island?
Do I Need a Visa or Passport for Norfolk Island?
What Is the Climate Like in Norfolk Island?
How Safe is Norfolk Island?
Convict Settlement on Norfolk Island
What Should I Take To Norfolk Island?
Embassy of the United Kingdom to Norfolk Island