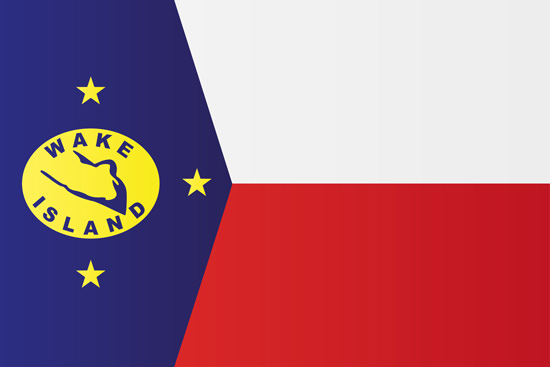 Travel Vaccines and Advice for Wake Island
Wake Island is an unorganised and unincorporated territory of the United States. This small coral atoll in the Pacific Ocean is a restricted area, with only military staff and scientists allowed on the island.
It is administered by the U.S. Air Force and is often used as a military refuelling spot of aircraft. There are no permanent residents on Wake Island. But, there are usually about 100 military staff living on the island at any given time.
Every once in a way there is a day trip from Military Historical Tours that can visit the island.
Do I Need Vaccines for Wake Island?
Yes, some vaccines are recommended or required for Wake Island. The National Travel Health Network and Centre and WHO recommend the following vaccinations for Wake Island: COVID-19, hepatitis A, hepatitis B, rabies and tetanus.
See the bullets below to learn more about some of these key immunisations:
See the tables below for more information:
Recommended Travel Vaccinations for Wake Island

VACCINE
HOW DISEASE SPREADS
DETAILS

COVID-19
Airborne
Recommended for all travellers
Hepatitis A
Food & Water
Recommended for most travellers to the region, especially if unvaccinated.
Hepatitis B
Blood & Body Fluids
Accelerated schedule available
Tetanus
Wounds or Breaks in Skin
Recommended for travelers to most regions, especially if not previously vaccinated.
Rabies
Saliva of Infected Animals
Vaccine recommended for long-stay travellers and those who may come in contact with animals.
To find out more about these vaccines, see our vaccinations page. Ready to travel safely? Book your appointment either ring or start booking online now.
Do I Need a Visa or Passport for Wake Island?
It is not easy to get access to Wake Island. Entry into Wake Island is heavily restricted. It is not open to visitors and only allows military staff or members of the U.S. Wildlife and Fish Services.
What Is the Climate Like on Wake Island?
Wake Island has a tropical climate and two distinct seasons: dry and rainy. The dry season runs from December to April. The rainy season runs from July and October. Average temperatures range from 25 to 35.
Beware of going to Wake Island during typhoon season (July-November) as they can cause significant damage.
How Safe is Wake Island?
Due to the restricted nature of Wake Island, there is no crime.
There are sharks that swim in the waters of Wake Island. Be careful and be aware of your surroundings whilst you're swimming.
Local authorities are responsible for investigating and prosecuting crime if a crime should be committed against you.
Military Historical Tours On Wake Island
Once again, tourists are not permitted on Wake Island. There are Military Historical Tours that take day trips to the island.
Even then, there is a criteria on who may visit. People must be donors of the Pacific Aviation Museum, be a U.S. Citizen, or they can be WWII veterans, POWs, and their families.
What Should I Take To Wake Island?
Here are some essential items to consider for your trip to the Wake Island:
Umbrella or rain jacket during rainy months
Lightweight clothing that can be layered if necessary
Swimsuit for swimming in the lagoons and ocean
Embassy of the United Kingdom in Wake Island
If you are in Wake Island and have an emergency (for example, been attacked, arrested or someone has died) contact the nearest consular services. Contact the embassy before arrival if you have additional questions on entry requirements, safety concerns or are in need of assistance.
While there is no consulate or embassy in Wake Island, it is served by the British embassy in Washington D.C.:
British Embassy Washington
3100 Massachusetts Avenue, NW
Washington DC 20008
USA
Telephone: +1 202 588 6500
Emergency Phone: +1 202 588 6500
Email: britishembassyenquiries@gmail.com
If you have any questions about travelling to Wake Island or are wondering which jabs you may need for your trip, schedule an appointment with your local Passport Health travel medicine clinic. Ring us up at or book online now and protect yourself today.
On This Page:
Do I Need Vaccines for Wake Island?
Do I Need a Visa or Passport for Wake Island?
What Is the Climate Like on Wake Island?
How Safe is Wake Island?
Military Historical Tours On Wake Island
What Should I Take To Wake Island?
Embassy of the United Kingdom in Wake Island