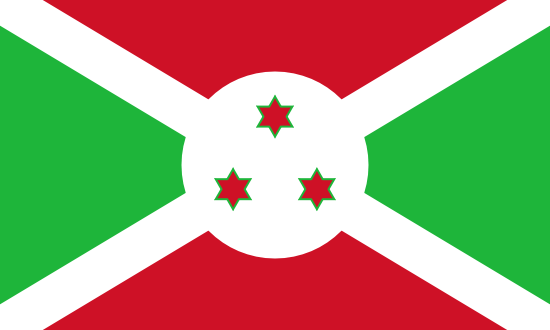 Travel Vaccines and Advice for Burundi
Burundi is one of the smallest countries. But, it is also one of the most densely populated countries in Africa. The capital is Bujumbura and the whole country is so compact that nearly all of it is accessible by road.
There is a wide range of geographical features in Burundi including riverbeds, mountains and plateaus. The plateaus are home to cultivate farms and other agriculture such as coffee and tea.
Due to civil unrest after a failed coup in 2015, Burundi can be a dangerous place to travel (see How Safe is Burundi?).
Do I Need Vaccines for Burundi?
Yes, some vaccines are recommended or required for Burundi. The National Travel Health Network and Centre and WHO recommend the following vaccinations for Burundi: COVID-19, hepatitis A, hepatitis B, typhoid, cholera, yellow fever, rabies, meningitis, and tetanus.
See the bullets below to learn more about some of these key immunisations:
See the tables below for more information:
Recommended Travel Vaccinations for Burundi

VACCINE
HOW DISEASE SPREADS
DETAILS

COVID-19
Airborne
Recommended for all travellers
Hepatitis A
Food & Water
Recommended for most travellers to the region, especially if unvaccinated.
Hepatitis B
Blood & Body Fluids
Accelerated schedule available
Tetanus
Wounds or Breaks in Skin
Recommended for travelers to most regions, especially if not previously vaccinated.
Typhoid
Food & Water
Jab lasts 3 years. Oral vaccine lasts 5 years, must be able to swallow pills. Oral doses must be kept in refrigerator.
Cholera
Food & Water
Cases have been reported in multiple regions since Nov. 2017.
Yellow Fever
Mosquito
Required for all travellers over 1 year of age.
Rabies
Saliva of Infected Animals
High risk country. Vaccine recommended for long-stay travellers and those who may come in contact with animals.
Meningitis
Airborne & Direct Contact
Located in the meningitis belt, vaccination is recommended during the dry season (Dec. – June)
Zika virus is a risk in Burundi. The virus can cause severe birth defects. Pregnant women are highly advised not to travel to Burundi.
Medical facilities are limited throughout the country. Hospital Bumeric in the capital provides emergency care.
Medicare and most assurance companies do not cover costs overseas. Money must be presented before treatment is performed.
For more see our vaccinations page. Or, make an appointment with your local Travel Medicine Specialist. To book your appointment at one of our 250+ locations ring or book online now.
Do I Need a Visa or Passport for Burundi?
A visa is required for travel to Burundi. Passports should be valid for the duration of stay. Keep a copy of your passport and visa with you at all times whilst in Burundi. Proof of yellow fever vaccination is required for entry to the country.
Burundi Entry Requirements

Do I Need A…
For My Trip to Burundi?

Passport
Tourist Visa
Business Visa
Vaccinations
Sources: Embassy of Burundi and GOV.UK
What is the Climate Like in Burundi?
Burundi has an equatorial climate with the average temperature varying by region:
The central plateau has cool weather around 30 degrees.
The Lake Tanganyika is fairly mild, around 30 as well.
The mountain regions are cooler, averaging around 15.
Rain is irregular in Burundi and there are often long periods of drought. Burundi receives 130 to 150 centimeters of rain a year.
There are four seasons in Burundi: the long dry season (June–August), the short wet season (September–November), the short dry season (December–January), and the long wet season (February–May).
How Safe Is Burundi?
Due to the unstable political climate since 2015, security is unpredictable in Burundi.
Violent crimes continue to occur throughout the country, but are mostly concentrated in Bujumbura. These crimes include: grenade attacks, political assassinations, armed clashes between protesters and security and extrajudicial killings.
Police are authorized to conduct home and car searches, but must present identification and a warrant. There are also police checkpoints throughout the country.
Harassment and physical violence has been reported, especially near the Burundi-Rwandan border.
Power outages are a frequent and may affect access to safe drinking water.
It is also illegal to take photographs of government buildings, airports and border patrols are prohibited.
Do not take photographs of Burundians without their permission.
In 2009, the Burundian government criminalized homosexuality.
National Parks in Burundi
Burundi is home to three national parks: Kibira, Rusizi and Ruvubu.
Kibira is located in northwestern Burundi and is a forest-region ideal for bird-watching.
Rusizi is on the Rusizi River and is home to many hippos and an infamous man-eating alligator named Gustave.
Ruvubu is the largest national park is is located in northeastern Burundi. Founded in 1980, it's a space meant to help preserve wildlife. There are no human inhabitants.
These national parks provide a place to bird-watch and see a variety of local wildlife such as hippos and reptiles.
If you're planning to go to a national park, remember to bring insect spray and boots to prevent bites and wear long sleeves to protect yourself from long grass.
What Should I Take To Burundi?
Here are some essential items to consider for your trip to Burundi:
Traveller's diarrhoea kit
Water purification tablets
Hand sanitizer
Bed net to ward off mosquitoes
Proof of yellow fever vaccination
Embassy of the United Kingdom in Burundi
If you are in Burundi and have an emergency (for example, been attacked, arrested or someone has died) contact the nearest consular services. Contact the embassy before arrival if you have additional questions on entry requirements, safety concerns or are in need of assistance.
British Embassy Liaison Office Bujumbura
Building Old East Bujumbura, 1st Floor
Place de L'Independence
Bujumbura
Bujumbura
Burundi
Telephone: +257 22 24 64 78
Emergency Phone: +250 252 556 000
Email: BHC.Kigali@fco.gov.uk
Ready to start your next journey? Ring us up at or book online now!
On This Page:
Do I Need Vaccines for Burundi?
Do I Need a Visa or Passport for Burundi
What is the Climate Like in Burundi?
How Safe is Burundi?
National Parks in Burundi
What Should I Take to Burundi?
Embassy of the United Kingdom in Burundi