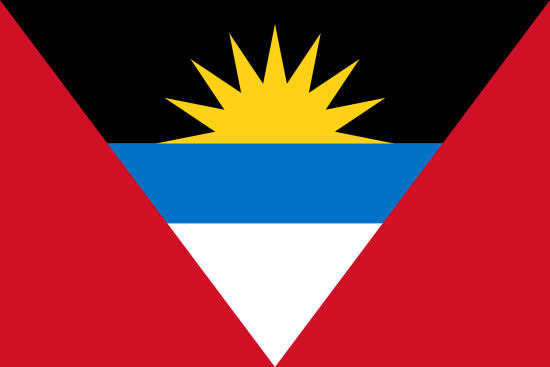 Travel Vaccines and Advice for Antigua and Barbuda
The country of Antigua and Barbuda is a Caribbean nation made of two islands. Located in the West Indies, it is a part of the "Leeward Islands," group. Antigua and Barbuda is known for its sandy seasides and beautiful coral reefs.
Do I Need Vaccines for Antigua and Barbuda?
Yes, some vaccines are recommended or required for Antigua and Barbuda. The National Travel Health Network and Centre and WHO recommend the following vaccinations for Antigua and Barbuda: COVID-19, hepatitis A, hepatitis B, yellow fever, rabies and tetanus.
See the bullets below to learn more about some of these key immunisations:
See the tables below for more information:
Recommended Travel Vaccinations for Antigua and Barbuda

VACCINE
HOW DISEASE SPREADS
DETAILS

COVID-19
Airborne
Recommended for all travellers
Hepatitis A
Food & Water
Recommended for most travellers to the region, especially if unvaccinated.
Hepatitis B
Blood & Body Fluids
Accelerated schedule available
Tetanus
Wounds or Breaks in Skin
Recommended for travelers to most regions, especially if not previously vaccinated.
Yellow Fever
Mosquito
Required if travelling from a country with risk of yellow fever transmission.
Rabies
Saliva of Infected Animals
Vaccine recommended for long-stay travellers and those who may come in contact with animals.
Rabies is prevalent in bats in Antigua and Barbuda. If you are going to be do any hiking or other outdoor excursion it is recommended you receive this vaccine.
Dengue is a risk in the country. Ensure you bring and use mosquito repellents or netting.
See our vaccinations page to learn more about these infections and vaccines. Ready to protect yourself? Book your travel health appointment today by calling or schedule online now.
Zika Virus in Antigua and Barbuda
Travellers to Antigua and Barbuda are at risk of contracting Zika. Pregnant women should be especially cautious. Zika is known to cause severe birth defects in fetuses.
Use insect repellent and wear clothing which covers the arms and legs.
For more information on Zika, see our information page. Your local Passport Health will also carry a variety of repellents for your trip.
Do I Need a Visa to Go to Antigua and Barbuda?
Upon arrival, travellers are authorized for a certain period of stay. You may pay for an extension. Visas are not required for entry. Proof of yellow fever vaccination may be required if you are travelling from a region where yellow fever is present. Passports must be valid for at least six months from the date of entry to the country.
Antigua and Barbuda Entry Requirements

Do I Need A…
For My Trip to Antigua and Barbuda?

Passport
Tourist Visa
Business Visa
Vaccinations
Sources: Embassy of Antigua and Barbuda and GOV.UK
How Is the Climate in Antigua and Barbuda?
Antigua and Barbuda's climate is warm and dry. The temperatures range from the low-20's to low-30's.
October to January are the hottest months of the year. But, they are not unbearable thanks to the cooling southern winds.
June through November are known as the rainy months. Daily rain showers are not uncommon. The islands are also located in a hurricane zone making tropical storms and hurricanes a risk.
Is Antigua and Barbuda Safe?
Antigua and Barbuda's economy is centered on tourism. Much of the crime is focused on tourists as well. Be aware of your surroundings to avoid pickpockets or stolen bags.
Violent crime is less common. Avoid making trouble and keep a low profile to prevent becoming a target.
Visiting St. John's Saturday Morning Market
This market is a trademark of the island where vendors from all over come to sell a wide-variety of goods. The market gets very crowded so it is best to go in the morning to give yourself plenty of time.
It also has plenty of food stands which offer breakfast and lunch. Be careful what you eat and where you eat it from as food contamination is a common cause of illness. Consider bringing a traveller's diarrhoea kit with you to avoid problems.
The market is a bustling place full of vibrant colours and spirits where both travellers and natives can gather together to experience the best of what Antigua has to offer.
What Should I Pack for Antigua and Barbuda?
Antigua and Barbuda is a magical place to visit. But, its important to ensure you have everything with you to have a safe and fun trip. Some key items include:
Lightweight cotton clothing to help keep cool in the heat.
Small rucksack or other bag for carrying necessities whilst on an excursion or on the seaside.
A rain jacket and waterproof shoes in case of an unexpected shower.
Comfortable walking shoes if you plan on going hiking or walking around in the city.
Hand sanitizer and hand sanitizer wipes are helpful. Bring these with you whenever you use any public facilities or are in public markets.
Insect repellent to protect against mosquito bites and Zika.
Embassy of the United Kingdom in Antigua and Barbuda
If you are in Antigua and Barbuda and have an emergency (for example, been attacked, arrested or someone has died) contact the nearest consular services. Contact the embassy before arrival if you have additional questions on entry requirements, safety concerns or are in need of assistance.
While there is no consulate or embassy in Antigua and Barbuda, it is served by the British embassy in Barbados:
British High Commission, Bridgetown
Lower Collymore Rock
PO Box 676
Bridgetown, Barbados
Telephone: + 1 246 430 7800
Emergency Phone: + 1 246 430 7800
Fax: + 1 246 430 7860
Email: ukinbarbados@fco.gov.uk
Ready to start your next journey? Ring us up at or book online now!
On This Page:
Do I Need Vaccines for Antigua and Barbuda?
Zika Virus in Antigua and Barbuda
Do I need a Visa to go to Antigua and Barbuda?
How Is the Climate in Antigua and Barbuda?
Is Antigua and Barbuda Safe?
Visiting St. John's Saturday Morning Market
What Should I Pack for Antigua and Barbuda?
Embassy of the United Kingdom in Antigua and Barbuda