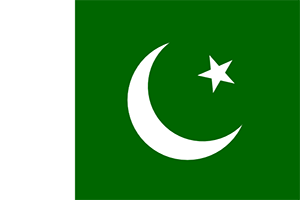 Travel Vaccines and Advice for Pakistan
Located in South Asia, the country of Pakistan has garnered a reputation of both good and bad. Though extremism continues, Pakistan has remained a strong and prosperous nation.
Pakistan boasts a diverse landscape of charming, coastal towns and dreamy, desert dwellings. No matter the itinerary for your trip, Pakistan is a dream destination for all world travellers.
Do I Need Vaccines for Pakistan?
Yes, some vaccines are recommended or required for Pakistan. The National Travel Health Network and Centre and WHO recommend the following vaccinations for Pakistan: COVID-19, hepatitis A, hepatitis B, typhoid, cholera, yellow fever, Japanese encephalitis, rabies, polio and tetanus.
See the bullets below to learn more about some of these key immunisations:
See the tables below for more information:
Recommended Travel Vaccinations for Pakistan

VACCINE
HOW DISEASE SPREADS
DETAILS

COVID-19
Airborne
Recommended for all travellers
Hepatitis A
Food & Water
Recommended for most travellers to the region, especially if unvaccinated.
Hepatitis B
Blood & Body Fluids
Accelerated schedule available
Tetanus
Wounds or Breaks in Skin
Recommended for travelers to most regions, especially if not previously vaccinated.
Typhoid
Food & Water
Jab lasts 3 years. Oral vaccine lasts 5 years, must be able to swallow pills. Oral doses must be kept in refrigerator.
Cholera
Food & Water
Recommended for travel to most regions.
Yellow Fever
Mosquito
Required if travelling from a country with risk of yellow fever transmission.
Japanese Encephalitis
Mosquito
Recommended depending on itinerary and activities. Recommended for extended travel, recurrent travellers and travel to rural areas. Most cases reported in Karachi.
Rabies
Saliva of Infected Animals
High risk country. Vaccine recommended for long-stay travellers and those who may come in contact with animals.
Polio
Food & Water
Required if arriving from a region with polio transmission. Pakistan has had documented polio cases in the last year. Vaccination or a single adult booster is recommended.
Polio is still a threat in some parts of Pakistan. Ensure that you have been vaccinated. Travellers staying in Pakistan for more than four weeks must show proof of vaccination.
Japanese encephalitis is a mosquito-borne disease found in some parts of Pakistan. Vaccination may be recommended based on your travel plans.
Dengue, malaria and chikungunya are also present. Repellents and netting provide protection. You may require antimalarials based on your itinerary.
Visit our vaccinations page to learn more. Travel safely with Passport Health and schedule your appointment today by calling or book online now.
Is a Passport or Visa Required for Pakistan?
A visa is required for all travel to Pakistan. Passports must have at least six months validity. Proof of yellow fever vaccination may be required if you are travelling from a region where yellow fever is present.
Proof of polio vaccination is required for travellers staying over four weeks.
Pakistan Entry Requirements

Do I Need A…
For My Trip to Pakistan?

Passport
Tourist Visa
Business Visa
Vaccinations
Sources: Embassy of Pakistan and GOV.UK
What is the Climate Like in Pakistan?
The climate of Pakistan is best described through seasons. Winter lasts from November to March, and has semi-cool temperatures. But, it is still warm in comparison to winter temperatures in other countries.
From April to July, Pakistan experiences extreme temperatures and monsoon conditions. Monsoon season brings most of the country's rainfall. Rain has caused intence flooding issues in previous years.
Highs and lows vary by season. In January, the average low can be below freezing. In the summer, temperatures can reach up to the low 50's.
Islamabad – The average high in Islamabad in June is in the high 20's. The average low is in the 10's for January. The capital receives an average of 6 inches of rainfall between July and August.
Karachi – The average high temperature in Karachi is in the low-30's. Temperatures typically reach their peak in the months of May and June. The average low is in the teens for December and January. The city receives its highest rainfall in August, and will get anywhere from 2 to 5 centimeters of rainfall.
How Safe is Pakistan?
Travel to Pakistan, for UK citizens is not recommended. Due to political unrest and terrorism, avoid travel to the region.
Peshawar, Karachi and Quetta are a magnets for rebels and terrorist attacks. Islamabad is the single-safest city in Pakistan. Like most countries or cities, there are safe and unsafe areas.
Explore the Lost City of Mohenjo Daro
Located in Sindh and built around 2500 BC, Mohenjo Daro is known as the, 'Lost City of Pakistan'. The Indus city has attracted archaeologists and travellers alike for centuries. With no real, identifiable historical significance, the province leaves visitors with more questions.
The ancient city was built on elevated ground in the Larkana district of Sindh. Mohenjo Daro has no evidence of government. Archaeologists believe that it was likely a city-state, governed by elected officials and leaders.
The city's heyday was believed to have been between 2500 BC and 1900 BC. Though it was unknown until its discovery in 1921, the province's well-preserved history and charming architecture makes it a major hot-spot.
What Should I Take to Pakistan?
Pakistan is a popular destination. But, it's important to ensure you have everything you need for your trip.
Insect Repellent – Mosquitoes and malaria can be a problem in some parts of Pakistan. An insect repellent will help to reduce the risk of disease.
Power Converter – Bring a converter if you're planning on using any electronics.
Sun Cream – The sun is especially deceiving in Pakistan. Whether you're trekking through desert or cruising the coast, sun cream is essential.
Embassy of the United Kingdom in Pakistan
If you are in Pakistan and have an emergency (for example, been attacked, arrested or someone has died) contact the nearest consular services. Contact the embassy before arrival if you have additional questions on entry requirements, safety concerns or are in need of assistance.
British High Commission Islamabad
Diplomatic Enclave, Ramna 5, P O Box 1122, Islamabad
Islamabad
Pakistan
Telephone: +92 51 201 2000
Emergency Phone: +92 (0)51 201 2000
Contact Form: Click Here
Ready to start your next journey? Ring us up at or book online now!
On This Page:
Do I Need Vaccines for Pakistan?
Is a Passport or Visa Required for Pakistan?
What is the Climate Like in Pakistan?
How Safe is Pakistan?
Explore the Lost City of Mohenjo Daro
What Should I Take to Pakistan?
Embassy of the United Kingdom in Pakistan