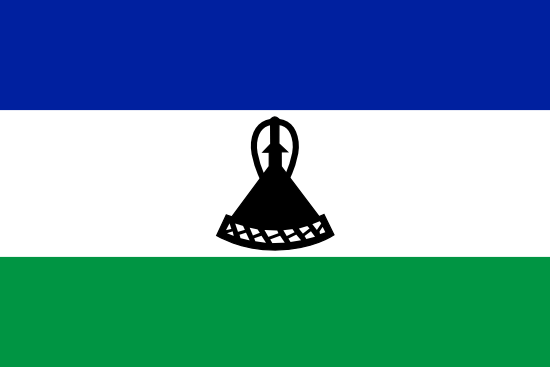 Travel Vaccines and Advice for Lesotho
Water and diamonds are Lesotho's largest natural resources. Dams provide water throughout the region and diamonds mines dot the landscape. Due to its mountainous terrain, Lesotho is a sought after location for serious hikers.
Sesotho is the official language of Lesotho and is spoken by the largest ethnic group in Lesotho: the Basotho. 90% of the population practises Christianity.
When travelling to Lesotho, remember to always respond when spoken to and never get angry. Both are seen as highly disrespectful.
Do I Need Vaccines for Lesotho?
Yes, some vaccines are recommended or required for Lesotho. The National Travel Health Network and Centre and WHO recommend the following vaccinations for Lesotho: COVID-19, hepatitis A, hepatitis B, typhoid, cholera, yellow fever, rabies and tetanus.
See the bullets below to learn more about some of these key immunisations:
See the tables below for more information:
Recommended Travel Vaccinations for Lesotho

VACCINE
HOW DISEASE SPREADS
DETAILS

COVID-19
Airborne
Recommended for all travellers
Hepatitis A
Food & Water
Recommended for most travellers to the region, especially if unvaccinated.
Hepatitis B
Blood & Body Fluids
Accelerated schedule available
Tetanus
Wounds or Breaks in Skin
Recommended for travelers to most regions, especially if not previously vaccinated.
Typhoid
Food & Water
Jab lasts 3 years. Oral vaccine lasts 5 years, must be able to swallow pills. Oral doses must be kept in refrigerator.
Cholera
Food & Water
Recommended for travel to most regions.
Yellow Fever
Mosquito
Required if travelling from a country with risk of yellow fever transmission.
Rabies
Saliva of Infected Animals
High risk country. Vaccine recommended for long-stay travellers and those who may come in contact with animals.
Medical facilities are scarce in Lesotho and there are no ambulance services. Depending on the treatment needed, you may be sent to South Africa. Good facilities are located in Blomfontein.
Medicare does not cover procedures done in Lesotho. It is recommended to get comprehensive travel medical assurance.
Visit our vaccinations page to learn more. Travel safely with Passport Health and schedule your appointment today by calling or book online now.
Do I Need a Visa or Passport for Lesotho?
Visas for Lesotho are required and available on arrival. But, receiving your passport before travel is recommended. Passports must be valid for at least 90 days and have two blank pages. Proof of yellow fever vaccination may be required if you are travelling from a region where yellow fever is present.
Lesotho Entry Requirements

Do I Need A…
For My Trip to Lesotho?

Passport
Tourist Visa
Business Visa
Vaccinations
Sources: Embassy of Lesotho and GOV.UK
What is the Climate Like in Lesotho?
Due to its high-altitude, Lesotho's climate is cooler than regions of the same latitude. Lesotho has a continental climate with cold winters and warm summers.
Low-lands can reach 30 degrees in the summer and -7 in the winter.
85% of precipitation falls between October and April. Drought often occurs in the dry months between May and September.
How Safe is Lesotho?
Although there is no evidence to support that UK citizens are targeted, tourists are at a high-risk of being victims of robbery and even killings.
Be cautious when walking around Maseru and other urban areas during the day and night. Crimes are most common at tourists destinations, popular restaurants and among poorly-lit roads.
If you are travelling through the O.R. Tambo International Airport (Johannesburg), secure your luggage as theft from baggage is common.
Hiking in Lesotho
Due to its mountainous geography, Lesotho is considered a paradise to many hikers. Although there are not a lot of official hiking trails, there are many walking trails which allow hikers to more freedom to explore.
Hikes in Lesotho include rivers, gorges, caves and a variety of rock formations.
Some of the best hiking (and lodging) can be found in Lesotho's National Parks such as Sehlabathebe National Park, Ts'ehlanyane National Park and the Bokong Nature Reserve.
If you plan on hiking in Lesotho, have map reading skills due to the number of unmarked trails.
What Should I Take To Lesotho?
Here are some essential items to consider for your trip to Lesotho:
Get Loti (official currency) before coming to Lesotho. Cashing travellers cheques can be a lengthy process and there are a limited amount of ATMs. Once out of big cities, most establishments won't accept credit cards.
Hand sanitizer
Scarves. To protect from the elements and for rural areas where women must wear scarves to cover their heads.
Prescription and emergency medications as pharmacies are hard to come by.
If you go during the rainy season (May-September), bring rain gear.
Embassy of the United Kingdom in Lesotho
If you are in Lesotho and have an emergency (for example, been attacked, arrested or someone has died) contact the nearest consular services. Contact the embassy before arrival if you have additional questions on entry requirements, safety concerns or are in need of assistance.
While there is no consulate or embassy in Lesotho, it is served by the British embassy in South Africa:
British High Commission, Pretoria
255 Hill Street
Arcadia
Pretoria
Gauteng
0002
South Africa
Telephone: +27 12 421 7500
Emergency Phone: +27 12 421 7500
Fax: +27 86 535 5422
Contact Form: Click Here
If you have any questions about travelling to Lesotho or are wondering which jabs you may need for your trip, schedule an appointment with your local Passport Health travel medicine clinic. Ring us up at or book online now and protect yourself today.
On This Page:
Do I Need Vaccines for Lesotho?
Do I Need a Visa or Passport for Lesotho?
What is the Climate Like in Lesotho?
How Safe is Lesotho?
Hiking in Lesotho
What Should I Take To Lesotho?
Embassy of the United Kingdom in Lesotho