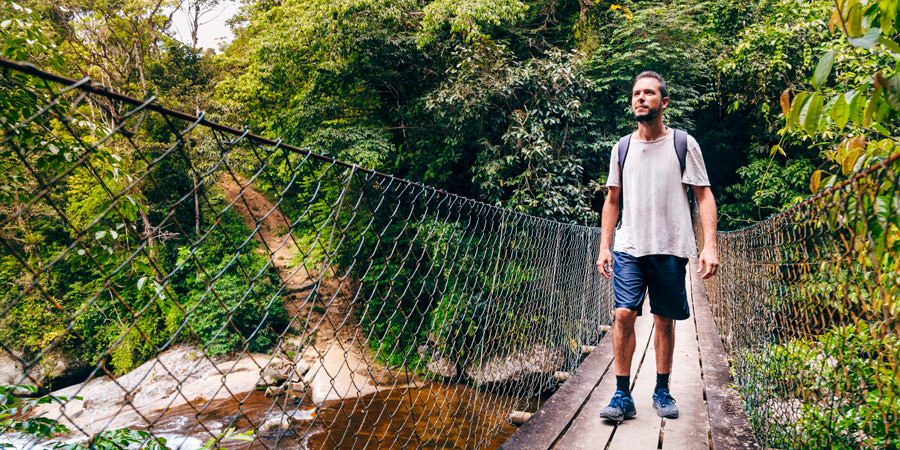 Yellow Fever Vaccinations and Certificates for International Travel
What Is Yellow Fever?
Yellow fever is a virus that many individuals know little about because its rarity in the Western world. Nearly all cases in the United Kingdom, Canada and other developed nations can be attributed to travellers that were not vaccinated against the disease and were infected.
One of the most common questions surrounding this disease is, Is yellow fever a virus and what causes yellow fever? Yes, yellow fever is a virus that is transmitted by infected mosquitos. You contract the virus when bitten and it can take three to six days for it to show symptoms.
The majority of those infected with yellow fever will show no symptoms or only experience minor illness. However, symptoms can include fever, chills, severe headache, nausea, and in severe cases jaundice, bleeding or even organ failure.
How long does it take to contract yellow fever? It can potentially happen as soon as you arrive at your destination if you are not vaccinated. Unlike other diseases that require contact with others, all yellow fever needs is a mosquito to infect you.
There is no specific treatment for yellow fever, only supportive or preventive care, like vaccination.
Do I Need a Yellow Fever Vaccine?
The majority of travellers do not visit countries where a yellow fever vaccine is required or recommended. However, it is highly recommended or even required for many countries in Africa and the Americas, especially Central and South America. The most popular countries where yellow fever vaccination is required or recommended are:
Remember, an individual can contract yellow fever at any time if they are in an area where the infection is present and they have not been vaccinated. The vaccine is highly recommended for travel to yellow fever endemic regions. If a yellow fever vaccine is required to enter a country and you have not received it or do not have an International Certificate of Vaccination or Prophylaxis documenting your vaccine, you may be detained or be forced to pay for another vaccination. Be prepared before you go by visiting your local Passport Health clinic!
Where Can I Get a Yellow Fever Vaccine?
According to PHE regulations yellow fever vaccinations may only be given by designated Yellow Fever Vaccination Centres. All Passport Health clinic locations are designated Yellow Fever Vaccination Centres by the PHE and all Passport Health clinics have yellow fever vaccines in-stock and ready to be given. In accordance with PHE regulations, Passport Health will also advise if the vaccine is necessary and provide clients with written proof of immunisation on the International Certificate of Vaccination and Prophylaxis.
To schedule your appointment at a Passport Health clinic please ring or find the location nearest you.
Is the Yellow Fever Vaccine Safe?
The NHS, World Health Organisation, U.S. Center for Disease Control and Prevention and a myriad of other organisations have deemed the yellow fever vaccine safe for use, with very few risk factors. However, the vaccine is generally not recommended for pregnant or breastfeeding women, children less than nine months old, adults over the age of 60 and individuals with weakened immune systems. Your Passport Health travel specialist will help you address any potential risk factors before receiving the yellow fever vaccine or any other immunisation.
Be aware that the yellow fever vaccine can take 10 days to offer full immunity. Please plan your visit, and your trip, accordingly.
How Else Can I Protect Myself From Mosquitoes?
Yellow fever immunisation is the best way to avoid contracting the disease, but it is just the first step in preventing it and other mosquito-borne illnesses. Be sure to use mosquito repellents, protective clothing and mosquito netting when and where required. Other immunisations or medications, such as antimalarials, may be recommended by your Passport Health travel specialist. Please follow these guidelines to have a safe and health travel experience.
To find a Passport Health Yellow Fever Vaccination Centre near you, ring and find your nearest clinic. Come in and get protected today!
Yellow Fever Risk and Requirements By Country
Countries With Yellow Fever Transmission Risk:
Africa:
Angola, Benin, Burkina Faso, Burundi, Cameroon, Central African Republic, Chad, Rep. of the Congo, Côte d'Ivoire, Dem. Rep. of the Congo, Equatorial Guinea, Ethiopia, Gabon, The Gambia, Ghana, Guinea, Guinea-Bissau, Kenya, Liberia, Mali, Mauritania, Niger, Nigeria, Rwanada, Senegal, Sierra Leone, Sudan, South Sudan, Togo, Uganda
Central and South America:
Argentina, Bolivia, Brazil, Colombia, Ecuador, French Guiana, Guyana, Panama, Paraguay, Peru, Suriname, Trinidad and Tobago, Venezuela
NOTE: Countries in bold are not holoendemic (i.e. only a portion of the country has risk of yellow fever transmission).
Countries That Require Proof of Yellow Fever Vaccination For All Arriving Travellers:
Angola, Benin, Burkina Faso, Burundi, Cameroon, Central African Republic, Republic of the Congo, Côte d'Ivoire, Democratic Republic of Congo, French Guiana, Gabon, Ghana, Guinea-Bissau, Liberia, Mali, Niger, Rwanda, São Tomé and Príncipe, Sierra Leone, Togo
Remember, all Passport Health clinics carry yellow fever immunisation in-stock and ready for you and your family. To find the location nearest you ring or schedule your appointment online now.
On This Page:
What Is Yellow Fever?
Do I Need the Yellow Fever Vaccine?
Where Can I Get a Yellow Fever Vaccine?
Is The Yellow Fever Vaccine Safe?
How Else Can I Protect Myself From Mosquitoes?
Yellow Fever Risk and Requirements By Country