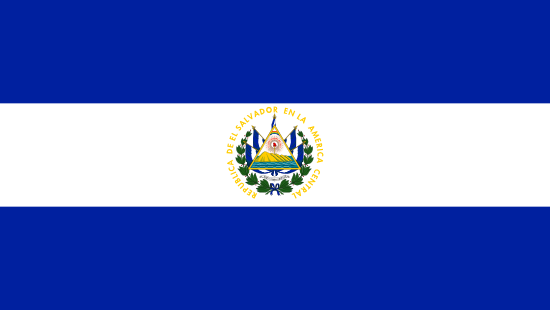 Travel Vaccines and Advice for El Salvador
With a rich history of native tribes and colonialism, El Salvador is a great destination.
From the capital city of San Salvador to its beautiful coasts, the country has much to offer travellers.
Do I Need Vaccines for El Salvador?
Yes, some vaccines are recommended or required for El Salvador. The National Travel Health Network and Centre and WHO recommend the following vaccinations for El Salvador: COVID-19, hepatitis A, typhoid, yellow fever, rabies and tetanus.
See the bullets below to learn more about some of these key immunisations:
See the tables below for more information:
Recommended Travel Vaccinations for El Salvador

VACCINE
HOW DISEASE SPREADS
DETAILS

COVID-19
Airborne
Recommended for all travellers
Hepatitis A
Food & Water
Recommended for most travellers to the region, especially if unvaccinated.
Tetanus
Wounds or Breaks in Skin
Recommended for travelers to most regions, especially if not previously vaccinated.
Typhoid
Food & Water
Jab lasts 3 years. Oral vaccine lasts 5 years, must be able to swallow pills. Oral doses must be kept in refrigerator.
Yellow Fever
Mosquito
Required if travelling from a country with risk of yellow fever transmission.
Rabies
Saliva of Infected Animals
High risk country. Vaccine recommended for long-stay travellers and those who may come in contact with animals.
Zika is a risk in El Salvador. Pregnant women should avoid travelling to El Salvador. Zika can cause severe birth defects. All travellers should prevent mosquito bites and sexual exposure to Zika. Cover exposed skin, stay inside as much as possible and sleep with a mosquito net.
Visit our vaccinations page to learn more. Travel safely with Passport Health and schedule your appointment today by calling or book online now.
Do I Need a Passport or Visa for El Salvador?
A visa is not needed for stays in El Salvador under 90 days. Passports must be valid for at least six months at the time of entry. Proof of yellow fever vaccination may be required if you are travelling from a region where yellow fever is present.
El Salvador Entry Requirements

Do I Need A…
For My Trip to El Salvador?

Passport
Tourist Visa
Business Visa
Vaccinations
Sources: Embassy of El Salvador and GOV.UK
What Is the Climate Like in El Salvador?
The climate of El Salvador is tropical and has a wet and dry season. The rainy season is from May to October with rainfall reaching over 175 centimetres. The dry season is from November to April. Average temperatures in El Salvador are in the low-20's. The mountain regions are much cooler throughout the year, especially in winter.
How Safe Is El Salvador?
Travellers should consider the risks of travel to El Salvador as they plan their trip. High crime rates and the presence of high profile gangs like MS-13 has increased travel risks.
If you are travelling to El Salvador to visit their national parks, do not travel alone. Armed robberies are common in national parks. It's important to always bring a guide or a person of authority with you. The National Civilian Police are able to provide this for you.
Be aware of your surroundings at all times, especially in tourist areas. Travellers should not walk, run or cycle in insecure areas. Avoid travel on public transit and only use taxis stationed at major hotels.
Remember that local authorities are responsible for investigating and prosecuting crime.
Volcanoes In El Salvador
The largest tourist attractions in El Salvador are national parks. The country's national parks dedicated to volcanoes are a must-visit. El Salvador is home to a variety of volcano types including dormant and active.
Some of the most popular and well-known volcanoes in El Salvador include Praque Nacional Los Volcanoes, Volcan Izalco, and Volcan Chaparrastique.
Praque Nacional Los Volcanoes is a lush national park. It is home to tropical bird species such as toucans. The park provides opportunities for both hiking and camping as well as day trips. The park holds three volcanoes and is one of the largest national parks in El Salvador.
What Should I Take To El Salvador?
Here are some essential items to consider for your trip to El Salvador:
Bring rain gear especially if you're travelling during the rainy season. Warmer clothing may help when travelling to higher altitudes.
Try to pack modest clothing if you want to fit in with the locals.
Do not forget your medication! You can find some in El Salvador, but you may not be able to find your prescriptions.
Sun cream and sunnies to protect against the sun.
Embassy of the United Kingdom in El Salvador
If you are in El Salvador and have an emergency (for example, been attacked, arrested or someone has died) contact the nearest consular services. Contact the embassy before arrival if you have additional questions on entry requirements, safety concerns or are in need of assistance.
British Embassy San Salvador
Torre Futura,
14th floor,
Colonia Escalón,
San Salvador
San Salvador
El Salvador
Telephone: +503 2511-5757
Emergency Phone: +503 2511-5757
Contact Form: Click Here
Stay safe abroad with Passport Health. Ring or book online now and start travelling safely today!
On This Page:
Do I Need Vaccines for El Salvador?
Do I Need a Passport or Visa for El Salvador?
What Is the Climate Like in El Salvador?
How Safe Is El Salvador?
Volcanoes In El Salvador
What Should I Take To El Salvador?
Embassy of the United Kingdom in El Salvador