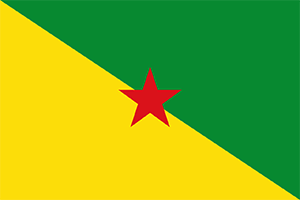 Travel Vaccines and Advice for French Guiana
French Guiana is a territory of France and part of the European Union. It is surrounded by Brazil on the South and East, Suriname on the West, and the Atlantic Ocean on the Northeast.
The territory's population is made of Creole, with minorities being French, Haitians and other groups.
Do I Need Vaccines for French Guiana?
Yes, some vaccines are recommended or required for French Guiana. The National Travel Health Network and Centre and WHO recommend the following vaccinations for French Guiana: COVID-19, hepatitis A, hepatitis B, typhoid, yellow fever, rabies and tetanus.
See the bullets below to learn more about some of these key immunisations:
See the tables below for more information:
Recommended Travel Vaccinations for French Guiana

VACCINE
HOW DISEASE SPREADS
DETAILS

COVID-19
Airborne
Recommended for all travellers
Hepatitis A
Food & Water
Recommended for most travellers to the region, especially if unvaccinated.
Hepatitis B
Blood & Body Fluids
Accelerated schedule available
Tetanus
Wounds or Breaks in Skin
Recommended for travelers to most regions, especially if not previously vaccinated.
Typhoid
Food & Water
Jab lasts 3 years. Oral vaccine lasts 5 years, must be able to swallow pills. Oral doses must be kept in refrigerator.
Yellow Fever
Mosquito
Required for all travellers over 1 year of age.
Rabies
Saliva of Infected Animals
Moderate risk country. Vaccine recommended for long-stay travellers and those who may come in contact with animals.
Yellow fever is a risk to travellers to French Guiana. Ensure you've been vaccinated.
Malaria, dengue and Zika are also present. Be sure to bring and use mosquito netting and repellent. Antimalarials may also be recommended based on your itinerary.
See our vaccinations page to learn more about these infections and vaccines. Ready to protect yourself? Book your travel health appointment today by calling or schedule online now.
Do I Need a Visa to Travel to French Guiana?
A visa is not needed for stays in French Guiana under 90 days. Passports must be valid for the duration of a traveller's stay. Proof of yellow fever vaccination may be required for entry. Proof of yellow fever vaccination is required to enter the country. If you do not have proof of vaccination, you may be vaccinated on site, quarantined or returned to your previous location.
French Guiana Entry Requirements

Do I Need A…
For My Trip to French Guiana?

Passport
Tourist Visa
Business Visa
Vaccinations
Sources: Embassy of French Guiana and GOV.UK
What is the Climate Like in French Guiana?
French Guiana has a warm and wet tropical climate with even temperatures year round. The trade-winds help stabilise the coastal weather.
The dry season is from June to November and the wet season is from December to May. The northwest has consistent rainfall whilst the rest of French Guiana follows dry and rainy season patterns. The Marawijne River regularly floods surrounding areas with all the rainfall it gets.
The coolest month for French Guiana is January. September is both the driest and warmest month with May being the wettest. Cayenne, the capital city, has average daily highs of the mid 20's Celsius, sometimes going up to the low 30's.
French Guiana is typically away from standard hurricane routes.
How Safe is French Guiana?
According to The government of the UK, French Guiana is usually a safe place for travellers as it is quite remote. Here are some helpful tips to keep you safe whilst there.
Avoid flaunting wealth and take necessary precautions in French Guiana. Petty street crime can be common in the major cities especially.
Travellers wishing to go deep into French Guiana should only use well-established sources and tour companies.
What Should I Pack for French Guiana?
Think ahead on what to pack by perusing these suggestions:
Clothing – French Guiana can often be hot and humid due to its tropical climate. Be sure to pack accordingly for the time of year and the activities you wish to do. Consider items such as sun cream, water-protective gear, and bathing suits.
Health Kit – It is always useful to have important first aid kit items whilst travelling. Consider bringing a traveller's diarrhoea kit as well.
Insect Repellent – French Guiana has a variety of mosquito-borne diseases. Be sure to bring repellent with you for added protection.
Embassy of the United Kingdom in French Guiana
If you are in French Guiana and have an emergency (for example, been attacked, arrested or someone has died) contact the nearest consular services. Contact the embassy before arrival if you have additional questions on entry requirements, safety concerns or are in need of assistance.
While there is no consulate or embassy in French Guiana, it is served by the British embassy in Paris:
British Embassy Paris
35, rue du Faubourg St Honoré
Paris Cedex 08
75383 Paris
France
Telephone: +33 (0) 1 44 51 31 00
Emergency Phone: +33 (0)1 44 51 31 00
Fax: +33 (0) 1 44 51 31 09
Contact Form: Click Here
Stay safe abroad with Passport Health. Ring or book online now and start travelling safely today!
On This Page:
Do I Need Vaccines for French Guiana?
Do I Need a Visa to Travel to French Guiana?
What is the Climate Like in French Guiana?
How Safe is French Guiana?
What Should I Pack for French Guiana?
Embassy of the United Kingdom in French Guiana