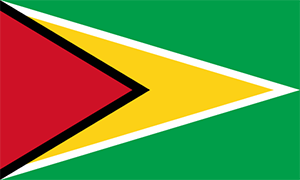 Travel Vaccines and Advice for Guyana
Guyana is a country perfect for nature-lovers. With expansive tropical rainforests, mountain ranges and impressive waterfalls it is a must for many travellers.
Those taking the leap to explore Guyana can be rewarded with incredible sights and photo-opportunities. It is a truly memorable experiences.
Do I Need Vaccines for Guyana?
Yes, some vaccines are recommended or required for Guyana. The National Travel Health Network and Centre and WHO recommend the following vaccinations for Guyana: COVID-19, hepatitis A, hepatitis B, typhoid, yellow fever, rabies and tetanus.
See the bullets below to learn more about some of these key immunisations:
See the tables below for more information:
Recommended Travel Vaccinations for Guyana

VACCINE
HOW DISEASE SPREADS
DETAILS

COVID-19
Airborne
Recommended for all travellers
Hepatitis A
Food & Water
Recommended for most travellers to the region, especially if unvaccinated.
Hepatitis B
Blood & Body Fluids
Accelerated schedule available
Tetanus
Wounds or Breaks in Skin
Recommended for travelers to most regions, especially if not previously vaccinated.
Typhoid
Food & Water
Jab lasts 3 years. Oral vaccine lasts 5 years, must be able to swallow pills. Oral doses must be kept in refrigerator.
Yellow Fever
Mosquito
Required if travelling from a region with yellow fever. Recommended for all travellers over 9 months of age.
Rabies
Saliva of Infected Animals
High risk country. Vaccine recommended for long-stay travellers and those who may come in contact with animals.
Traveller's diarrhoea is an issue not preventable by vaccines. Consider bringing a traveller's diarrhoea kit.
The Zika virus has been found in Guyana. Travellers should take care to ward against it, particularly by preventing mosquito bites. the NaTHNaC recommends that pregnant women or women who are considering pregnancy do not travel to Guyana.
Antimalarials may be recommended for your trip. Talk to a Passport Health travel specialist to learn more and see if this option is right for you.
See our vaccinations page to learn more about these infections and vaccines. Ready to protect yourself? Book your travel health appointment today by calling or schedule online now.
Do I Need a Visa to Travel to Guyana?
A visa is generally not required for travel to Guyana. Visitors may remain for 30 days, but extensions can be obtained. Overstaying the time set by the Guyanese government can lead to serious fines or imprisonment.
Passports must be valid for at least six months at time of entry.
Guyana Entry Requirements

Do I Need A…
For My Trip to Guyana?

Passport
Tourist Visa
Business Visa
Vaccinations
Sources: Embassy of Guyana and GOV.UK
What is the Climate Like in Guyana?
The coast of Guyana has a long wet season from April to August. There is also a short wet season from December to early February. The southern savannas do not experience a wet season.
Temperatures are very consistent for Guyana due to its tropical climate. The country has high temperatures, high humidity and heavy rainfall. The trade winds of the coast can affect this, and can sometimes cause a drought in July and August.
The daily temperatures at Georgetown are usually in the 20's.
How Safe is Guyana?
Armed robbery, murder, and petty crimes are common in Guyana. It is crucial to always be cautious and have a mind for safety.
Georgetown is known for purse snatching, assault, pick pocketing, and robbery. Be sure to guard your property well in this area and put all valuables in your hotel safe if applicable.
Travellers coming back from Guyana have found narcotics planted in their luggage they did not place there. Only carry items that you personally buy, pack and check that no extra bags are registered in your name. Drug laws in Guyana are very strict.
If you bring credit cards, be careful with their usage, as stolen PIN data can be common with them and hole-in-the-wall cards. Currency exchange should only be done with banks, hotels, or licenced exchange houses.
Guyana's Famous Kaieteur Falls
Kaieteur Falls is the most visited attraction in Guyana. This area features guided tours, ancient past, rushing water, and untouched scenery. Visitors can explore the beautiful rainforest in Kaieteur and walk across jungle bridges.
The drop of the Kaieteur Falls is 220 metres with a sandstone plateau. The National Park was established in 1930.
This amazing feat of nature is considered to be the biggest single drop waterfall in the world. It has eroded a gorge eight kilometres long that then goes down another 25 metres.
Kaieteur Falls is on the Potaro River in West-Central Guyana.
What Should I Pack for Guyana?
Think ahead on what to pack by considering these suggestions:
Rain Gear – Guyana can often be hot and humid with heavy rainfall along the coast and dryness in the savannas. Be sure to pack for the temperatures in your itinerary. Consider items such as sun cream and water-protective gear.
Insect Repellent – With the mosquito-borne illnesses of Guyana it is especially key to bring insect repellent.
Leave Extra Bags at Home – Crime, including petty theft and armed robberies, is common in Guyana. Narcotics have been stowed in the baggage of UK citizens in the past without their knowledge. Be prepared to be responsible for all that you bring and take out.
Embassy of the United Kingdom in Guyana
If you are in Guyana and have an emergency (for example, been attacked, arrested or someone has died) contact the nearest consular services. Contact the embassy before arrival if you have additional questions on entry requirements, safety concerns or are in need of assistance.
British High Commission Georgetown
44 Main Street
Georgetown
Guyana
Telephone: +592 226 5881
Emergency Phone: + 592 226 5881
Fax: +592 225 3555
Ready to start your next journey? Ring us up at or book online now!
On This Page:
Do I Need Vaccines for Guyana?
Do I Need a Visa to Travel to Guyana?
What is the Climate Like in Guyana?
How Safe is Guyana?
Guyana's Famous Kaieteur Falls
What Should I Pack for Guyana?
Embassy of the United Kingdom in Guyana