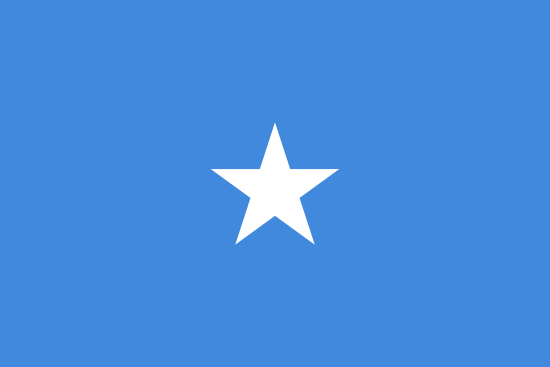 Travel Vaccines and Advice for Somalia
Historically, Somalia is a large commercial centre due to its location on the Horn of Africa.
After its independence in 1969, several civil wars have occurred leading into perpetual civil unrest. Somali law consists of civil law, Islamic law, and customary law.
As a result of civil war, al-Shabaab, a militant group emerged in 2006 and pledged its allegiance to al-Qaeda in 2012. Due to this threat of terrorism and ongoing violence in Somalia, it is advised to not travel to the area.
The capital city of Somalia, Hargeisa, is the largest city of Somaliland. The city is a commercial centre known for its rock art and construction. Somalia's other major cities include Mogadishu, Bosaso, and Galkayo.
Do I Need Vaccines for Somalia?
Yes, some vaccines are recommended or required for Somalia. The National Travel Health Network and Centre and WHO recommend the following vaccinations for Somalia: COVID-19, hepatitis A, hepatitis B, typhoid, cholera, yellow fever, rabies, polio and tetanus.
See the bullets below to learn more about some of these key immunisations:
See the tables below for more information:
Recommended Travel Vaccinations for Somalia

VACCINE
HOW DISEASE SPREADS
DETAILS

COVID-19
Airborne
Recommended for all travellers
Hepatitis A
Food & Water
Recommended for most travellers to the region, especially if unvaccinated.
Hepatitis B
Blood & Body Fluids
Accelerated schedule available
Tetanus
Wounds or Breaks in Skin
Recommended for travelers to most regions, especially if not previously vaccinated.
Typhoid
Food & Water
Jab lasts 3 years. Oral vaccine lasts 5 years, must be able to swallow pills. Oral doses must be kept in refrigerator.
Cholera
Food & Water
Recommended for travel to most regions.
Yellow Fever
Mosquito
Required if travelling from a region with yellow fever. May be recommended for travel to Bakool, Banaadir, Bay, Galguduud, Gedo, Hiiraan, Lower Juba, Lower Shabelle, Middle Juba and Middle Shabelle
Rabies
Saliva of Infected Animals
High risk country. Vaccine recommended for long-stay travellers and those who may come in contact with animals.
Polio
Food & Water
Recommended for most travellers to the region. Required for stays over four weeks. Single adult booster recommended.
Malaria is present and can be a serious risk in Somalia. Antimalarials are key to ensure you stay protected during your trip. Mosquito repellents and netting will also help you avoid diseases like malaria and Dengue.
Healthcare in Somalia is extremely limited with very low stocks of prescription medicine. Ensure to bring enough prescription drugs for your stay. Most medical facilities need payment before a procedure (costs not covered by Medicare).
Visit our vaccinations page to learn more. Travel safely with Passport Health and schedule your appointment today by calling or book online now.
Do I Need a Visa or Passport for Somalia?
Visas for Somalia are required and available on arrival. But, receiving your passport before travel is recommended. Passports must be valid for at least the duration of your stay. Proof of yellow fever vaccination may be required if you are travelling from a region where yellow fever is present.
Somalia Entry Requirements

Do I Need A…
For My Trip to Somalia?

Passport
Tourist Visa
Business Visa
Vaccinations
Sources: Embassy of Somalia and GOV.UK
What is the Climate Like in Somalia?
The border with Chad tends to generally have a hot and tropical climate. Heat and humidity are to be expected.
Somalia remains hot year-round, due to its proximity to the equator.
Temperatures range from 25 to 40 degrees. Depending on the region, dryness can vary. In the northeastern and central regions of Somalia, the climate is arid. In the northwestern and southwestern regions of Somalia, the climate is semiarid.
There are four main seasons, defined by wind patterns. They include the rainy season of Gu (April-June); the dry season of Xagaa (July-September); a short, rainy season named Dayr; and the tangambili periods that are in-between the two monsoons.
How Safe is Somalia?
Due to increased terrorist activity from the al-Qaida affiliated group al Shabaab, The government of the UK strongly cautions against travel to Somalia.
There is a large threat of kidnapping of Westerners, especially in Somaliland and Puntland.
Attacks are most common at hotels, restaurants and airports (especially the Mogadishu Aden Adde International Airport).
UK citizens should avoid the coasts and sailing due to the high-risk of pirate attacks.
Don't walk alone at night, dress conservatively and don't openly display cash or valuables whilst in Somalia. Do not eat in public during the holy month of Ramadan.
Alcohol is prohibited in Somalia.
Neolithic Rock Paintings in Somalia
In Laas Geel, you will find Neolithic rock paintings throughout a large network of caves, recently discovered in 2003. It is now a UNESCO Heritage Site.
Many travellers claim that if Somalia was more safe, this would be a popular tourist attraction.
These cave paintings on the outskirts of Hargeisa, Somaliland, are some of the earliest cave paintings in Africa. It is a good day trip from the city and would take a couple of hours to view the caves.
The paintings depict cattle, dogs and giraffes.
What Should I Take To Somalia?
Here are some essential items to consider for your trip to Somalia:
Prescription meds are hard to find in Somalia and when found, they could be forged.
Bring clothing to dress like the locals. Women should pack long shirts and skirts; no trousers. They should also wear headscarves around their heads. Men should always wear long trousers.
Embassy of the United Kingdom in Somalia
If you are in Somalia and have an emergency (for example, been attacked, arrested or someone has died) contact the nearest consular services. Contact the embassy before arrival if you have additional questions on entry requirements, safety concerns or are in need of assistance.
The British Embassy in Somalia is only able to provide limited service. Travel at your own risk.
British Embassy Mogadishu
Mogadishu
Somalia
Contact Form: Click Here
If you have any questions about travelling to Somalia or are wondering which jabs you may need for your trip, schedule an appointment with your local Passport Health travel medicine clinic. Ring us up at or book online now! and protect yourself today.
On This Page:
Do I Need Vaccines for Somalia?
Do I Need a Visa or Passport for Somalia?
What is the Climate Like in Somalia?
How Safe is Somalia?
Neolithic Rock Paintings in Somalia
What Should I Take To Somalia?
Embassy of the United Kingdom in Somalia