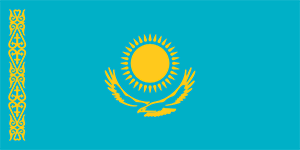 Travel Vaccines and Advice for Kazakhstan
Kazakhstan declared its independence from the Soviet Union in 1991 and was the last of the Soviet Republics to do so. Its largest city, Almaty, is a central trading hub and has several landmarks including the Ascension Cathedral.
Do I Need Vaccines for Kazakhstan?
Yes, some vaccines are recommended or required for Kazakhstan. The National Travel Health Network and Centre and WHO recommend the following vaccinations for Kazakhstan: COVID-19, hepatitis A, hepatitis B, typhoid, yellow fever, tickborne encephalitis, rabies and tetanus.
See the bullets below to learn more about some of these key immunizations:
See the table below for more information:
Recommended Travel Vaccinations for Kazakhstan

VACCINE
HOW DISEASE SPREADS
DETAILS

COVID-19
Airborne
Recommended for all travellers
Hepatitis A
Food & Water
Recommended for most travellers to the region, especially if unvaccinated.
Hepatitis B
Blood & Body Fluids
Accelerated schedule available
Tetanus
Wounds or Breaks in Skin
Recommended for travelers to most regions, especially if not previously vaccinated.
Typhoid
Food & Water
Jab lasts 3 years. Oral vaccine lasts 5 years, must be able to swallow pills. Oral doses must be kept in refrigerator.
Yellow Fever
Mosquito
Required if travelling from a country with risk of yellow fever transmission.
Tickborne Encephalitis
Ticks or Unpasteurised Products
Transmission is widespread. Spread is most common from early spring to late autumn.
Rabies
Saliva of Infected Animals
High risk country. Vaccine recommended for long-stay travellers and those who may come in contact with animals.
See our vaccinations page to learn more about these infections and vaccines. Ready to protect yourself? Book your travel health appointment today by calling or schedule online now.
Do I Need a Visa to Enter Kazakhstan?
A visa is required for stays in Kazakhstan, as a response to COVID-19. It is unclear whether this rule will persist beyond the pandemic. Passports must be valid for at least 30 days beyond your date of entry. Penalties for overstaying a visa or period of visa-free travel are steep and can include imprisonment.
Registration with local authorities is required throughout your stay.
Registration with local authorities is required throughout your stay.
Kazakhstan Entry Requirements

Do I Need A…
For My Trip to Kazakhstan?

Passport
Tourist Visa
Business Visa
Vaccinations
Sources: Embassy of Kazakhstan and GOV.UK
What Is the Climate Like in Kazakhstan?
Kazakhstan known for very cold winters with a with snow accumulation. But, there are plenty of blizzards, dust storms, and strong winds. Winter lasts from November until the end of April.
The country is very arid and contains many sweets. Spring in the northern and central region tends to bring flooding. The summers are dry and hot with temperatures in the high-20's. The end of September until the beginning of November brings the cool Autumn.
How Safe Is Kazakhstan?
All foreigners must carry a valid passport whilst in Kazakhstan. You may be placed under surveillance. Phone calls and hotels may be monitored as well as searched.
Crimes such as pickpockets, purse snatching and robbery are the most common. Other more serious crimes such as hole-in-the-wall skimming are becoming more common.
To protect yourself from being a victim you take the following precautions:
Never enter an unmarked or unregistered cab. All cabs should show pre-arranged identification or produce it upon request.
Always remain aware of your surroundings especially at night or in busy places.
Avoid violence by complying with street criminals demands. Once you reach safety, report it to the nearest constable and the UK Embassy.
Visiting the Charyn Canyon
Charyn Canyon is in Charyn National Park whose mission is to preserve the geography and nature of the landscape. The area is also home to many endangered species which the park is fighting to protect. The canyon itself has a depth of 200 meters and was formed over 12 million years ago. The canyon is known for its "Valley of Castles," which is an area of rock deposits in the form of a tower. The canyon itself is also home to over 1500 plant and animal species.
What Should I Pack for Kazakhstan?
Packing for any destination can be stressful. Check out this helpful list for everything you may need for Kazakhstan.
Warm layers are necessary for cold nights as temperatures can become very cold at night.
Waterproof boots and jacket are handy for unpredictable rainfall.
Good hiking boots are better for long hikes than regular trainers.
Hand sanitizer can help prevent you from getting ill.
Insect repellent is a must to protect against mosquitoes in the summer.
Bring all private medications or other necessities such as contact lenses. You may not be able to buy them in Kazakhstan.
Embassy of the United Kingdom in Kazakhstan
If you are in Kazakhstan and have an emergency (for example, been attacked, arrested or someone has died) contact the nearest consular services. Contact the embassy before arrival if you have additional questions on entry requirements, safety concerns or are in need of assistance.
British Embassy Astana
62 Kosmonavtov Str.
Renco Building, 6 Floor
Astana
010000
Kazakhstan
Telephone: +7 (7172) 556200
Emergency Phone: +7 (7172) 556200
Fax: +7 (7172) 556211
Email: ukinkz@fco.gov.uk
Ready to start your next journey? Ring us up at or book online now!
On This Page:
Do I Need Vaccines to Enter Kazakhstan?
Do I Need a Visa to Enter Kazakhstan?
What Is the Climate Like in Kazakhstan?
How Safe Is Kazakhstan?
Visiting the Charyn Canyon
What Should I Pack for Kazakhstan?
Embassy of the United Kingdom in Kazakhstan