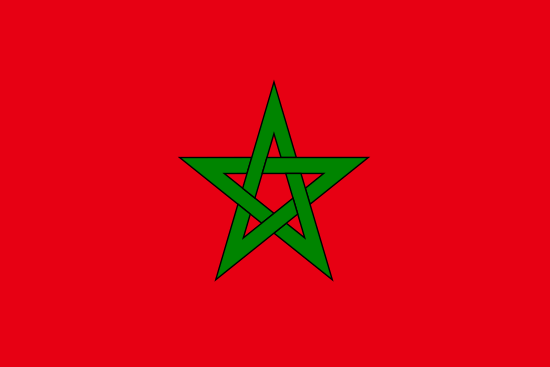 Travel Vaccines and Advice for Morocco
A colorful blend of cultures, Morocco is becoming an increasingly popular tourist destination. Only a little more than 10 kilometres away from the Spanish coast, Morocco is a bridge between North Africa and Europe that features impressive architecture, beautiful desert vistas and exciting markets.
Morocco is incredibly picturesque, with endless alleys decorated in colorful tiles. Moroccan food is famous for its use of spices that culminate in an interesting mix of Arabic, Berber and Mediterranean influences.
Morocco also has some great options for visitors looking to shop, with street markets in Marrakech recognized as some of the best in the world. Marrakech is also famous for its street theatre, prominently played out in Djemaa el-Fna, Marrakech's main square, named a 'Masterpiece of World Heritage' by UNESCO.
Do I Need Vaccines for Morocco?
Yes, some vaccines are recommended or required for Morocco. The National Travel Health Network and Centre and WHO recommend the following vaccinations for Morocco: COVID-19, hepatitis A, hepatitis B, typhoid, rabies and tetanus.
See the bullets below to learn more about some of these key immunisations:
See the tables below for more information:
Recommended Travel Vaccinations for Morocco

VACCINE
HOW DISEASE SPREADS
DETAILS

COVID-19
Airborne
Recommended for all travellers
Hepatitis A
Food & Water
Recommended for most travellers to the region, especially if unvaccinated.
Hepatitis B
Blood & Body Fluids
Accelerated schedule available
Tetanus
Wounds or Breaks in Skin
Recommended for travelers to most regions, especially if not previously vaccinated.
Typhoid
Food & Water
Jab lasts 3 years. Oral vaccine lasts 5 years, must be able to swallow pills. Oral doses must be kept in refrigerator.
Rabies
Saliva of Infected Animals
High risk country. Vaccine recommended for long-stay travellers and those who may come in contact with animals.
For more details on any of the above vaccinations, visit our vaccination pages. Or, make an appointment with your local Travel Medicine Specialist. Ring or book online to schedule your appointment today.
Do I Need a Visa or Passport for Morocco?
No visa is required for stays under three months in Morocco. Passports must be valid for the duration of your stay. Passports with even a small amount of damage may not be accepted by border authorities.
Morocco Entry Requirements

Do I Need A…
For My Trip to Morocco?

Passport
Tourist Visa
Business Visa
Vaccinations
Sources: Embassy of Morocco and GOV.UK
What Is the Climate Like in Morocco?
Morocco's climate is generally tropical, though the coast features a Mediterranean climate. Morocco's rainy season lasts from November through March, at which time flash floods are common. In Marrakech, the average temperature is 28 in July and 12 in January.
Is Morocco Safe?
The government of the UK recommends all travellers exercise a high degree of caution whilst in Morocco due to terrorist threats. Travel is particularly risky in the Western Sahara border region, where there are thousands of un-exploded mines and reported incidents of violence.
Terrorist threats are higher in crowded public places, government buildings, transportation hubs and places of worship. Travellers should also avoid all political and social demonstrations.
Travellers should be aware of risks of petty crime and maintain vigilance. City buses are not considered safe.
Public seasides around major cities are sometimes unsafe to swim in due to pollution. Travellers should exercise caution to ensure water is safe to swim in.
Moroccan Rules, Customs and Laws
Morocco has some laws and cultural norms many are not used to. These include:
In Morocco, dress conservatively and avoid public displays of affection.
Public alcohol consumption outside of licenced hotels, bars and restaurants is illegal.
LGBT travellers may face considerable risks as consensual sexual acts between same-sex individuals are illegal in Morocco.
Women should to travel with a companion or in groups to avoid assault in public places.
The export of Moroccan currency is not prohibited.
Islam is the official religion in Morocco, and proselytizing is illegal.
Photographing government or security facilities should be avoided.
Travellers should review Morocco's laws before entering the country.
What Should I Take To Morocco?
Here are some essential items to consider for your trip to Morocco:
Modest clothing, especially for women.
Umbrella and waterproof clothing if you plan to travel during rainy season.
Comfortable shoes for wandering through markets.
Light clothing for hot temperatures, with warmer options for cool nights.
Insect repellent and sun cream.
Embassy of the United Kingdom to Morocco
If you are in Morocco and have an emergency (for example, been attacked, arrested or someone has died) contact the nearest consular services. Contact the embassy before arrival if you have additional questions on entry requirements, safety concerns or are in need of assistance.
British Embassy Rabat
28 Avenue S.A.R. Sidi Mohammed
Souissi 10105 (BP 45),
Rabat
Rabat
Morocco
Telephone: +212 (0) 537 633 333
Emergency Phone: +212 (0) 537 633 333
Fax: +212 (0) 537 758 709
Email: UKinMorocco.enquiries@fco.gov.uk
If you have any questions about travelling to Morocco or are wondering which jabs you may need for your trip, schedule an appointment by calling or book online now.
On This Page:
Do I Need Vaccines for Morocco?
Do I Need a Visa or Passport for Morocco?
What Is the Climate Like in Morocco?
Is Morocco Safe?
Moroccan Rules, Customs and Laws
What Should I Take To Morocco?
Embassy of the United Kingdom to Morocco