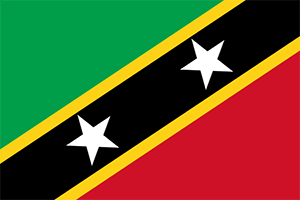 Travel Vaccines and Advice for Saint Kitts and Nevis
Saint Kitts and Nevis is the smallest country in the Caribbean in both population and land area. But, that doesn't mean they don't have plenty of beauty and sights to offer. Some highlights include African green monkeys, music festivals and a mile-wide volcanic crater.
The water dividing Saint Kitts and Nevis is called the Narrows since in several places it is only three kilometres wide.
Do I Need Vaccines for Saint Kitts and Nevis?
Yes, some vaccines are recommended or required for Saint Kitts and Nevis. The National Travel Health Network and Centre and WHO recommend the following vaccinations for Saint Kitts and Nevis: COVID-19, hepatitis A, hepatitis B, yellow fever, rabies and tetanus.
See the bullets below to learn more about some of these key immunisations:
See the tables below for more information:
Recommended Travel Vaccinations for Saint Kitts and Nevis

VACCINE
HOW DISEASE SPREADS
DETAILS

COVID-19
Airborne
Recommended for all travellers
Hepatitis A
Food & Water
Recommended for most travellers to the region, especially if unvaccinated.
Hepatitis B
Blood & Body Fluids
Accelerated schedule available
Tetanus
Wounds or Breaks in Skin
Recommended for travelers to most regions, especially if not previously vaccinated.
Yellow Fever
Mosquito
Required if travelling from a country with risk of yellow fever transmission.
Rabies
Saliva of Infected Animals
Vaccine recommended for long-stay travellers and those who may come in contact with animals.
Dengue, Zika and chikungunya pose a threat to travellers to the region. Ensure to use mosquito repellents and netting. Women who are pregnant or may become pregnant should consider not travelling to the area.
See our vaccinations page to learn more about these infections and vaccines. Ready to protect yourself? Book your travel health appointment today by calling or schedule online now.
Do I Need a Visa to Travel to Saint Kitts and Nevis?
A visa is not required for a trip to Saint Kitts and Nevis. Upon entry, a specific visa-free travel time will be allotted, usually 30 days. Passports must have at least six months validity for entry. Proof of yellow fever vaccination may be required if you are travelling from a region where yellow fever is present.
Saint Kitts and Nevis Entry Requirements

Do I Need A…
For My Trip to Saint Kitts and Nevis?

Passport
Tourist Visa
Business Visa
Vaccinations
Sources: Embassy of Saint Kitts and Nevis and GOV.UK
What is the Climate Like in Saint Kitts and Nevis?
Saint Kitts and Nevis have a hot, humid tropical climate with consistent temperatures. These are balanced by northeast trade winds and rainfall all year round.
Winters and summers are similar with highs in the 20's. Nighttime temperatures are often cooler, especially for higher elevations on the islands.
The rainy season is from May to November. July to November is also the hurricane season. Hurricanes can be very violent for Saint Kitts and Nevis.
How Safe are Saint Kitts and Nevis?
Saint Kitts and Nevis is a relatively safe region. But, there are still some things to be aware of. Don't leave valuables unattended and take measure to avoid street crime.
Consider your safety before making the choice to enjoy a water-sport or similar activity. This includes thinking about the weather and jet ski traffic, for example. Medical facilities in Saint Kitts and Nevis are lower than in developed nations. This includes a lack of hyperbaric chambers for decompression illness.
Hurricane season can affect Saint Kitts and Nevis during August and October especially. Be aware of the time you are going and check weather conditions.
See the Many Monkeys of Saint Kitts and Nevis
Saint Kitts and Nevis are known for its free-roaming monkeys. The African green monkeys have lived on the islands for more than 300 years. They were brought from Africa in the late 17th century.
Monkeys can sometimes be pests for the country. But, they are ingrained in the culture of Saint Kitts and Nevis.
It may be easy to see a monkey at your local seaside bar or by stepping outside. But, for some quality monkey time try hiking on Monkey Hill, going to the Monkey Bar, or diving at Monkey Shoals. You can also consult travel guides for helpful information on good nature trails and tours.
What Should I Pack for Saint Kitts and Nevis?
Think ahead on what to pack by perusing these suggestions:
Appropriate Clothing – Saint Kitts and Nevis can be hot and humid. Be sure to pack for the time of year and the activities you wish to do. Consider items such as sun cream, water-protective gear, and bathing suits.
Health Kit – Bringing a first-aid kit is always a good idea when travelling. Consider packing a traveller's diarrhoea kit as well.
Insect Repellent – Mosquito and tickborne diseases are found on the islands. Ensure to bring repellents with you to stay protected.
Embassy of the United Kingdom in Saint Kitts and Nevis
If you are in Saint Kitts and Nevis and have an emergency (for example, been attacked, arrested or someone has died) contact the nearest consular services. Contact the embassy before arrival if you have additional questions on entry requirements, safety concerns or are in need of assistance.
While there is no consulate or embassy in Saint Kitts and Nevis, it is served by the British embassy in Barbados:
British High Commission, Bridgetown
Lower Collymore Rock
PO Box 676
Bridgetown
Barbados
Telephone: + 1 246 430 7800
Emergency Phone: + 1 246 430 7800
Fax: + 1 246 430 7860
Email: ukinbarbados@fco.gov.uk
Stay safe abroad with Passport Health. Ring or book online now and start travelling safely today!
On This Page:
Do I Need Vaccines for Saint Kitts and Nevis?
Do I Need a Visa to Travel to Saint Kitts and Nevis?
What is the Climate Like in Saint Kitts and Nevis?
How Safe are Saint Kitts and Nevis?
See the Many Monkeys of Saint Kitts and Nevis
What Should I Pack for Saint Kitts and Nevis?
Embassy of the United Kingdom in Saint Kitts and Nevis