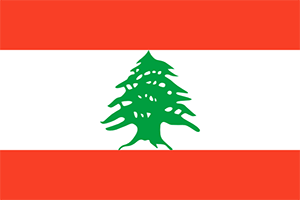 Travel Vaccines and Advice for Lebanon
From strong traditions to stunning landscapes, Lebanon promises visitors a chance to partake in peculiar experiences.
Beirut, the capital city of Lebanon, provides a plethora of possibilities to tourists. There are many museums scattered across the city that offer visitors a glimpse into culture and history. Beirut is also home to many natural landscapes and sights, such as the René Moawad Garden.
Byblos is another area to stop by if one if looking to make the most out of their time in Lebanon. Byblos is also packed with opportunities for entertainment. This includes nearby Mzaar Kfardebian ski resort and a local wax museums. There are also various forts or castles to visit, such as the towering Byblos Castle.
Lebanon is a holiday destination abundant with history, nature and entertainment.
Do I Need Vaccines for Lebanon?
Yes, some vaccines are recommended or required for Lebanon. The National Travel Health Network and Centre and WHO recommend the following vaccinations for Lebanon: COVID-19, hepatitis A, hepatitis B, typhoid, rabies, cholera and tetanus.
See the bullets below to learn more about some of these key immunisations:
See the tables below for more information:
Recommended Travel Vaccinations for Lebanon

VACCINE
HOW DISEASE SPREADS
DETAILS

COVID-19
Airborne
Recommended for all travellers
Hepatitis A
Food & Water
Recommended for most travellers to the region, especially if unvaccinated.
Hepatitis B
Blood & Body Fluids
Recommended for travellers
to most regions.
Tetanus
Wounds or Breaks in Skin
Recommended for travelers to most regions, especially if not previously vaccinated.
Typhoid
Food & Water
Recommended for travellers
to most regions.
Rabies
Saliva of Infected Animals
High risk country. Vaccine recommended for long-stay travellers and those who may come in contact with animals.
Cholera
Food & Water
Recommended for travel to most regions.
See our vaccinations page to learn more about these infections and vaccines. Ready to protect yourself? Book your travel health appointment today by calling or schedule online now.
Do I Need a Visa for Lebanon?
While a visa is required for Lebanon, it is provided for free to UK citizens. Some individuals of various Middle Eastern descent may be required to obtain a visa prior to arrival. Contact the Lebanon embassy to learn more.
Passports must have at least three months validity at time of entry.
Lebanon Entry Requirements

Do I Need A…
For My Trip to Lebanon?

Passport
Tourist Visa
Business Visa
Vaccinations
Sources: Embassy of Lebanon and GOV.UK
What Is the Climate Like In Lebanon?
The climate in Lebanon is generally warm and varies slightly by region. With its Mediterranean climate, the country experiences long, hot summers and rainy, cooler winters. January is typically the coldest month in Lebanon, with temperatures ranging from 5 to 10 degrees. August is the hottest month, with temperatures hitting highs of about 18 to even 40.
Sometimes, it can even reach a sweltering 42. Precipitation levels vary, but most rainfall occurs between November and March. Winds in Lebanon can also be strong, causing occasional sandstorms.
How Safe Is Lebanon?
Government organisations currently recommend against travel to Lebanon. Terrorist activity and violence have made conditions unsafe for travellers.
Crime within Lebanon is fairly moderate. Violent crimes and sexual assault are not as common, but theft and burglary are. Petty theft is common in crowded areas.
A Holiday Among Violence in Lebanon
Lebanon has a rich, varied culture, beautiful sights and promises a one-of-a-kind experience. But, some terrorist organisations actively operate within Lebanon. Anti-western sentiments have also spread across the region.
If you still choose to visit Lebanon, you should avoid the more turbulent and tense areas of the country. Avoid the Lebanon-Syria border and the Lebanon-Israel border regions completely. Avoid visiting the Bekaa Valley, as there is a strong terrorist presence there. You should also stay away from refugee camps, as violence can occur in these camps.
What Should I Pack for Lebanon?
Consider these key items when packing for your trip to Lebanon:
Sunnies and Sun Cream – The sun can become unforgiving to those it burns in Lebanon. If you wish to prevent sunburn and skin damage, pack a sun cream with at least SPF 50. Sunnies will help you stay comfortable and protect your eyes. Ensure to pack a pair of sunnies to wear whilst outside.
Insect Repellent – Though the number of mosquitoes varies by region, these pests are present in Lebanon. Bringing an insect repellent will help keep mosquitoes and other insects away. Packing a repellent with at least 20%-30% DEET will likely be the most effective.
Modest Clothing – Some areas in Lebanon can be on the more conservative side. It is not common for women to show most of their legs or chest. Packing clothes that allow you to cover those areas is recommending. A headscarf will also be needed if you intend to visit any religious sites.
Embassy of the United Kingdom in Lebanon
If you are in Lebanon and have an emergency (for example, been attacked, arrested or someone has died) contact the nearest consular services. Contact the embassy before arrival if you have additional questions on entry requirements, safety concerns or are in need of assistance.
British Embassy Beirut
Serail Hill, embassy complex
Beirut Central District
PO Box : 11- 471 Beirut
Lebanon
Telephone: +961 (0)1 960800
Emergency Phone: +961 (0)1 960800
Fax: +961 (0)1 960855
Ready to start your next journey? Ring us up at or book online now!
On This Page:
Do I Need Vaccines For Lebanon?
Do I Need a Visa for Lebanon?
What Is the Climate Like In Lebanon?
How Safe Is Lebanon?
A Holiday Among Violence in Lebanon
What Should I Pack for Lebanon?
Embassy of the United Kingdom in Lebanon