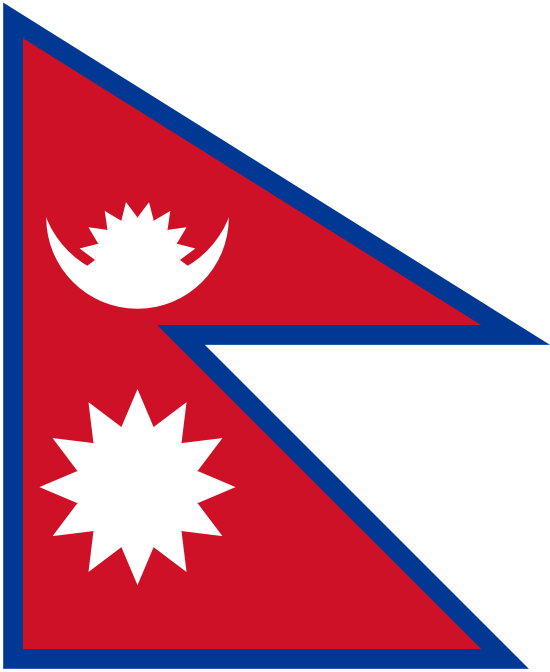 Travel Vaccines and Advice for Nepal
Nepal is known for its mountains. It contains eight of the world's highest peaks, including Mount Everest. Nepal also has the distinction of being the birthplace of Siddhartha Gautama, the founder of Buddhism. It is a land of breathtaking views, rich culture, and deep history.
Some of the most popular destinations for tourists in Nepal are the medieval cities. Here, visitors can join Buddhist pilgrims from Tibet for a trek around places of worship that dot the Himalayas.
Nepal is also home to dense jungles, which can be traversed on the back of elephants. Beneath the thick layers of undergrowth; rhinos, tigers, and other creatures roam uninhibited.
Do I Need Vaccines for Nepal?
Yes, some vaccines are recommended or required for Nepal. The National Travel Health Network and Centre and WHO recommend the following vaccinations for Nepal: COVID-19, hepatitis A, hepatitis B, typhoid, cholera, yellow fever, Japanese encephalitis, rabies, polio and tetanus.
See the bullets below to learn more about some of these key immunisations:
See the tables below for more information:
Recommended Travel Vaccinations for Nepal

VACCINE
HOW DISEASE SPREADS
DETAILS

COVID-19
Airborne
Recommended for all travellers
Hepatitis A
Food & Water
Recommended for most travellers to the region, especially if unvaccinated.
Hepatitis B
Blood & Body Fluids
Accelerated schedule available
Tetanus
Wounds or Breaks in Skin
Recommended for travelers to most regions, especially if not previously vaccinated.
Typhoid
Food & Water
Jab lasts 3 years. Oral vaccine lasts 5 years, must be able to swallow pills. Oral doses must be kept in refrigerator.
Cholera
Food & Water
Recommended for most travellers to the region.
Yellow Fever
Mosquito
Required if travelling from a country with risk of yellow fever transmission.
Japanese Encephalitis
Mosquito
Recommended depending on itinerary and activities. Recommended for extended travel, recurrent travellers and travel to rural areas. Found in southern lowlands, is also in Kathmandu valley. Most common June to October.
Rabies
Saliva of Infected Animals
High risk country. Vaccine recommended for long-stay travellers and those who may come in contact with animals.
Polio
Food & Water
Proof of polio vaccination is required. Considered a routine vaccination for most travel itineraries. Single adult booster recommended.
Mosquito-borne illnesses including malaria, are a concern in certain parts of Nepal. The disease is present in areas of the country with altitudes less than 2,000 metres. Speak with a travel health specialist about antimalarials and your itinerary.
Nepal's healthcare system is considered poor by international standards. Thousands of Nepalese die every year from communicable disease. Be sure to bring your own medical supplies, and be cautious when travelling in high risk areas.
Visit our vaccinations page to learn more. Travel safely with Passport Health and schedule your appointment today by calling or book online now.
Do I Need a Visa or Passport for Nepal?
A visa is required for all travel to Nepal. Visas can be obtained on arrival. But, it is best to get a visa before travelling to Nepal. Passports must have at least six months validity. Proof of yellow fever vaccination may be required if you are travelling from a region where yellow fever is present.
Nepal Entry Requirements

Do I Need A…
For My Trip to Nepal?

Passport
Tourist Visa
Business Visa
Vaccinations
Sources: Embassy of Nepal and GOV.UK
What is the Climate Like in Nepal?
Nepal has four distinct seasons throughout the year. Its weather is affected by maritime and continental forces.
March to May is spring, with temperatures averaging at about 22 degrees.
From June to August is the monsoon season. This time has heavy rains and temperatures that can reach 32 degrees on very hot days.
From September to November, the weather is cool and the skies are cloudless. Because of the heavy rainfall during the monsoon season, this time is usually in bloom and quite a sight to see. Temperatures can go as high as 27 degrees, although it cools off at night.
From December to February, temperatures can drop below zero degrees at night, and mountaintops are covered in snow.
How Safe is Nepal?
The locals in Nepal are known for being very friendly and helpful towards travellers. The crime rate is low. But, keep an eye on your belongings and be on the lookout for pickpockets and other petty thieves.
It is generally fine to walk around at night. Exercise caution when doing so, especially in urban areas.
Refrain from hiking by yourself. There has been a history of solo hikers disappearing or being found murdered, especially in Langtang.
It is best to avoid public transportation when travelling through the mountains. Buses and trains in Nepal are notoriously dangerous. Avoid air travel within the country too, especially from Lukia, which is the most dangerous airport in the world.
Stay away from large public gatherings of political protest.
Trekking in Nepal
Trekking is by far one of Nepal's most popular attractions bringing over 100,000 people each year. If you are new to trekking or not very experienced stick to what is known as "Tea House Trekking."
Trekkers using this method take advantage of tea houses along well-travelled paths. These houses are lodges that offer showers, beer, and food. Utilizing these places means less to carry on your back, as you will not need a tent or other supplies.
If you are planning on staying in Nepal for at least a month, be sure to check out the Annapurna circuit. The circuit is a 2-3 week trek around the Annapurna mountains. During the trek you explore many famous Nepalese regions.
What Should I Take To Nepal?
Here are some essential items to consider for your trip to Nepal:
Medical Supplies – be sure to bring medical supplies with you, especially anti-diarrhoeal and anti-dehydration medicines.
Light Clothing – bring breathable clothing that you would be comfortable trekking in.
Boots – essential for trekking the mountain terrain.
Winter Clothing – if you are planning on travelling to Nepal during the winter and exploring the higher altitudes.
Pack light, as more likely than not, you will be mostly on the move during your time in Nepal.
Embassy of the United Kingdom in Nepal
If you are in Nepal and have an emergency (for example, been attacked, arrested or someone has died) contact the nearest consular services. Contact the embassy before arrival if you have additional questions on entry requirements, safety concerns or are in need of assistance.
British Embassy Kathmandu
PO Box 106
Lainchaur
Kathmandu
Kathmandu
Nepal
Telephone: (977) (1) 4237100
Emergency Phone: (977) (1) 4237100
Fax: (977) (1) 4411789
Email: BEKathmandu@fco.gov.uk
If you have any questions about travelling to Nepal or are wondering which jabs you may need for your trip, schedule an appointment with your local Passport Health travel medicine clinic. Ring us up at or book online now and protect yourself today.
On This Page:
Do I Need Vaccines for Nepal?
Do I Need a Visa or Passport for Nepal?
What is the Climate Like in Nepal?
How Safe is Nepal?
Trekking in Nepal
What Should I Take To Nepal?
Embassy of the United Kingdom in Nepal