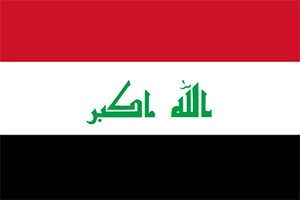 Travel Vaccines and Advice for Iraq
Iraq enjoys a rich, ancient history as the site of Mesopotamia, the "Land Between the Rivers".
The country is surrounded by Iran in the East, Syria and Jordan in the West, Saudi Arabia and Kuwait in the South, and Turkey in the North. To the Southeast it also has 55 kilometres of coastline of the Persian Gulf.
Major elements of Iraqi cuisine include spiced and marinated meats such as lamb and chicken, flatbread, Iraqi dates, and coffee.
Do I Need Vaccines for Iraq?
Yes, some vaccines are recommended or required for Iraq. The National Travel Health Network and Centre and WHO recommend the following vaccinations for Iraq: COVID-19, hepatitis A, hepatitis B, typhoid, cholera, yellow fever, rabies, polio and tetanus.
See the bullets below to learn more about some of these key immunizations:
See the table below for more information:
Recommended Travel Vaccinations for Iraq

VACCINE
HOW DISEASE SPREADS
DETAILS

COVID-19
Airborne
Recommended for all travellers
Hepatitis A
Food & Water
Recommended for most travellers to the region, especially if unvaccinated.
Hepatitis B
Blood & Body Fluids
Accelerated schedule available
Tetanus
Wounds or Breaks in Skin
Recommended for travelers to most regions, especially if not previously vaccinated.
Typhoid
Food & Water
Jab lasts 3 years. Oral vaccine lasts 5 years, must be able to swallow pills. Oral doses must be kept in refrigerator.
Cholera
Food & Water
While only present in some regions, cholera vaccination is recommended for most travellers.
Yellow Fever
Mosquito
Required if travelling from a country with risk of yellow fever transmission.
Rabies
Saliva of Infected Animals
High risk country. Vaccine recommended for long-stay travellers and those who may come in contact with animals.
Polio
Food & Water
Required if arriving from a country with active polio transmission. Recommended for some travellers to the region. Single adult booster recommended.
Polio cases have been reported in neighbouring countries. While vaccination is not currently recommended for Iraq, it should be considered.
See our vaccinations page to learn more about these infections and vaccines. Ready to protect yourself? Book your travel health appointment today by calling or schedule online now.
Do I Need a Visa to Travel to Iraq?
A visa is required for all travel to Iraq. Passports must have at least six months validity. Proof of yellow fever vaccination may be required if you are travelling from a region where yellow fever is present.
All travellers to Iraq must have a blood test for HIV and hepatitis within 10 days of arrival. The test is repeated every 90 days whilst in-country.
Iraq Entry Requirements

Do I Need A…
For My Trip to Iraq?

Passport
Tourist Visa
Business Visa
Vaccinations
Sources: Embassy of Iraq and GOV.UK
What is the Climate Like in Iraq?
Iraq has a hot, dry climate with varying mid-high temperatures.
The summer is hot with temperatures in the high-30's. The country experiences low humidity and winds during this season also. August is usually the hottest month.
Winter months are cooler, with temps around 18 degrees during the days. January is the coldest month. Freezing temperatures can occur in Iraq, usually at night.
The southern sharqi winds blow from April to June and again from late September to November. These winds can be strong and tend to bring dust storms. Between the sharqi wind periods is the shamal wind from the Northwest. These are usually dry and cooling.
There is little to no rain in summer. Nearly all Iraq's annual rainfall occurs from November to April. Mountainous areas receive significantly more rain than other regions.
How Safe is Iraq?
The UK government advises against travel to Iraq for a variety of reasons including terrorism and kidnapping. Ensure to take extra precautions before and during your trip.
Terrorism is a serious risk in Iraq, particularly with ISIS. Expressing support for the Iraqi government, Western institutions and some religious groups can be dangerous. Be careful what you say and where you say it.
Identification checks and checkpoints are commonplace. Officials in Iraq search goods and persons and confiscate goods as deemed necessary. You may be forced to return items at your own expence to wherever they came from. Be polite and patient at the government roadblocks which are all over Iraq.
Power outages are common and generators are not always available. Air quality is sub-standard, especially in Baghdad.
Buses are irregular and constantly change routes. Long-distance buses are often in poor condition and drive at unsafe speeds. City transit vehicles are often poorly-maintained and involved in accidents.
Avoid the borders of Iraq, they are largely undefined and potentially unsafe. Petty theft, carjacking, gang crimes, and ransom kidnappings are very common.
Explore the Newly Reopened Iraq National Museum
The Iraq National Museum was closed after losing nearly 15,000 pieces during conflicts in 2003. It was officially reopened in 2015 after a dozen years in the dark. One-third of the lost items have taken their rightful place back in the museum.
The Iraq National Museum is the perfect choice for to learn about the region's 7,000 year history. Iraqi lands were part of ancient Mesopotamia. It was also part of the famous Ottoman Empire.
To the Iraqi people, the museum represents both years of striking heritage and a stand against terrorism.
The museum is located in the country's capital of Baghdad.
What Should I Pack for Iraq?
Think ahead on what to pack by perusing these suggestions:
Cool Clothing – Iraq can be be quite hot. Be sure to pack according to your itinerary. Consider items such as sun cream, sandals, and airy clothing especially.
Sun Protection – Heat is just one aspect of the climate. High intensity sun means sun cream, hats and sunnies are essential.
Embassy of the United Kingdom in Iraq
If you are in Iraq and have an emergency (for example, been attacked, arrested or someone has died) contact the nearest consular services. Contact the embassy before arrival if you have additional questions on entry requirements, safety concerns or are in need of assistance.
British Embassy Baghdad
International Zone
Baghdad
Iraq
Stay safe abroad with Passport Health. Ring or book online now and start travelling safely today!
On This Page:
Do I Need Vaccines for Iraq?
Do I Need a Visa to Travel to Iraq?
What is the Climate Like in Iraq?
How Safe is Iraq?
Explore the Newly Reopened Iraq National Museum
What Should I Pack for Iraq?
Embassy of the United Kingdom in Iraq