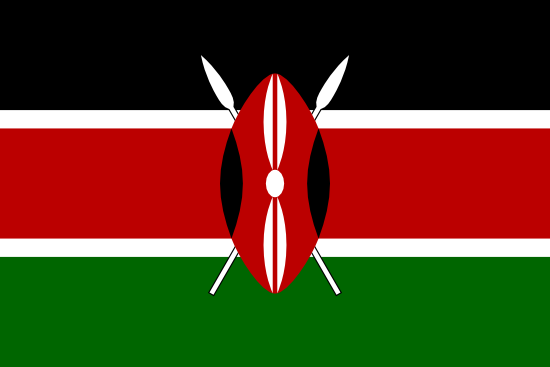 Travel Vaccines and Advice for Kenya
Kenya is an amazing country to experience wildlife and to take in a gorgeous and diverse landscape. You can find everything from equatorial glaciers to tall mountains to extensive plains.
Many who visit Kenya opt to go on a safari, where they catch glimpses of animals like rhinos, elephants and lions. Hikers will find adventure with Mount Kenya, an impressive peak which offers both day hikes and more ambitious excursions.
Kenya has beautiful seasides that are welcoming to travellers looking for relaxation or to participate in watersports, including diving and snorkeling.
Culturally, Kenya also boasts impressive diversity, with more than 40 different ethnic groups with their own peculiar traditions.
Do I Need Vaccines for Kenya?
Yes, some vaccines are recommended or required for Kenya. The National Travel Health Network and Centre and WHO recommend the following vaccinations for Kenya: hepatitis A, hepatitis B, typhoid, cholera, yellow fever, rabies, meningitis, polio and tetanus.
See the bullets below to learn more about some of these key immunizations:
See the table below for more information:
Recommended Travel Vaccinations for Kenya

VACCINE
HOW DISEASE SPREADS
DETAILS

Hepatitis A
Food & Water
Recommended for most travellers to the region, especially if unvaccinated.
Hepatitis B
Blood & Body Fluids
Accelerated schedule available
Tetanus
Wounds or Breaks in Skin
Recommended for travellers to most regions, especially if not previously vaccinated.
Typhoid
Food & Water
Jab lasts 3 years. Oral vaccine lasts 5 years, must be able to swallow pills. Oral doses must be kept in refrigerator.
Cholera
Food & Water
Cases have been reported in multiple regions throughout 2018.
Yellow Fever
Mosquito
Required if travelling from a region with yellow fever. Recommended for all travellers over 9 months of age, except if travelling to: North Eastern and Coast Province; Kilifi, Kwale, Lamu and Malindi states; and the cities of Mombasa and Nairobi
Rabies
Saliva of Infected Animals
High risk country. Vaccine recommended for long-stay travellers and those who may come in contact with animals.
Meningitis
Airborne & Direct Contact
Located in the meningitis belt, vaccination is recommended during the dry season (Dec. – June)
Polio
Food & Water
Recommended for some travellers to the region. Single adult booster recommended.
The risk of contracting malaria for is considered moderate by the NaTHNaC. Travellers should consult a travel medicine specialist to determine the best antimalarial for their trip. Dengue and chikungunya are also present in the country. Be sure to bring and use mosquito repellents and netting.
Travellers should also discuss the risk of contacting yellow fever whilst in Kenya. Vaccination is available at Passport Health locations throughout the country.
Meningitis poses a risk to travellers to Kenya. Be sure you are vaccinated before leaving for your trip.
Visit our vaccinations page to learn more. Travel safely with Passport Health and schedule your appointment today by calling or book online now.
Do I Need a Visa or Passport for Kenya?
A visa is required for all travel to Kenya. These can be obtained on or before arrival. Kenya offers an evisa service for travellers.
Passports must have at least six months validity. Proof of yellow fever vaccination may be required if you are travelling from a region where yellow fever is present.
Kenya Entry Requirements

Do I Need A…
For My Trip to Kenya?

Passport
Tourist Visa
Business Visa
Vaccinations
Sources: Embassy of Kenya and GOV.UK
What is the Climate Like in Kenya?
Kenya has a tropical climate, but weather and temperature will vary by region. In Nairobi, the average high temperature is typically in the 20s, with lows in the teens. Temperatures stay relatively consistent in Kenya throughout the year.
Wet Season – November to May. The heaviest rain usually lasts from March through May, and this entire season features high humidity. Daytime temperatures are often in the high-20s.
Dry Season – June to October. Kenya's dry season is its coldest season. Lows are usually in the 10's. Higher altitudes will experience colder temperatures.
How Safe is Kenya?
The multiple governments have issued travel warnings affecting travel to the border area between Somalia and Kenya due to threats by the terrorist group al-Shabaab. There is a risk of crime and terrorism throughout the country.
Travellers are advised to avoid large gatherings, as they are also prime sites for incidences of crime and terrorism.
Hundreds of people have died in terrorist attacks in Kenya since 2011. The UK government recommends travellers avoid travel to the following regions:
Northeastern Kenya – Mandera, Wajir, Garissa
Coastal Areas – Tana River, Lamu, Kilifi
Nairobi – Eastleigh
Home invasions, burglaries, armed carjackings, muggings and kidnappings have turned violent or fatal. Travellers should be aware they can happen at any time. Matatus, privately-operated buses, are often targeted.
Forced marriages occur and sexual assaults are prevalent. Scams are also frequent in Kenya.
All travellers should be aware of the risks, particularly from terrorists.
Kenya's Rules
In Kenya, penalties for drug possession, trafficking, and use are severe. There are also strict rules about the sale and consumption of alcohol and cigarettes. Penalties for public intoxication are severe. Smoking is only permitted in public in designated areas.
Travellers who wish to import a firearm must obtain a permit.
Consensual same-sex sexual activity is criminalized in Kenya. LGBT travellers may face harassment and discrimination.
Customs regulations for importing or exporting religious materials, antiquities, currency, wildlife products and other items are strict. Travellers wishing to import or export special items should review these policies.
Under the Kenya Wildlife Service, all tour and safari operators must carry assurance. Travellers should confirm any tour company they plan to use has assurance and should check the safety record of a company and observe all local or park regulations. Travellers should review banned wildlife items under Kenya's Wildlife Act.
What Should I Pack for Kenya?
Here are some essential items to consider for your trip to Kenya:
Insect repellent and sun cream.
Travellers may experience diarrhoea from water or food they are not used to. Bring diarrhoea medicine or a traveller's diarrhoea kit.
Light clothing for hot temperatures, with warmer options for cool nights.
Umbrella or rain gear if you plan to travel during rainy season.
Embassy of the United Kingdom in Kenya
If you are in Kenya and have an emergency (for example, been attacked, arrested or someone has died) contact the nearest consular services. Contact the embassy before arrival if you have additional questions on entry requirements, safety concerns or are in need of assistance.
British High Commission Nairobi
Upper Hill Road
P.O. Box 30465-00100, Nairobi
Nairobi
Kenya
Telephone: +254 (0)20 287 3000 / +254 (0)20 2844 000
Emergency Phone: +254 (0)20 287 3000 or +254 (0)20 2844 000
Contact Form: Click Here
Stay safe abroad with Passport Health. Ring or book online now and start travelling safely today!
On This Page:
Do I Need Vaccines for Kenya?
Do I Need a Visa or Passport for Kenya?
What is the Climate Like in Kenya?
How Safe is Kenya?
Kenya's Rules
What Should I Pack To Kenya?
Embassy of the United Kingdom in Kenya