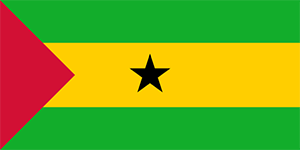 Travel Vaccines and Advice for Sao Tome and Principe
Sao Tome and Principe is a singular country made up of a pair of islands.
The original settlers of the islands were Portuguese explorers in the 15th century. The islands are known for their rich volcanic soil. They are a hub for sugar, coffee, and cocoa.
Do I Need Vaccines for Sao Tome and Principe?
Yes, some vaccines are recommended or required for Sao Tome and Principe. The National Travel Health Network and Centre and WHO recommend the following vaccinations for Sao Tome and Principe: COVID-19, hepatitis A, hepatitis B, typhoid, yellow fever, rabies and tetanus.
See the bullets below to learn more about some of these key immunisations:
See the tables below for more information:
Recommended Travel Vaccinations for Sao Tome and Principe

VACCINE
HOW DISEASE SPREADS
DETAILS

COVID-19
Airborne
Recommended for all travellers
Hepatitis A
Food & Water
Recommended for most travellers to the region, especially if unvaccinated.
Hepatitis B
Blood & Body Fluids
Accelerated schedule available
Tetanus
Wounds or Breaks in Skin
Recommended for travelers to most regions, especially if not previously vaccinated.
Typhoid
Food & Water
Jab lasts 3 years. Oral vaccine lasts 5 years, must be able to swallow pills. Oral doses must be kept in refrigerator.
Yellow Fever
Mosquito
Required if travelling from a region with yellow fever. Recommended for some specific itineraries.
Rabies
Saliva of Infected Animals
Moderate risk country. Vaccine recommended for long-stay travellers and those who may come in contact with animals.
Malaria and chikungunya can be found on the islands. Be sure to bring mosquito repellents an netting. Antimalarials are highly recommended for all travellers.
Visit our vaccinations page to learn more. Travel safely with Passport Health and schedule your appointment today by calling or book online now.
Do I Need a Visa or Passport for Sao Tome and Principe?
A visa is required for stays in São Tomé and Principe, but is often provided on arrival with a duration of 30 days. Longer term visas are only available ahead of travel. Passports must be valid for the duration of the stay. Proof of yellow fever vaccination is required to enter the country. If you do not have proof of vaccination, you may be vaccinated on site, quarantined or returned to your previous location.
Sao Tome and Principe Entry Requirements

Do I Need A…
For My Trip to Sao Tome and Principe?

Passport
Tourist Visa
Business Visa
Vaccinations
Sources: Embassy of Sao Tome and Principe and GOV.UK
What is the Climate Like in Sao Tome and Principe?
Year-round, Sao Tome and Principe's temperatures are in the range of about 25 to 30 degrees.
The islands experience two separate rainy seasons and one dry season. There is a shorter rainy season in October and November. A longer rainy season takes place from February to May. The dry season lasts from mid-June to mid-September.
How Safe is Sao Tome and Principe?
Petty crimes like pick-pocketing are common in highly-trafficked areas. This includes markets, town centre streets, and near hotels. Try to carry only what you need. Do not display large wads of cash when you're paying for things.
Burglary and armed home invasion do occur on the island. Be especially careful around the holiday season. Keep valuables like expensive jewelry, cash and passports in a locked safe.
Obo National Park
Tourism in Sao Tome and Principe is still small. There are many natural attractions to enjoy on these equatorial islands. One of these natural features is Obo National Park. This park, which takes up more than 30% of the island of Sao Tome, is home to Cao Grande Peak.
This geological phenomenon is a large volcanic cone that rises to over 600 metres from the seasides. The area is home to more than 700 different species of plants and animals.
What Should I Take to Sao Tome and Principe?
Here are a few essential items that you'll want to take with you on your trip to Sao Tome and Principe:
Cash – Few locations on Sao Tome and Principe accept credit cards. You will need cash for all transactions.
Pre-Paid Phone Card – There is only one mobile phone network present in Sao Tome and Principe. It is not always reliable because of the amount of people using it at any given time. A pre-paid phone card will help make local and international phone calls from pay phones.
Portuguese Translation Book – There are few English speakers on the islands. The majority of the population speaks Portugese or Forro. A translation book will help you get around more easier.
Embassy of the United Kingdom in Sao Tome and Principe
If you are in Sao Tome and Principe and have an emergency (for example, been attacked, arrested or someone has died) contact the nearest consular services. Contact the embassy before arrival if you have additional questions on entry requirements, safety concerns or are in need of assistance.
While there is no consulate or embassy in Sao Tome and Principe, it is served by the British embassy in Angola:
British Embassy Luanda
Rua 17 de Setembro, Nº 4
Caixa Postal 1244
Ingombotas
Luanda
Angola
Telephone: +244 222 330 275; 244 222 334 583
Emergency Phone: +244 222 334 583
Email: BritishEmbassy.LuandaGeral@fco.gov.uk
Ready to start your next journey? Ring us up at or book online now!
On This Page:
Do I Need Vaccines for Sao Tome and Principe?
Do I Need a Visa or Passport for Sao Tome and Principe?
What is the Climate Like in Sao Tome and Principe?
How Safe is Sao Tome and Principe?
Obo National Park
What Should I Take to Sao Tome and Principe?
Embassy of the United Kingdom in Sao Tome and Principe