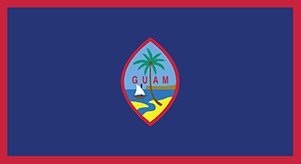 Travel Vaccines and Advice for Guam
Guam is the largest and most populated of the Mariana Islands. Over a million visitors travel to Guam every year and enjoy the duty-free port.
The territory was claimed by Spain in 1565, but was not conquered until the late 17th century. Possession was transitioned to the United States after the Spanish-American War.
Do I Need Vaccines for Guam?
Yes, some vaccines are recommended or required for Guam. The National Travel Health Network and Centre and WHO recommend the following vaccinations for Guam: COVID-19, hepatitis A, hepatitis B, typhoid, rabies and tetanus.
See the bullets below to learn more about some of these key immunizations:
See the table below for more information:
Recommended Travel Vaccinations for Guam

VACCINE
HOW DISEASE SPREADS
DETAILS

COVID-19
Airborne
Recommended for all travellers
Hepatitis A
Food & Water
Recommended for most travellers to the region, especially if unvaccinated.
Hepatitis B
Blood & Body Fluids
Accelerated schedule available
Tetanus
Wounds or Breaks in Skin
Recommended for travelers to most regions, especially if not previously vaccinated.
Typhoid
Food & Water
Jab lasts 3 years. Oral vaccine lasts 5 years, must be able to swallow pills. Oral doses must be kept in refrigerator.
Rabies
Saliva of Infected Animals
While rabies has not been reported in Guam, there is a risk of bat-borne rabies in-country.
Dengue is present on Guam. Be sure to bring and use insect repellent. Netting may also be recommended.
As a relatively developed area, Guam has few disease risks. Ensure your routine vaccinations are up-to-date and you have the medications you need.
See our vaccinations page to learn more about these infections and vaccines. Ready to protect yourself? Book your travel health appointment today by calling or schedule online now.
Do I Need a Visa to Travel to Guam?
Travellers to Guam can venture visa-free through the Electronic System for Travel Authorisation, if they are British citizens. Some exclusions can apply such as travellers to Libya, Iran and other Middle Eastern or North African countries since 2011. Passports must be valid for the duration of the stay.
Guam Entry Requirements

Do I Need A…
For My Trip to Guam?

Passport
Tourist Visa
Business Visa
Vaccinations
Sources: Government of Guam and GOV.UK
What is the Climate Like in Guam?
Guam has a warm, tropical climate with consistent temperatures and Eastern trade-winds year-round.
The average temperature is in the high-20's. Monthly averages are not very different, varying only by a few degrees. Temperatures go into the low 30's or lower than the 20's.
The territory has a wet season called "fanuchanan" from July until November. A dry season called "fanumnangan" lasts from December to June. Most of the rain falls between July and October. Rain amounts can change greatly.
Though typhoons can happen during any month, the season is from July to November. It is not common for strong typhoons to reach Guam as it is too far West. Small storms do occur often and at any time.
How Safe is Guam?
Guam is a very safe travel destination. The main thing to be careful of is wildlife. Here are some helpful tips to keep you safe:
Watch out for sea creatures when swimming – do not try to touch or take any animals you may find. Sea urchins in particular can be dangerous with their sharp spikes. Be mindful of currents when swimming. Check the weather reports before enjoying swimming or water sports.
Be wary of certain animals on land. For example, keep away from snakes in case they are poisonous, and do not interact with wild boars. Remember to be extra careful at night.
Some crime does occur in Guam. Keep your wits about you and do not leave valuables unattended.
Heed warnings during storms or typhoons.
Experience the Culture of Guam with GIFT
If you want to get a taste of Guam's culture, GIFT, or the Guam Island Fiesta Tour, is an absolute must.
It is an experience curated by locals where visitors are welcomed into homes of local families. Shell leis await travellers as well as cultural activities like coconut husking, talaya (cast net) throwing and tuba (fermented coconut juice) drinking.
The fiesta occurs every month, and visitors are welcomed with loving arms.
If you want to specially enjoy the cuisine element to the fiestas, you can try things like the Fiesta Plate Tour. Visit local Guamanian food vendors with a group of guests and a guide. You'll learn all about various local dishes native to Guam.
What Should I Pack for Guam?
Think ahead on what to pack by perusing these suggestions:
Rain Gear – Weather can vary on Guam. Ensure you have proper rain gear for your trip.
First-Aid Kit – While Guam is a United States territory, it is best to be prepared. Ensure to bring at least a simple first-aid kit with you on your trip.
Insect Repellent – Mosquitoes are just some of the insects on Guam. Avoid them as best you can with quality insect spray.
Stay safe abroad with Passport Health. Ring or book online now and start travelling safely today!
Embassy of the United Kingdom in Guam
If you are in Guam and have an emergency (for example, been attacked, arrested or someone has died) contact the nearest consular services. Contact the embassy before arrival if you have additional questions on entry requirements, safety concerns or are in need of assistance.
While there is no consulate or embassy in Guam, it is served by the British embassy in Washington, D.C.:
British Embassy Washington
3100 Massachusetts Avenue, NW
Washington DC 20008
USA
Telephone: +1 202 588 6500
Emergency Phone: +1 202 588 6500
Email: britishembassyenquiries@gmail.com
Stay safe abroad with Passport Health. Ring or book online now and start travelling safely today!
On This Page:
Do I Need Vaccines for Guam?
Do I Need a Visa to Travel to Guam?
What is the Climate Like in Guam?
How Safe is Guam?
Experience the Culture of Guam with GIFT
What Should I Pack for Guam?