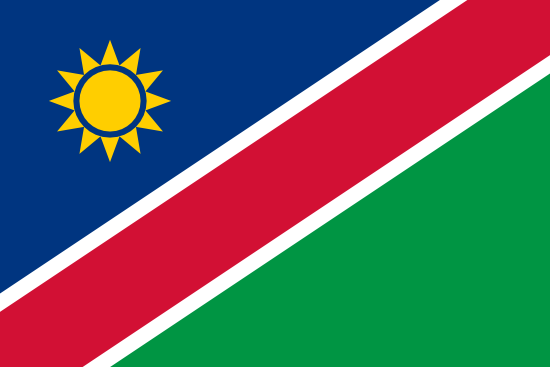 Travel Vaccines and Advice for Namibia
Namibia's sprawling, untouched landscapes teem with countless types of wildlife and animals. If anyone is looking to experience nature in truest form, then they don't need to look much further than Namibia.
Etosha National Park is a popular destination in Namibia offering the chance to see and interact with wildlife. If travellers wish to see the city life instead, then they can head to Windhoek, the capital of Namibia. In the many buildings in this bustling city, traces of the colonial era are still evident through the architecture.
The variety in attractions and lifestyles makes Namibia the perfect destination for the tourist that wants to get the best of both wild- and city life in Africa.
Do I Need Vaccines for Namibia?
Yes, some vaccines are recommended or required for Namibia. The National Travel Health Network and Centre and WHO recommend the following vaccinations for Namibia: COVID-19, hepatitis A, hepatitis B, typhoid, cholera, yellow fever, rabies and tetanus.
See the bullets below to learn more about some of these key immunisations:
See the tables below for more information:
Recommended Travel Vaccinations for Namibia

VACCINE
HOW DISEASE SPREADS
DETAILS

COVID-19
Airborne
Recommended for all travellers
Hepatitis A
Food & Water
Recommended for most travellers to the region, especially if unvaccinated.
Hepatitis B
Blood & Body Fluids
Accelerated schedule available
Tetanus
Wounds or Breaks in Skin
Recommended for travelers to most regions, especially if not previously vaccinated.
Typhoid
Food & Water
Jab lasts 3 years. Oral vaccine lasts 5 years, must be able to swallow pills. Oral doses must be kept in refrigerator.
Cholera
Food & Water
Recommended for travel to most regions.
Yellow Fever
Mosquito
Required if travelling from a country with risk of yellow fever transmission.
Rabies
Saliva of Infected Animals
High risk country. Vaccine recommended for long-stay travellers and those who may come in contact with animals.
Malaria, dengue and chikungunya are all present in Namibia. Take measure to protect yourself including using mosquito netting, insect repellents and taking antimalarials (if recommended for your itinerary).
African sleeping sickness has been found in Namibia. Though no cases have been reported in nearly a decade, there is still a risk. Use insect repellents and try to avoid tsetse flies when in regions where the insect is present.
See our vaccinations page to learn more about these infections and vaccines. Ready to protect yourself? Book your travel health appointment today by calling or schedule online now.
Do I Need a Visa or Passport for Namibia?
A visa is not required for travel to Namibia that last less than 90 days. But, there have been instances where travellers have been allowed to stay for far less than 90 days. Consider a visas to ensure a length of stay before arrival.
Passports must have at least six months validity for entry. Proof of yellow fever vaccination is required to enter the country. If you do not have proof of vaccination, you may be vaccinated on site, quarantined or returned to your previous location.
Namibia Entry Requirements

Do I Need A…
For My Trip to Namibia?

Passport
Tourist Visa
Business Visa
Vaccinations
Sources: Embassy of Namibia and GOV.UK
What is the Climate Like in Namibia?
Namibia is one of the sunniest countries on the planet. The nation experiences about 300 days of sun each year. Humidity is often low, but the air can be quite dry. This sun and warmth is typical of most regions in Namibia, but the climate can differ slightly across the country. Here is what to expect in a few tourist destinations:
Windhoek – In the capital city, the temperatures are more moderate. The typical high in January, the peak summer month in Namibia, is about 32, and the average low is 16 degrees Celsius. The temperatures in the winter months, July and June, are a bit cooler. There is usually no rainfall between June and September.

Swakopmund – The coastal city of Swakopmund has a milder desert climate. The weather is more consistent and varies less than in areas such as Windhoek. The average temperatures in Swakopmund range from about 16 to 27. Rainfall is also light in this region.
Etosha Pan – This region is a popular tourist destination, as it provides the opportunity for many ecotours and wildlife adventures. Again, rainfall in the Etosha region is as rare as it is in other areas in Namibia. In the summer, temperatures can hit around 35 degrees Celsius, and can go as low as 16. The dry winters range are more mild.
How Safe is Namibia?
There are varying levels and types of criminal activity in Namibia.
Banditry is prevalent along the Namibia-Angola border. Ensure you only pass through official border crossing areas and travel during the day. There are police checkpoints 9 mile outside of all major cities and motorways. Keep all travel and identification materials with you at all times.
Crimes of opportunity often occur in Namibia. The most prevalent incidents reported include hole-in-the-wall card skimming, purse snatching and pick-pocketing. More violent crimes, like rape and murder, have increased in the capital of Windhoek. Residential break-ins also occur.
To avoid risk of these crimes, dress conservatively, do not flaunt valuables and avoid walking alone and at night.
Adventuring With Animals in Namibia
Many tourists flock to Namibia to experience untouched, wild landscapes and animals. Ecotours are very popular among travellers. Hiking, swimming, camping and motoring through the wilderness are also choice adventures.
Encounters with wildlife can be dangerous, as animals can be unpredictable. Remember that the creatures you may meet are not domesticated, and are not guaranteed to be friendly. This fact remains true no matter how small or cute a creature may be. Many tourists want to touch or feed animals. But, this can provoke them and lead to potentially violent attacks.
Always bring enough water and supplies on every adventure you partake in.
What Should I Pack for Namibia?
In addition to all travel documents and medications recommended by a Passport Health Travel Medicine Specialist, here are some items to consider packing:
Insect Repellent – Since malaria is at risk in Namibia, be sure to pack insect spray. Packing a repellent with at least 20%-30% DEET will keep mosquitoes at bay. You should also bring neutral colored clothing, as this does not attract insects as much as dark or bright clothes.
Water Purifier – Not all running and tap water in Namibia is clean or filtered. Avoid drinking it or even brushing your teeth in it. A water purifier will make finding and drinking clean water easier.
Warm Clothing – Depending on the time of year and region temperatures can be cold. The evenings also tend to cool down, meaning you may need to add some layers if you're planning to go out after sundown. Packing a few jackets and warm trousers will ensure that you are covered.
Batteries – It can be difficult to find batteries in Namibia. If you have any devices that rely on batteries, such as cameras, it may be wise to pack some extras. In a country this naturally beautiful, you wouldn't want to miss out on any chance to take a quick snapshot.
Embassy of the United Kingdom in Namibia
If you are in Namibia and have an emergency (for example, been attacked, arrested or someone has died) contact the nearest consular services. Contact the embassy before arrival if you have additional questions on entry requirements, safety concerns or are in need of assistance.
British High Commission Windhoek
116 Robert Mugabe Ave, P.O. Box 22202
Windhoek
Windhoek
Namibia
Telephone: +264 (61) 274800
Emergency Phone: +264 (61) 274800
Fax: +264 (61) 228895
Email: general.windhoek@fco.gov.uk
Ready to start your next journey? Ring us up at or book online now!
On This Page:
Do I Need Vaccines for Namibia?
Do I Need a Visa or Passport for Namibia?
What is the Climate Like in Namibia?
How Safe is Namibia?
Adventuring With Animals in Namibia
What Should I Pack To Namibia?
Embassy of the United Kingdom in Namibia