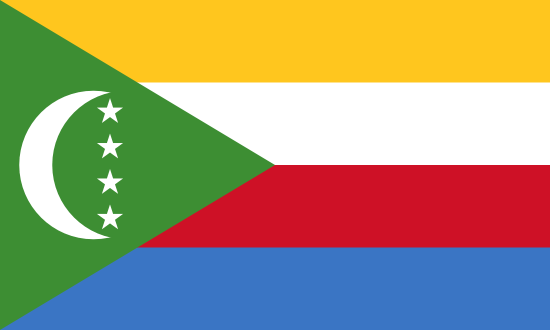 Travel Vaccines and Advice for Comoros
The Comoros are a beautiful island chain located off the coast of East Africa. While they do not have a strong tourism industry, they boast pristine seasides, breathtaking mountain ranges, and aquatic attractions such as deep sea fishing and snorkeling.
The most popular destination in the Comoros is the largest island, of Grand Comore. With a landscape that is equal parts agricultural and waterfront, it is a prime location for visitors seeking unforgettable views.
The Comoros' other major sites include the islands of Moheli and Anjouan, and the cities of Fomboni and Mutsamudu. Although not as well known as other island chains, Comoros offers plenty to see and do for any adventurous traveller.
Do I Need Vaccines for Comoros?
Yes, some vaccines are recommended or required for Comoros. The National Travel Health Network and Centre and WHO recommend the following vaccinations for Comoros: COVID-19, hepatitis A, hepatitis B, typhoid, rabies and tetanus.
See the bullets below to learn more about some of these key immunisations:
See the tables below for more information:
Recommended Travel Vaccinations for Comoros

VACCINE
HOW DISEASE SPREADS
DETAILS

COVID-19
Airborne
Recommended for all travellers
Hepatitis A
Food & Water
Recommended for most travellers to the region, especially if unvaccinated.
Hepatitis B
Blood & Body Fluids
Recommended for travellers
to most regions.
Tetanus
Wounds or Breaks in Skin
Recommended for travelers to most regions, especially if not previously vaccinated.
Typhoid
Food & Water
Recommended for travellers
to most regions.
Rabies
Saliva of Infected Animals
High risk country. Vaccine recommended for long-stay travellers and those who may come in contact with animals.
There is a risk of contracting malaria in Comoros. The risk carries throughout the year, and pertains to all parts of the country. Insects in certain East African countries can also carry diseases such as chikungunya and dengue fever.
The medical care in the Comoros is rudimentary, and many of the facilities are in poor condition. Consider bringing medical supplies when travelling, as they are harder to come by on the islands.
For more details on any of the above vaccinations, visit the detailed Passport Health specialty vaccination pages or make an appointment with your local Travel Medicine Specialist. To book your appointment either ring or book online now.
Do I Need a Visa or Passport for Comoros?
Comoros does require a visa, but provides it upon arrival for about €30. Passports for travellers must have at least 6 months validity remaining. Proof of yellow fever vaccination is required to enter the country. If you do not have proof of vaccination, you may be vaccinated on site, quarantined or returned to your previous location.
Comoros Entry Requirements

Do I Need A…
For My Trip to Comoros?

Passport
Tourist Visa
Business Visa
Vaccinations
Sources: Embassy of Comoros and GOV.UK
What is the Climate Like in Comoros?
The climate of the Comoros is marine tropical. Cyclones on the islands occur annually, and there is a humid season from November to April.
Moroni – Moroni has a tropical climate and witnesses significant rainfall throughout the year. The average annual temperature is 25 degrees.
Harembo – Harembo also has a tropical climate, and whilst it witnesses significant rainfall throughout the year, it also has a short dry season. The average annual temperature is 24 degrees.
How Safe is Comoros?
Criminal activity against travellers is relatively low in the Comoros. The most common incidents are pick-pocketing and other instances of petty theft. The best way to prevent this is to be vigilant in public spaces and always protect one's belongings.
Because of the country's current state of political unrest travellers should avoid large gatherings and areas of demonstration.
Piracy is an issue in the Comoros. Small vessels travelling between the islands are vulnerable to hostile attention.
Aquatic Activities in the Comoros
Popular activities for travellers to Comoros include snorkelling, deep sea diving, and fishing. While there are few streamlined businesses geared towards tourists, travellers will be able to experience these through interactions with locals.
The seasides of Comoros are also a popular attraction. The water is safe to swim in, although one must look out for jellyfish.
What Should I Take To Comoros?
Here are some essential items to consider for your trip to the Comoros:
Paper Currency – Credit cards are not widely accepted in the Comoros. Ensure to bring euros or U.S. dollars, as many locations will take these.
Breathable Clothing– The climate of the Comoros is often hot and humid. Wear clothing that is not too thick, and that you would mind getting wet.
Satellite Phone – These are the easiest way to communicate to parties outside of the Comoros. There is also Internet available in some locations.
Proof of Return Ticket – travellers will not be allowed to enter the country without proof of a return ticket. Ensure you have this on hand upon entrance.
Basic Health Supplies-Supplies like bandages and aspirin can be hard to come by in the Comoros, so be sure to pack them.
Embassy of the United Kingdom in Comoros
If you are in Comoros and have an emergency (for example, been attacked, arrested or someone has died) contact the nearest consular services. Contact the embassy before arrival if you have additional questions on entry requirements, safety concerns or are in need of assistance.
While there is no consulate or embassy in Comoros, it is served by the British embassy in Madagascar:
British High Commission Port Louis
British Embassy Antananarivo
Ninth Floor Tour Zital
Ravoninahitriniarivo Street
Ankorondrano
Antananarivo 101
Madagascar
Telephone: +261 (0) 2022 33053
Emergency Phone: +261 2022 33053
Email: British.EmbassyAntananarivo@fco.gov.uk
If you have any questions about travelling to the Comoros or are wondering which jabs you may need for your trip, schedule an appointment with your local Passport Health travel medicine clinic. Ring us up at or book online now and protect yourself today.
On This Page:
Do I Need Vaccines for Comoros?
Do I Need a Visa or Passport for Comoros
What is the Climate Like in Comoros?
How Safe is Comoros?
Aquatic Activities in the Comoros
What Should I Take to Comoros?
Embassy of the United Kingdom in Comoros