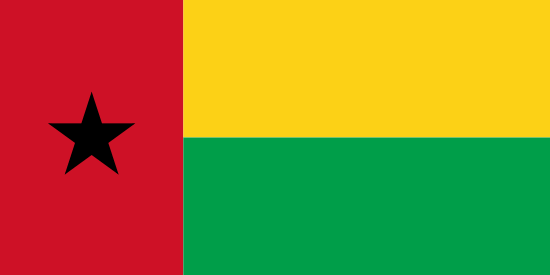 Travel Vaccines and Advice for Guinea-Bissau
Travelling to Guinea-Bissau is not an easy task. Getting a visa can be complicated and the cities have a high crime rate. Better known for its political issues and drug trafficking issues, it has a lot of charm and culture.
If you're willing to take the risks, it's a beautiful country with a lot to offers its visitors.
Located between Senegal and Guinea, it has a tropical climate and beautiful coastlines. One of the only African countries to take part in Carnival, it has a Latin vibe and is still heavily influenced by Portuguese culture.
Guinea-Bissau is perfect for any nature lover and adventurer willing to make the trip. Remember to be cautious of your surroundings, pack for the weather, and to have all necessary items for entering and exiting the country.
Do I Need Vaccines for Guinea-Bissau?
Yes, some vaccines are recommended or required for Guinea-Bissau. The National Travel Health Network and Centre and WHO recommend the following vaccinations for Guinea-Bissau: COVID-19, hepatitis A, hepatitis B, typhoid, cholera, yellow fever, rabies, meningitis, polio and tetanus.
See the bullets below to learn more about some of these key immunisations:
See the tables below for more information:
Recommended Travel Vaccinations for Guinea-Bissau

VACCINE
HOW DISEASE SPREADS
DETAILS

COVID-19
Airborne
Recommended for all travellers
Hepatitis A
Food & Water
Recommended for most travellers to the region, especially if unvaccinated.
Hepatitis B
Blood & Body Fluids
Recommended for travellers
to most regions.
Tetanus
Wounds or Breaks in Skin
Recommended for travelers to most regions, especially if not previously vaccinated.
Typhoid
Food & Water
Recommended for travellers
to most regions.
Cholera
Food & Water
Recommended for travel to most regions.
Yellow Fever
Mosquito
Required for all travellers over 1 year of age.
Rabies
Saliva of Infected Animals
High risk country. Vaccine recommended for long-stay travellers and those who may come in contact with animals.
Meningitis
Airborne & Direct Contact
Located in the meningitis belt, vaccination is recommended during the dry season (Dec. – June)
Polio
Food & Water
Considered a routine vaccination for most travel itineraries. Single adult booster recommended.
Proof of yellow fever vaccination is required for entry to Guinea-Bissau. Ensure you are vaccinated before leaving for your trip.
Guinea-Bissau falls in what is known as the 'meningitis belt'. This means from December to June, travellers and residents are at risk of contracting meningitis. A meningitis vaccine is recommended if travelling during this time-frame.
See our vaccinations page to learn more about these infections and vaccines. Ready to protect yourself? Book your travel health appointment today by calling or schedule online now.
Are There Mosquito-Borne Diseases In Guinea-Bissau?
Yes, there are a handful of mosquito-borne diseases in Guinea-Bissau that you should be aware of before travelling.
Yellow Fever – An often deadly virus, you must be vaccinated against the disease to enter the country.
Malaria – While there is no malaria vaccine, antimalarial medication serves the same purpose. Speak with a travel health specialist to learn which type of antimalarial is right for you.
Zika – This virus can cause birth defects. Women who are pregnant or may become pregnant should avoid travel to the region. Mosquito repellents and netting are the best way to avoid the virus.
Do I Need a Visa or Passport for Guinea-Bissau?
Visas are required for all types of travel to Guinea-Bissau. All visas for UK citizens to the region are handled by the Guinea-Bissau embassy in Paris. Passports must have at least six months validity at the time of entry. Proof of yellow fever vaccination may be required if you are travelling from a region where yellow fever is present.
Guinea-Bissau Entry Requirements

Do I Need A…
For My Trip to Guinea-Bissau?

Passport
Tourist Visa
Business Visa
Vaccinations
Sources: Embassy of Guinea-Bissau and GOV.UK
What is the Climate Like in Guinea-Bissau?
Guinea-Bissau has a tropical climate and remains hot and humid all year. It's wet season with heavy winds and rain is June to November. The dry season is then December to May with little temperature fluctuation. The temperatures can vary with altitude changes and your proximity to the coastline. Here is what you should expect in a few key areas of the country:
Bissau – This city has a tropical savanna climate with more rain than most climates of its type. During its wet season, high humidity makes heat discomfort extreme. Early in the year the temperature can reach over 37 degrees. Ensure you pack to accommodate the heat.
Cacheu – This area is low-lying coastal region with many rivers, swamps and rainforests. It has a hot tropical climate with the two seasons: wet and dry. There's more rainfall the closer you are to the coast, with up to 300 centimetres.
Bafatá – It's the second largest city in Guinea-Bissau. It has the same average temperature range as the rest of the country with similar wet and dry seasons. Think around 26 to 29 degrees for temperatures and an average rainfall of 100 centimetres.
How Safe is Guinea-Bissau?
There are no travel warnings for Guinea-Bissau. But, there is a high crime rate and lack of law enforcement resources.
Travellers should be aware of their surroundings. Take extra precaution when visiting due to political turmoil. The main crimes include pick-pocketing, petty-theft, and minor assaults.
There are land mines scattered throughout the country. Exercise caution when motoring at night and try to stay on well-travelled roads as much as possible.
If you plan on using taxis, inform the driver that you do not want more patrons picked up along the route. The taxis in Guinea-Bissau are like a coach service where each passenger pays for a seat and not the route. There is also an increase in narcotics trafficking, which has led to the increase in criminal activity.
Penalties for drug possessing, using, or trafficking are severe with the increase in drug-related crimes. Anyone convicted can expect both a heavy fine and a long jail sentence.
Explore the Bijagos Islands
Made up of an archipelago of 15 main islands, the Bijagós Islands of Guinea-Bissau are about 50 kilometres off the coast. They are all covered with lush vegetation and have sandy seasides. Each island has different features that make them peculiar. There are many other possibilities of camping and other eco-tourism.
Many islands have French-owned fishing lodges. For example, Keré is a tiny island between Caravela and Carache. While no one lives on the island, there's a single hotel and fishing trips are the feature experience.
On the island of Orango it's possible to see freshwater hippos. It has the largest population of marine hippos and there are boat trips available to see them up close. On some islands there are even turtle nesting grounds. João Vieira-Poilão Islands National Park has the best spots for seeing turtles. You're able to see rare green turtles, hawksbill, leatherback, and olive ridley turtles.
What Should I Take To Guinea-Bissau?
Here are some essential items to consider for your trip to Guinea-Bissau:
Small Umbrella/Raincoat — If you're travelling during the wet season bring rain gear. You want it to be both comfortable and easy for you to carry around with you all day.
Swim Suit — Depending on where you're staying, you may need a swim suit. If you're staying in one of the coastal cities you'll have access to beautiful tourist free seasides.
Hat/Sun Cream — With its tropical climate, the weather can often put a damper on your plans. Ensure you pack a hat to help keep the sun off your face and keep you cool, as well as sun cream to protect your skin. It's the little things that can make the regularly hot and humid temperatures more bearable and make your holiday enjoyable.
Embassy of the United Kingdom in Guinea-Bissau
If you are in Guinea-Bissau and have an emergency (for example, been attacked, arrested or someone has died) contact the nearest consular services. Contact the embassy before arrival if you have additional questions on entry requirements, safety concerns or are in need of assistance.
While there is no consulate or embassy in Guinea-Bissau, it is served by the British embassy in Senegal:
British Embassy Dakar
BP 6025 Dakar
Dakar
Senegal
Telephone: +221 33 823 73 92
Emergency Phone: +221 33 823 73 92
Fax: +221 33 823 27 66
Email: britembe@orange.sn
Stay safe abroad with Passport Health. Ring or book online now and start travelling safely today!
On This Page:
Do I Need Vaccines for Guinea-Bissau?
Are There Mosquito-Borne Diseases In Guinea-Bissau?
Do I Need a Visa or Passport for Guinea-Bissau?
What is the Climate Like in Guinea-Bissau?
How Safe is Guinea-Bissau?
Explore the Bijagos Islands
What Should I Take To Guinea-Bissau?
Embassy of the United Kingdom in Guinea-Bissau