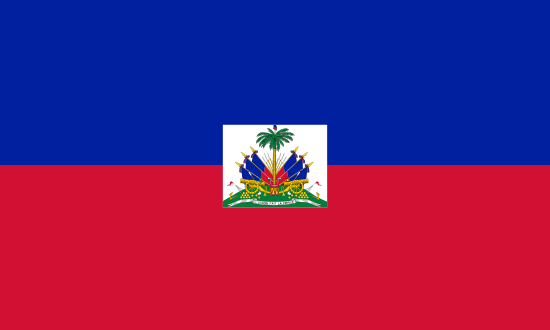 Travel Vaccines and Advice for Haiti
Although damaged by natural disasters, Haiti remains a strong and peculiar country. Haiti remains a top producer of various produce and plants. It is a common destination for foreign aid workers.
Do I Need Vaccines for Haiti?
Yes, some vaccines are recommended or required for Haiti. The National Travel Health Network and Centre and WHO recommend the following vaccinations for Haiti: COVID-19, hepatitis A, hepatitis B, typhoid, cholera, yellow fever, rabies and tetanus.
See the bullets below to learn more about some of these key immunisations:
See the tables below for more information:
Recommended Travel Vaccinations for Haiti

VACCINE
HOW DISEASE SPREADS
DETAILS

COVID-19
Airborne
Recommended for all travellers
Hepatitis A
Food & Water
Recommended for most travellers to the region, especially if unvaccinated.
Hepatitis B
Blood & Body Fluids
Accelerated schedule available
Tetanus
Wounds or Breaks in Skin
Recommended for travelers to most regions, especially if not previously vaccinated.
Typhoid
Food & Water
Jab lasts 3 years. Oral vaccine lasts 5 years, must be able to swallow pills. Oral doses must be kept in refrigerator.
Cholera
Food & Water
Haiti has been the site of ongoing cholera outbreaks for many years.
Yellow Fever
Mosquito
Required if travelling from a country with risk of yellow fever transmission.
Rabies
Saliva of Infected Animals
High risk country. Vaccine recommended for long-stay travellers and those who may come in contact with animals.
Zika is a high risk in Haiti. Zika in a pregnant can cause severe birth defects and pregnant women are strongly cautioned against travelling to Haiti. Zika can be passed through mosquitoes and through sexual intercourse.
Medical facilities in Haiti are rare and usually not of the highest quality. You should purchase medical evacuation assurance before travelling to Haiti.
Visit our vaccinations page to learn more. Travel safely with Passport Health and schedule your appointment today by calling or book online now.
Do I Need a Visa or Passport for Haiti?
No visa is required for stay in Haiti for less than 90 days. Passports must have at least 6 months remaining before expiration for entry. Proof of yellow fever vaccination may be required if you are travelling from a region where yellow fever is present.
If you require a visa, contact the British Embassy in Santo Domingo for assistance.
Haiti Entry Requirements

Do I Need A…
For My Trip to Haiti?

Passport
Tourist Visa
Business Visa
Vaccinations
Sources: Embassy of Haiti and GOV.UK
What is the Climate Like in Haiti?
Haiti has a tropical climate where it is hot and humid year-round.
There are dry and rainy seasons. The dry season in Haiti runs from November to January. The wet season runs from February to May. It rains up to 200 cm every year, but it mostly occurs in the southern region.
Temperatures range throughout the year from 16 to 35 degrees.
How Safe is Haiti?
The government of the UK has issued a travel warning for Haiti. Travellers are cautioned from travelling to Haiti due to health concerns of Zika and cholera. There are limited medical facilities in the country, making travel here dangerous.
Although the potential for terrorist activity is low, the potential for political crime is high.
You should arrange airport and hotel transfers in advance.
Only use cameras with permission.
Voudo in Haiti
Voudo is one of the most widely practiced religions in Haiti. Originally brought to Haiti by slaves from Africa. Many slaves disguised their Voudo practices by giving spirits different Catholic names.
The basic belief of Voudo is that everything is spirit. There are different spirits in the visible and unseen world.
Voudo temples are often unassuming and tucked away. As a traveller you will need a local guide to locate and find a Voudo ceremony. Most places accept tourists, but it's always good to create a good relationship with the priest first. As a tourist, you may be asked for a cash donation.
What Should I Take To Haiti?
Here are some essential items to consider for your trip to Haiti:
Loose-Fitting Clothes – Practical clothing to stay cool in Haiti's heat.
Close-Toed Shoes – Streets and sewers fill quickly during the rainy season and it's not safe to walk barefoot in these conditions.
Swimwear – Haitians are more conservative than most others when it comes to the seaside.
Sun Cream and Mosquito Repellent – To help repel mosquitoes.
Spare Batteries and Travel Chargers – Electricity is not always available in Haiti.
Embassy of the United Kingdom in Haiti
If you are in Haiti and have an emergency (for example, been attacked, arrested or someone has died) contact the nearest consular services. Contact the embassy before arrival if you have additional questions on entry requirements, safety concerns or are in need of assistance.
British Embassy Port-au-Prince
Entre 73 et 75 Delmas
Port-au-Prince
Haiti
Telephone: + 509 2812 9191
Emergency Phone: +1 809 472 7111
Ready to start your next journey? Ring us up at or book online now!
On This Page:
Do I Need Vaccines for Haiti?
Do I Need a Visa or Passport for Haiti?
What is the Climate Like in Haiti?
How Safe is Haiti?
Voudo in Haiti
What Should I Take To Haiti?
Embassy of the United Kingdom in Haiti