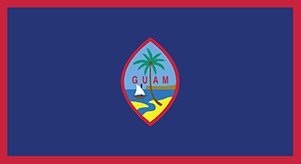 Travel Vaccines and Advice for Guam
Guam is the largest and most populated of the Mariana Islands. Over a million visitors travel to Guam every year and enjoy the duty-free port.
The territory was claimed by Spain in 1565, but was not conquered until the late 17th century. Possession was transitioned to the U.S. after the Spanish-American War.
Do I Need Vaccines for Guam?
Yes, some vaccines are recommended or required for Guam. The PHAC and WHO recommend the following vaccinations for Guam: COVID-19, hepatitis A, hepatitis B, meningitis, polio, measles, mumps and rubella (MMR), Tdap (tetanus, diphtheria and pertussis), chickenpox, shingles, pneumonia and influenza.
See the bullets below to learn more about some of these key immunizations:
See the tables below for more information:
Recommended Travel Vaccinations for Guam

VACCINE
HOW DISEASE SPREADS
DETAILS

COVID-19
Airborne
Recommended for all travellers
Hepatitis A
Food & Water
Recommended for most travellers
Hepatitis B
Blood & Body Fluids
Accelerated schedule available
Routine Vaccinations for Guam

VACCINE
HOW DISEASE SPREADS
DETAILS

Measles Mumps Rubella (MMR)
Various Vectors
Given to anyone unvaccinated and/or born after 1957. One time adult booster recommended.
TDAP (Tetanus, Diphtheria & Pertussis)
Wounds & Airborne
Only one adult booster of pertussis required.
Chickenpox
Direct Contact & Airborne
Given to those unvaccinated that did not have chickenpox.
Shingles
Direct Contact
Vaccine can still be given if you have had shingles.
Pneumonia
Airborne
Two vaccines given separately. All 65+ or immunocompromised should receive both.
Influenza
Airborne
Vaccine components change annually.
Meningitis
Airborne & Direct Contact
Given to anyone unvaccinated or at an increased risk, especially students.
Polio
Food & Water
Considered a routine vaccination for most travel itineraries. Single adult booster recommended.
Dengue is present on Guam. Be sure to bring and use insect repellent. Netting may also be recommended.
As a relatively developed area, Guam has few disease risks. Make sure your routine vaccinations are up-to-date and you have the medications you need.
See our vaccinations page to learn more about these infections and vaccines. Ready to protect yourself? Book your travel health appointment today by calling or schedule online now.
Do I Need a Visa to Travel to Guam?
A passport which is valid until the expected date of departure is required to enter the country. A visa is generally not required for Canadian citizens. Those with a criminal record may be denied entry.
Guam Entry Requirements

Do I Need A…
For My Trip to Guam?

Passport
Tourist Visa
Business Visa
Vaccinations
Sources: Embassy of Guam and Canadian Travel and Tourism
Visit the Canadian Travel and Tourism website for more information on entry and exit requirements.
What is the Climate Like in Guam?
Guam has a warm, tropical climate with consistent temperatures and Eastern trade winds year-round.
The average temperature is in the high-20's. Monthly averages are not very different, varying only by a few degrees. Temperatures go into the low 30's or lower than the 20's.
The territory has a wet season called "fanuchanan" from July until November. A dry season called "fanumnangan" lasts from December to June. Most of the rain falls between July and October. Rain amounts can change greatly.
Though typhoons can happen during any month, the season is from July to November. It is not common for strong typhoons to reach Guam as it is too far West. Small storms do occur often and at any time.
How Safe is Guam?
Guam is a very safe travel destination. The main thing to be careful of is wildlife. Here are some helpful tips to keep you safe:
Watch out for sea creatures when swimming – do not try to touch or take any animals you may find. Sea urchins in particular can be dangerous with their sharp spikes. Be mindful of currents when swimming. Check the weather reports before enjoying swimming or water sports.
Be wary of certain animals on land. For example, keep away from snakes in case they are poisonous, and do not interact with wild boars. Remember to be extra careful at night.
Some crime does occur in Guam. Keep your wits about you and do not leave valuables unattended.
Heed warnings during storms or typhoons.
Experience the Culture of Guam with GIFT
If you want to get a taste of Guam's culture, GIFT, or the Guam Island Fiesta Tour, is an absolute must.
It is an experience curated by locals where visitors are welcomed into homes of local families. Shell leis await travellers as well as cultural activities like coconut husking, talaya (cast net) throwing and tuba (fermented coconut juice) drinking.
The fiesta occurs every month, and visitors are welcomed with loving arms.
If you want to specially enjoy the cuisine element to the fiestas, you can try things like the Fiesta Plate Tour. Visit local Guamanian food vendors with a group of guests and a guide. You'll learn all about various local dishes native to Guam.
What Should I Pack for Guam?
Think ahead on what to pack by perusing these suggestions:
Rain Gear – Weather can vary on Guam. Make sure you have proper rain gear for your trip.
First-Aid Kit – While Guam is a U.S. territory, it is best to be prepared. Make sure to bring at least a simple first-aid kit with you on your trip.
Insect Repellent – Mosquitoes are just some of the insects on Guam. Avoid them as best you can with quality bug spray.
Stay safe abroad with Passport Health. Call or book online now and start travelling safely today!
Canadian Embassy in Guam
There is no resident Canadian government office in Guam. You can obtain consular services from the Embassy of Australia in Pohnpei, Micronesia, under the Canada-Australia Consular Services Sharing Agreement. The High Commission of Canada in Canberra, Australia has consular responsibility for Guam.
Australian Embassy to Micronesia
H and E Building, 2nd Floor,
Kolonia, Pohnpei, Micronesia
Tel.: 691 320 5448
Stay safe abroad with Passport Health. Call or book online now and start travelling safely today!
Customer Reviews
Passport Health – Travel Vaccines for Guam