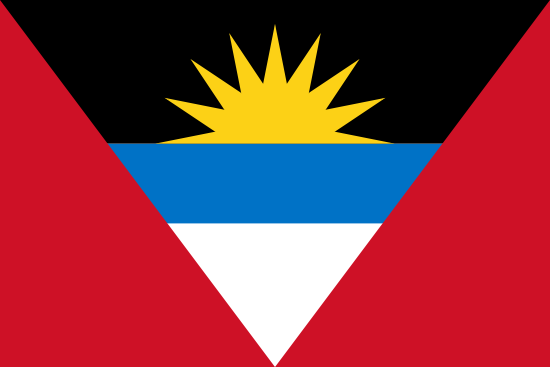 Travel Vaccines and Advice for Antigua and Barbuda
The country of Antigua and Barbuda is a Caribbean nation made of two islands. Located in the West Indies, it is a part of the "Leeward Islands," group. Antigua and Barbuda is known for its sandy beaches and beautiful coral reefs.
Do I Need Vaccines for Antigua and Barbuda?
Yes, some vaccines are recommended or required for Antigua and Barbuda. The PHAC and WHO recommend the following vaccinations for Antigua and Barbuda: hepatitis A, hepatitis B, typhoid, yellow fever, rabies, meningitis, polio, measles, mumps and rubella (MMR), Tdap (tetanus, diphtheria and pertussis), chickenpox, shingles, pneumonia and influenza.
See the bullets below to learn more about some of these key immunizations:
See the tables below for more information:
Recommended Travel Vaccinations for Antigua and Barbuda

VACCINE
HOW DISEASE SPREADS
DETAILS

Hepatitis A
Food & Water
Recommended for most travellers
Hepatitis B
Blood & Body Fluids
Accelerated schedule available
Typhoid
Food & Water
Shot lasts 2 years. Oral vaccine lasts 5 years, must be able to swallow pills. Oral doses must be kept in refrigerator.
Yellow Fever
Mosquito
Required if travelling from a country with risk of yellow fever transmission.
Rabies
Saliva of Infected Animals
Vaccine recommended for long-term travellers and those who may come in contact with animals.
Routine Vaccinations for Antigua and Barbuda

VACCINE
HOW DISEASE SPREADS
DETAILS

Measles Mumps Rubella (MMR)
Various Vectors
Given to anyone unvaccinated and/or born after 1957. One time adult booster recommended.
TDAP (Tetanus, Diphtheria & Pertussis)
Wounds & Airborne
Only one adult booster of pertussis required.
Chickenpox
Direct Contact & Airborne
Given to those unvaccinated that did not have chickenpox.
Shingles
Direct Contact
Vaccine can still be given if you have had shingles.
Pneumonia
Airborne
Two vaccines given seperately. All 65+ or immunocompromised should receive both.
Influenza
Airborne
Vaccine components change annually.
Meningitis
Airborne & Direct Contact
Given to anyone unvaccinated or at an increased risk, especially students.
Polio
Food & Water
Considered a routine vaccination for most travel itineraries. Single adult booster recommended.
Rabies is prevalent in bats in Antigua and Barbuda. If you are going to be do any hiking or other outdoor excursion it is recommended you receive this vaccine.
Dengue is a risk in the country. Make sure you bring and use mosquito repellents or netting.
See our vaccinations page to learn more about these infections and vaccines. Ready to protect yourself? Book your travel health appointment today by calling or schedule online now.
Zika Virus in Antigua and Barbuda
Travellers to Antigua and Barbuda are at risk of contracting Zika. Pregnant women should be especially cautious. Zika is known to cause severe birth defects in fetuses.
Use insect repellant and wear clothing which covers the arms and legs.
For more information on Zika, see our information page. Your local Passport Health will also carry a variety of repellents for your trip.
Does Antigua and Barbuda Have COVID-19 Travel Restrictions?
No, Antigua and Barbuda's borders are open. All travellers must wear masks and go through a health screening on arrival. A completed health declaration form and a medical certificate stating a negative COVID-19 test within 48 hours of arrival must be presented.
Travellers who must be tested for COVID-19 upon entry will be charged $100 USD or local equivalent. Travellers without the medical certificate must be quarantined for 14 days at their own expense before being allowed entry.
While there is not yet a vaccine to prevent COVID-19, vaccines do guard against hepatitis A and typhoid fever, two ailments prevalent in Antigua and Barbuda, as well as medication to prevent travellers' diarrhea are readily available. Call us at or schedule an appointment online to learn more about protecting your health while travelling in Antigua and Barbuda.
Customer Reviews
Passport Health – Travel Vaccines for Antigua and Barbuda
Overall rating: 5 stars – 3 reviews
"

Experience was fantastic

"

"I have been to to your offices before on a trip last year and decided to use you guys again the last experience was great. I had an appointment with a nurse yesterday and she was fantastic. I am travelling to Antigua in April and she was very knowledgeable on what I needed, when I needed and how. I got my vaccinations yesterday as well and I'm a person who is deathly afraid of needles and she made the experience for me easy and comfortable. Overall my experience was fantastic and i would be returning again for my next trip. I would also recommend your company to other people!"
"

Great consultation

"

"The Registered Nurse was very thorough and knowledgeable. Me and my family were surprised with all the new information when traveling abroad. It was a great learning experience for all of us, to know what to be careful about in Barbuda. The RN has the vaccinations and travel medications (e.g.: anti-diarrhea, antibiotics) on hand. A great thing, is that you can get your travel shots up to date with the RN, before you go on vacation. I was actually referred to this travel clinic from a public health centre. The experience was great, and we would definitely come back for our next vacation to make sure we got all our vaccinations! =)"
"

Definitely Worth It

"

"All relevant health information regarding my trip to Antigua and Barbuda was given very clearly – as well as risks and what-to-do-in-worst-case-scenarios in each location I am visiting. While a lot of options were given to me, I never once felt pressured to get an immunization that I didn't want. The nurse was SO personable/knowledgeable/very prepared for all questions and I barely felt a thing when actually getting the immunizations. Definitely coming back here next time I travel!"
Do I Need a Visa to Go to Antigua and Barbuda?
A passport is required for entry to Antigua and Barbuda. A visa is not required for stays under 180 days.
Proof of return travel arrangements may be required at entry.
Antigua and Barbuda Entry Requirements

Do I Need A…
For My Trip to Antigua and Barbuda?

Passport
Tourist Visa
Business Visa
Vaccinations
Sources: Embassy of Antigua and Barbuda and Canadian Travel and Tourism
Proof of return travel arrangements may be required at entry.
Visit the Canadian Travel and Tourism website for more information on entry and exit requirements.
How Is the Climate in Antigua and Barbuda?
Antigua and Barbuda's climate is warm and dry. The temperatures range from the low-20's to low-30's.
October to January are the hottest months of the year. But, they are not unbearable thanks to the cooling southern winds.
June through November are known as the rainy months. Daily rain showers are not uncommon. The islands are also located in a hurricane zone making tropical storms and hurricanes a risk.
Is Antigua and Barbuda Safe?
Antigua and Barbuda's economy is centered on tourism. Much of the crime is focused on tourists as well. Be aware of your surroundings to avoid pickpockets or stolen bags.
Violent crime is less common. Avoid making trouble and keep a low profile to prevent becoming a target.
Visiting St. John's Saturday Morning Market
This market is a trademark of the island where vendors from all over come to sell a wide-variety of goods. The market gets very crowded so it is best to go in the morning to give yourself plenty of time.
It also has plenty of food stands which offer breakfast and lunch. Be careful what you eat and where you eat it from as food contamination is a common cause of illness. Consider bringing a traveller's diarrhea kit with you to avoid problems.
The market is a bustling place full of vibrant colors and spirits where both travellers and natives can gather together to experience the best of what Antigua has to offer.
What Should I Pack for Antigua and Barbuda?
Antigua and Barbuda is a magical place to visit. But, its important to make sure you have everything with you to have a safe and fun trip. Some key items include:
Lightweight cotton clothing to help keep cool in the heat.
Small backpack or other bag for carrying necessities while on an excursion or on the beach.
A rain jacket and waterproof shoes in case of an unexpected shower.
Comfortable walking shoes if you plan on going hiking or walking around in the city.
Hand sanitizer and hand sanitizer wipes are helpful. Bring these with you whenever you use any public facilities or are in public markets.
Insect repellant to protect against mosquito bites and Zika.
Canadian Embassy in Bridgetown
The Canadian Embassy is able to help those who have been the victim of crimes. They are able to help you find medical care, contact relatives back home, and assist you with working with local police. To better prepare consider purchasing traveller's insurance.
While there is no embassy in Antigua and Barbuda, the nearest embassy is in Bridgetown, Barbados.
High Commission of Canada in Barbados
Bishop's Court Hill / PO Box 404
St. Michael BB 11113
Barbados, W.I.
Phone: (246) 629-3550
Fax: (246) 437-7436
Ready to start your next journey? Call us at or book online now!
On This Page:
Do I Need Vaccines for Antigua and Barbuda?
Zika Virus in Antigua and Barbuda
Do I need a Visa to go to Antigua and Barbuda?
How Is the Climate in Antigua and Barbuda?
Is Antigua and Barbuda Safe?
Visiting St. John's Saturday Morning Market
What Should I Pack for Antigua and Barbuda?
Canadian Embassy in Bridgetown