Please note: Due to increased travel demand, appointments are limited.
Schedule your appointment as soon as possible to ensure travel protection.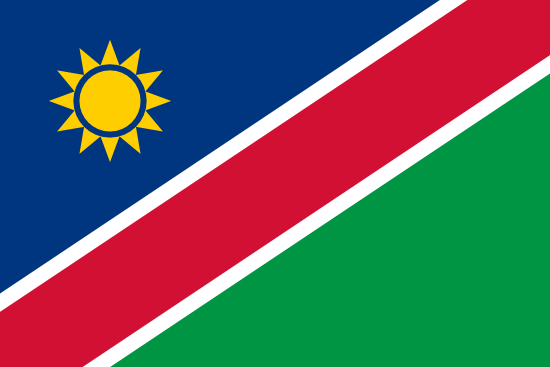 Travel Vaccines and Advice for Namibia
Namibia's sprawling, untouched landscapes teem with countless types of wildlife and animals. If anyone is looking to experience nature in truest form, then they don't need to look much further than Namibia.
Etosha National Park is a popular destination in Namibia offering the chance to see and interact with wildlife. If travellers wish to see the city life instead, then they can head to Windhoek, the capital of Namibia. In the many buildings in this bustling city, traces of the colonial era are still evident through the architecture.
The variety in attractions and lifestyles makes Namibia the perfect destination for the tourist that wants to get the best of both wild- and city life in Africa.
Do I Need Vaccines for Namibia?
Yes, some vaccines are recommended or required for Namibia. The PHAC and WHO recommend the following vaccinations for Namibia: COVID-19, hepatitis A, hepatitis B, typhoid, yellow fever, rabies, meningitis, polio, measles, mumps and rubella (MMR), Tdap (tetanus, diphtheria and pertussis), chickenpox, shingles, pneumonia and influenza.
See the bullets below to learn more about some of these key immunizations:
See the tables below for more information:
Recommended Travel Vaccinations for Namibia

VACCINE
HOW DISEASE SPREADS
DETAILS

COVID-19
Airborne
Recommended for all travellers
Hepatitis A
Food & Water
Recommended for most travellers
Hepatitis B
Blood & Body Fluids
Accelerated schedule available
Typhoid
Food & Water
Shot lasts 2 years. Oral vaccine lasts 5 years, must be able to swallow pills. Oral doses must be kept in refrigerator.
Yellow Fever
Mosquito
Required if travelling from a country with risk of yellow fever transmission.
Rabies
Saliva of Infected Animals
Moderate risk country. Vaccine recommended for certain travellers based on destination, activities and length of stay.
Routine Vaccinations for Namibia

VACCINE
HOW DISEASE SPREADS
DETAILS

Measles Mumps Rubella (MMR)
Various Vectors
Given to anyone unvaccinated and/or born after 1957. One time adult booster recommended.
TDAP (Tetanus, Diphtheria & Pertussis)
Wounds & Airborne
Only one adult booster of pertussis required.
Chickenpox
Direct Contact & Airborne
Given to those unvaccinated that did not have chickenpox.
Shingles
Direct Contact
Vaccine can still be given if you have had shingles.
Pneumonia
Airborne
Two vaccines given separately. All 65+ or immunocompromised should receive both.
Influenza
Airborne
Vaccine components change annually.
Meningitis
Airborne & Direct Contact
Given to anyone unvaccinated or at an increased risk, especially students.
Polio
Food & Water
Considered a routine vaccination for most travel itineraries. Single adult booster recommended.
Malaria, dengue and chikungunya are all present in Namibia. Take measure to protect yourself including using mosquito netting, insect repellents and taking antimalarials (if recommended for your itinerary).
African sleeping sickness has been found in Namibia. Though no cases have been reported in nearly a decade, there is still a risk. Use insect repellents and try to avoid tsetse flies when in regions where the insect is present.
See our vaccinations page to learn more about these infections and vaccines. Ready to protect yourself? Book your travel health appointment today by calling or schedule online now.
Do I Need a Visa or Passport for Namibia?
Canadians planning to visit Namibia will need a visa to enter the country. You will also need a valid passport that will remain valid for at least six months beyond your date of departure.
Namibia Entry Requirements

Do I Need A…
For My Trip to Namibia?

Passport
Tourist Visa
Business Visa
Vaccinations
Sources: Embassy of Namibia and Canadian Travel and Tourism
Travellers to Namibia must show proof of vaccination at entry or they will not be allowed into the country.
Visit the Canadian Travel and Tourism website for more information on entry and exit requirements.
What is the Climate Like in Namibia?
Namibia is one of the sunniest countries on the planet. The nation experiences about 300 days of sun each year. Humidity is often low, but the air can be quite dry. This sun and warmth is typical of most regions in Namibia, but the climate can differ slightly across the country. Here is what to expect in a few tourist destinations:
Windhoek – In the capital city, the temperatures are more moderate. The typical high in January, the peak summer month in Namibia, is about 32, and the average low is 16 degrees Celsius. The temperatures in the winter months, July and June, are a bit cooler. There is usually no rainfall between June and September.

Swakopmund – The coastal city of Swakopmund has a milder desert climate. The weather is more consistent and varies less than in areas such as Windhoek. The average temperatures in Swakopmund range from about 16 to 27. Rainfall is also light in this region.
Etosha Pan – This region is a popular tourist destination, as it provides the opportunity for many ecotours and wildlife adventures. Again, rainfall in the Etosha region is as rare as it is in other areas in Namibia. In the summer, temperatures can hit around 35 degrees Celsius, and can go as low as 16. The dry winters range are more mild.
How Safe is Namibia?
There are varying levels and types of criminal activity in Namibia.
Banditry is prevalent along the Namibia-Angola border. Make sure you only pass through official border crossing areas and travel during the day. There are police checkpoints 9 mile outside of all major cities and highways. Keep all travel and identification materials with you at all times.
Crimes of opportunity often occur in Namibia. The most prevalent incidents reported include ATM card skimming, purse snatching and pick-pocketing. More violent crimes, like rape and murder, have increased in the capital of Windhoek. Residential break-ins also occur.
To avoid risk of these crimes, dress conservatively, do not flaunt valuables and avoid walking alone and at night.
Adventuring With Animals in Namibia
Many tourists flock to Namibia to experience untouched, wild landscapes and animals. Ecotours are very popular among travellers. Hiking, swimming, camping and driving through the wilderness are also choice adventures.
Encounters with wildlife can be dangerous, as animals can be unpredictable. Remember that the creatures you may meet are not domesticated, and are not guaranteed to be friendly. This fact remains true no matter how small or cute a creature may be. Many tourists want to touch or feed animals. But, this can provoke them and lead to potentially violent attacks.
Always bring enough water and supplies on every adventure you partake in.
What Should I Pack for Namibia?
In addition to all travel documents and medications recommended by a Passport Health Travel Medicine Specialist, here are some items to consider packing:
Insect Repellent – Since malaria is at risk in Namibia, be sure to pack bug spray. Packing a repellent with at least 20%-30% DEET will keep mosquitoes at bay. You should also bring neutral colored clothing, as this does not attract insects as much as dark or bright clothes.
Water Purifier – Not all running and tap water in Namibia is clean or filtered. Avoid drinking it or even brushing your teeth in it. A water purifier will make finding and drinking clean water easier.
Warm Clothing – Depending on the time of year and region temperatures can be cold. The evenings also tend to cool down, meaning you may need to add some layers if you're planning to go out after sundown. Packing a few jackets and warm pants will make sure that you are covered.
Batteries – It can be difficult to find batteries in Namibia. If you have any devices that rely on batteries, such as cameras, it may be wise to pack some extras. In a country this naturally beautiful, you wouldn't want to miss any chance to take a quick snapshot.
Canadian Embassy in Namibia
Canadian consular services can help travellers with many issues they may face including passport services. Namibia is served by the High Commission of Canada in South Africa:
High Commission of Canada in South Africa
1103 Arcadia Street
Hatfield, Pretoria, 0083, South Africa
Telephone: +27 12 422 3000
Ready to start your next journey? Call us at or book online now!
Customer Reviews
Passport Health – Travel Vaccines for Namibia
Overall rating: 5 stars – 3 reviews
"

Great Job

"

"The nurse was so knowledgeable regarding what we needed to know for going on our trip to Namibia; very personable and took thorough steps to ensure the prescriptions would not interact with his pre-existing condition."
"

A great experience

"

"I had a great experience at my Passport Health office. My nurse took time to explain all of the medications recommended for my trip to Namibia and then let me decide which ones I wanted to take without pressuring me. She was knowledgeable, friendly and made the process easy and simple. I would recommend Passport Health without any hesitation."
"

Amazing staff

"

"The nurse took his time to answer all of my questions. This is the first time that a Canadian healthcare provider answered my questions via email. I thought that I am in Beverly Hills and I am one of the celebrities. He is very knowledgeable, polite and kind . I strongly recommend this clinic. I really appreciate your sense of responsibility and support for my trip to Namibia."
On This Page:
Do I Need Vaccines for Namibia?
Do I Need a Visa or Passport for Namibia?
What is the Climate Like in Namibia?
How Safe is Namibia?
Adventuring With Animals in Namibia
What Should I Pack To Namibia?
Canadian Embassy in Namibia