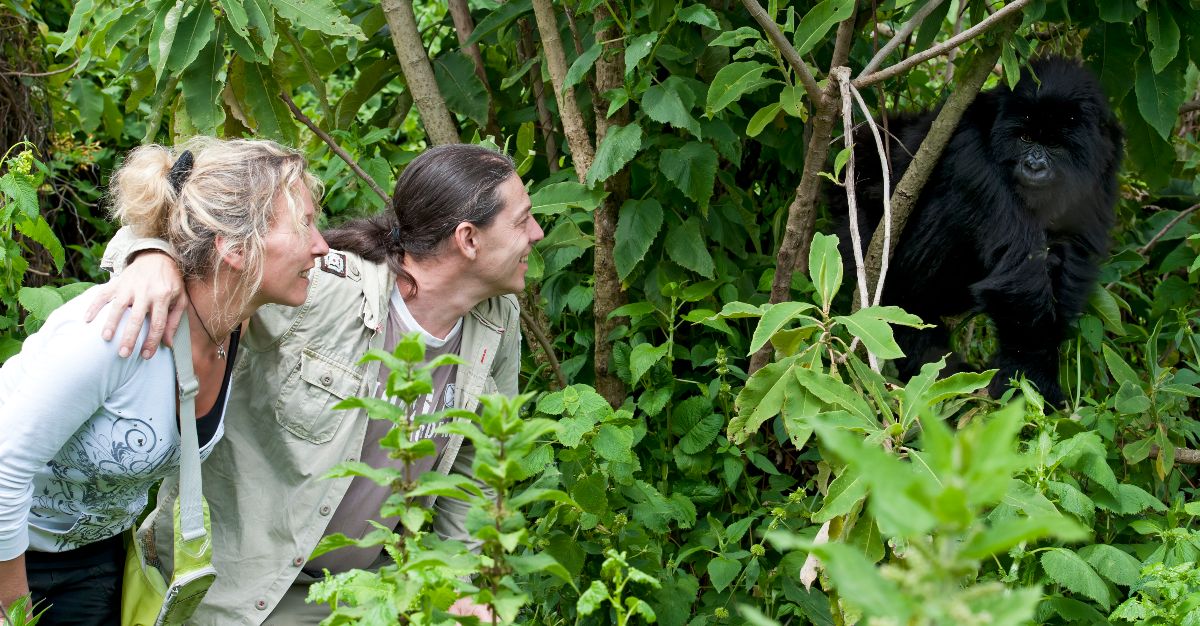 In endangered and protected wildlife areas, tourists are commonly told to take only photos and leave only footprints. But, for the gorilla populations, deadly diseases are being left behind by tourists wanting to get a great picture.
While most viruses are spread from one infected person to another, parasites can jump from animals to humans and vice versa. This common process is known as zoonosis.
And with more selfies, it's putting African gorillas at serious risk of virus outbreaks within the gorilla populations.
Which Diseases Can Humans Spread to Gorillas?
The United States Agency for International Development created a $200 million Predict program. The program included a 10-year effort to find animal diseases that could jump to humans. They then looked into the spread of viruses from humans to gorillas.
Results showed infection cases are putting gorilla populations at risk of further endangerment and potential extinction.
Ebola hemorrhagic fever is an infectious and often fatal disease that has affected many African gorilla populations. In 2003, the Ebola virus killed about a third of the gorilla population. Research has shown a similar disease spread for humans and gorillas. When a virus infects the gorilla populations, it appear to mimic the progression that the virus would have among a human population.
Although, a couple differences hurt the gorillas much more: population density and the ability for medical intervention.
How are We Putting the Gorilla Populations at Risk?
Close proximity to others already allows for an easy transfer respiratory infections. With the world's gorillas population focused to a few areas, a virus could have serious effects if those infected are left untreated.
A recent outbreak of the human metapneumovirus in Rwanda infected 11 apes and resulted in two deaths. While two deaths may not seem like a lot, all species of gorillas are listed as "Critically Endangered" on the IUCN Red List. Such a distinction means preventing deaths in the gorilla population is important.
With this in mind, the ongoing Ebola outbreak in eastern Democratic Republic of Congo (DRC) has caused conservation groups to be on high alert.
Despite the high chance of the spread of infectious diseases associated with humans and gorilla interactions, "about 60 percent of the mountain gorillas left in the wild are habituated to the presence of humans from seeing conservation staff, tourists, and researchers regularly."
This makes the gorillas easier to track. The staff can easily note any changes in appearance or behavior.
Due to this close monitoring, any outbreak amongst the gorillas could be identified quickly. An outbreak could be handled more efficiently compared to gorillas in the wild.
Although, there is a serious downside in the relationship between humans and gorillas. The gorillas have a confidence and ease around these humans. And with that comfort, they are at a higher risk of exposure through direct contact with bodily fluids from infected humans.
Tourists are told to wear masks and stay at least 23 feet away from gorillas. These rules are meant to protect the gorillas from infectious human diseases.
But, a review of Instagram and other social media photos shows that the rules are being ignored.
Peter Walsh is a primate ecologist who worked on developing an Ebola vaccine for primates at the University of Cambridge. He stated that, "once Ebola has been identified within a local gorilla population, the consequences have always been really catastrophic."
Gorillas can't explain their symptoms to medical professionals, much less quarantine themselves from uninfected gorillas. Thus, there's a far higher mortality rate than their human counterparts.
During the outbreak of the Zaire ebolavirus strain in 2002 and 2003, 130 out of 143 gorillas that researchers were observing along the Congo-Gabon border disappeared. In a different outbreak further south, 91 out of 95 gorillas disappeared. Out of the carcasses discovered later, many tested positive for the virus. Gorillas are at risk of far more than the severe viruses like Ebola. The animals can catch scabies, TB, and a host of other diseases from human transmission.
Humans and gorillas may be different species, but the viruses that infect us can be very similar. Those shared illnesses offer one more reason for more distance between the two.
How to Stop Spreading Diseases to Gorillas
Whether through tourism or conservation, gorilla populations that are in frequent contact with humans are particularly vulnerable to respiratory infections.
Gorilla doctors and park officials are taking some actions with these risk. They have increased efforts to explain to forest workers, locals and tourists how zoonotic disease transmission works. With more education, they hope the amount of infected gorillas will decrease.
The groups are also taking measures beyond education. A greater focus on sanitation and prohibitions on staff moving through known Ebola areas may slow the problem down.
Looking to the future, the WWF, the International Union for Conservation of Nature, and Wildlife Conservation Society have partnered together. They will focus on 18 priority landscapes for gorillas and conservationists are working on improving habitats and protected areas.
With these measures, hopefully we will be able to stop the alarming disease transmission and save the decreasing gorilla populations.
Did you know humans could spread diseases to gorillas? Do you think these new measures will help the gorilla populations? Let us know in the comments, or via Facebook and Twitter.
Written for Passport Health by Brianna Malotke. Brianna is a freelance writer and costume designer located in Illinois. She's an avid coffee drinker and enjoys researching new topics for writing.