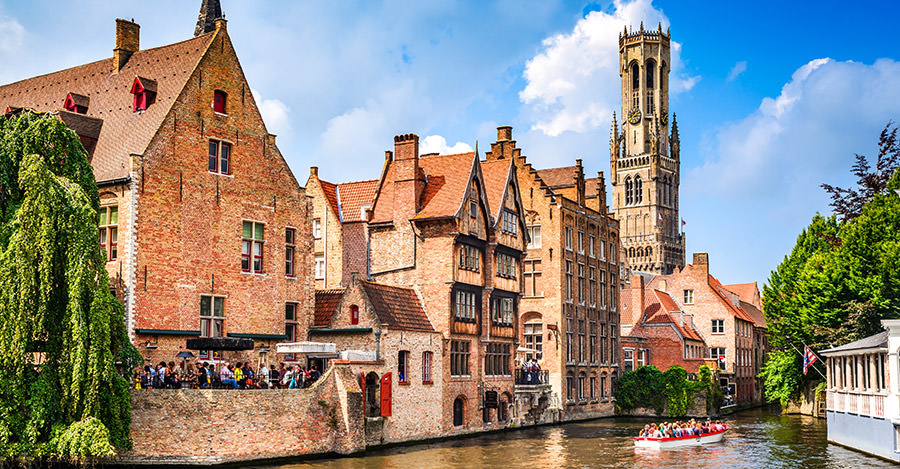 Do I Need Vaccines for Belgium?
Do I Need a Visa for Belgium?
What Is the Climate Like in Belgium?
How Safe Is Belgium?
Visit the Hidden Village of Doel
What Should I Take to Belgium?
Canadian Embassy in Belgium
Belgium is known as a country at the crossroads of medieval and modern-day. It is not uncommon to spend the morning touring the grounds of a centuries-old castle and the afternoon strolling through a museum of contemporary art.
Belgium is one of the most sought-after renaissance destinations in Europe. Elegant buildings sit side-by-side with cobblestone streets, interrupted by an occasional winding waterway.
Brussels, the country's capital is a bilingual hub for international political gatherings. Belgium's reputation as a gathering place for politicians has made it a target for terrorist attacks.
Security is improving in Belgium and the country hasn't seen a large attack for some time.
Do I Need Vaccines for Belgium?
Yes, some vaccines are recommended or required for Belgium. The PHAC and WHO recommend the following vaccines for Belgium: hepatitis A, hepatitis B, rabies, and influenza.
---
Visit our vaccinations page to learn more. Travel safely with Passport Health and schedule your appointment today by calling or book online now.
Do I Need a Visa for Belgium?
A passport which is valid from the expected date of departure from the Schengen area is required to enter the country. A tourist and business visa is not required for stays up to 90 days in the Schengen area. The 90 -day period begins upon initial entry into any Schengen area country. Visits exceeding 90 days require a visa which is valid for 180 cumulative days.
Is A …
An Belgium Entry Requirement?

Passport
Yes
Passport Validity
At least six months
Blank Passport Pages
At least two pages
Visa
No
Vaccinations
May be required
Sources: Canadian Travel and Tourism and Embassy of Belgium
Visit the Canadian Travel and Tourism website for more information on entry and exit requirements.
What Is the Climate Like in Belgium?
Belgium is a small country so the climate does not change drastically region to region. The climate is considered temperate with cool summers and mild winters. The country experiences all four seasons.
Brussels – This region experiences mild temperatures year round. There are occasional rain and snowfall in the cooler seasons.


Antwerp – The city is a sub-oceanic climate with higher levels of humidity and more rain than other regions.


Rochefort – This area typically experiences more rainfall than most areas. It remains generally warm throughout the year.
How Safe Is Belgium?
Despite semi-recent terrorist activity, Belgium is a safe and secure country.
Given Belgium's political significance, demonstrations are common. Travellers should avoid areas where demonstrations are occurring. Petty crimes are not uncommon and travellers should be aware of their belongings at all times.
Visit the Hidden Village of Doel
Doel, located in the northern coastal area near Antwerp, is a unique, quaint village. As Doel's residents moved out, local artists moved in. Today, the streets of Doel are full of peculiar and colorful murals. Grab a Belgian waffle and stroll the art-filled streets, witnessing some famous and unique artwork.
What Should I Take to Belgium?
Most areas in Belgium experience four seasons. Depending on the time of travel, there are various accessories one should pack:
An umbrella for any random spurts of rain


Comfortable walking shoes


Light, airy jackets


Travel water bottle
Canadian Embassy in Belgium
The embassy in Belgium provides many services. These include help with passports, birth certificates and most all travel concerns.
Canadian Embassy in Brussels, Belgium
Avenue des Arts 58
1040 Brussels
Belgium
(+32) 2 741 06 11
Stay safe abroad with Passport Health. Call or book online now and start travelling safely today!