Please note: Due to increased travel demand, appointments are limited.
Schedule your appointment as soon as possible to ensure travel protection.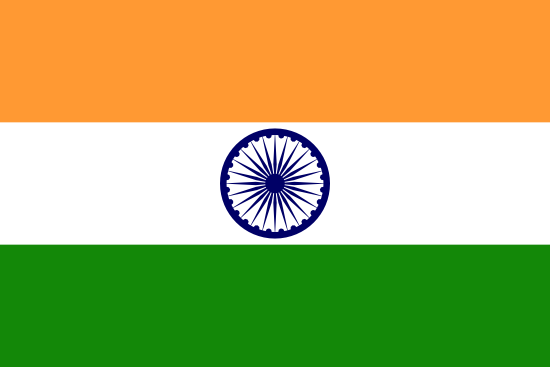 Travel Vaccines and Advice for India
The Taj Mahal, Hampi, the Himalayans and the Caves of Ajanta are just the beginning for amazing sights in India. For thousands of years, the subcontinent has been the cradle of one of the most amazing cultures to visit.
Every year, tourists from around the globe flock to India to see its amazing sights and sounds. Whether you are a spiritual pilgrim, a business executive or an adventure seeker, India is sure to have something for you.
Do I Need Vaccines for India?
Yes, some vaccines are recommended or required for India. The PHAC and WHO recommend the following vaccinations for India: hepatitis A, hepatitis B, typhoid, cholera, yellow fever, Japanese encephalitis, rabies, meningitis, polio, measles, mumps and rubella (MMR), Tdap (tetanus, diphtheria and pertussis), chickenpox, shingles, pneumonia and influenza.
See the bullets below to learn more about some of these key immunizations:
See the tables below for more information:
Recommended Travel Vaccinations for India

VACCINE
HOW DISEASE SPREADS
DETAILS

Hepatitis A
Food & Water
Recommended for most travellers
Hepatitis B
Blood & Body Fluids
Accelerated schedule available
Typhoid
Food & Water
Shot lasts 2 years. Oral vaccine lasts 5 years, must be able to swallow pills. Oral doses must be kept in refrigerator.
Cholera
Food & Water
A risk for travellers throughout India. Avoid swimming in popular rivers or streams as cholera may be present. Vaccination is recommended for some travellers.
Yellow Fever
Mosquito
Required if travelling from a country with risk of yellow fever transmission.
Japanese Encephalitis
Mosquito
Recommended for all regions except: Dadra, Daman, Diu, Gujarat, Himachal Pradesh, Jammu and Kashmir, Lakshadweep, Meghalaya, Nagar Haveli, Punjab, Rajasthan, and Sikkim.
Rabies
Saliva of Infected Animals
High risk country. Vaccine recommended for long-term travellers and those who may come in contact with animals.
Polio
Food & Water
May be required if arriving from countries with active transmission. Recommended for some travellers to the region. Single adult booster recommended.
Routine Vaccinations for India

VACCINE
HOW DISEASE SPREADS
DETAILS

Measles Mumps Rubella (MMR)
Various Vectors
Given to anyone unvaccinated and/or born after 1957. One time adult booster recommended.
TDAP (Tetanus, Diphtheria & Pertussis)
Wounds & Airborne
Only one adult booster of pertussis required.
Chickenpox
Direct Contact & Airborne
Given to those unvaccinated that did not have chickenpox.
Shingles
Direct Contact
Vaccine can still be given if you have had shingles.
Pneumonia
Airborne
Two vaccines given seperately. All 65+ or immunocompromised should receive both.
Influenza
Airborne
Vaccine components change annually.
Meningitis
Airborne & Direct Contact
Given to anyone unvaccinated or at an increased risk, especially students.
Some mosquito-borne diseases are also prevalent in India including:
Malaria– Antimalarial medication is recommened for many regions in India. Speak with a travel health specialist to learn if these are right for your itinerary.
Dengue Fever– Another mosquito-borne disease, dengue affects millions each year. Unfortunately, there is no vaccination against dengue approved in the United States. Make sure you take precautions against mosquitoes like using repellents and mosquito netting.
Fortunately, the Zika virus has yet to arrive in India.
To learn more about these infections, see their respective vaccination or infection pages.
If you are travelling to India, make sure you are protected. Visit your local Passport Health to receive a comprehensive consultation on what you will need to stay safe. Book your appointment online now or call us at and make sure your dream trip doesn't become a nightmare.
How To Prevent Delhi Belly (Traveller's Diarrhea)
Delhi Belly (or traveller's diarrhea) is very common among travellers. Up to 70 percent of international travellers will come down with traveller's diarrhea during their trips. This is especially true for visitors to India.
Causes can range from viral or bacteria infections to just a difference in cuisine. But, no matter how it happens, traveller's diarrhea can ruin a trip.
There are a few precautions you can take to avoid traveller's diarrhea:
Avoid risky eating– Be smart about where and what you eat. Street carts may not be the best place to grab a snack, but you also don't need to only eat pre-packaged foods. Use good judgment to decide where would be best to chow down.
Watch what you drink– Indian water can be contaminated with bacteria and other biologics that could cause traveller's diarrhea. Be sure anything you drink is clean. If at a restaurant, do not drink anything with ice as it is likely made from unclean water.

Consider preventative care– Some products, like Travelan, will provide you with some protection against traveller's diarrhea.
Be sure to bring a traveller's diarrhea kit that includes antibiotics or similar products that can help stop diarrhea if it occurs.
To learn more about what you can do to avoid Delhi Belly, see our traveller's diarrhea page. Or, book an appointment with your local Passport Health by calling or scheduling online now.
Customer Reviews
Passport Health – Travel Vaccines for India
Overall rating: 5 stars – 10 reviews
"

Friendly and Efficient

"

"I went to the clinic prior to a trip to India to determine what vaccines were recommended. The service I received was on-time, friendly and very thorough. I was able to complete some of the vaccinations immediately which was very helpful. I'd definitely recommend this clinic and I have no hesitation about returning prior to other trips."
"

Awesome!

"

"It's a great place as I was explained in detailed for each dose and medicine require while travelling to India. Its definitely help me ease my fear and help me understand the necessity.Now I am ready to travel with my all require medicine and well prepared. thanks."
"

Fantastic

"

"In preparation for our trip to India, we visited the clinic in Oakville, the is very knowledgeable, professional yet friendly. It was a good experience but the cost was much more than we had expected."
"

Perfect one stop place for healthy travel

"

"Professional, organized, and thorough. I was able to get all the information I needed for travel to India, each items was checked against known allergies, I received all the vaccines and medications I needed all in the same place. Absolutely wonderful!"
"

India Travels

"

"After reading positive reviews I chose Passport Health to help me prepare for my trip to India. I was very pleased by their service, knowledge and am very satisfied with their recommendations. I look forward to a safe and worry-free trip."
"

Very Helpful

"

"A family of four planning a trip to India with knowledge of our children's vaccination history but not our own. We were given lots of time in our appointment to learn about the vaccinations needed for our trip and ask questions."
"

Passport Health Experience

"

"My wife and I are travelling to India in the New Year so of course we knew we had to receive some type of medical protection. We looked this up on the Web and seeing that the site was very detailed we decided to make an appointment. The medical questionare was easy to complete prior to our visit. Once at the location we were greeted by our designated RPN. We found her guide through the requirements was easy to understand and made things very understandable for us. She was friendly, and very professional in her approach and was very interested in our trip to India. We could not asked for better treatment . Quite refreshing to find someone of her caliber these days!!! Thanks for a great experience."
"

Above and Beyond Service

"

"I was given a last minute flight to India and showed up on Saturday with no appointment needing vaccinations. They were all booked but the nurse, Patricia, took care of me in the midst of her crazy day. Very professional. Concern for clients."
"

Extremely Informative

"

"I loved meeting with our nurse, she was very helpful and kept me at ease during my appointment. She provided me with a lot of information I need on vaccines AND on things like Visa, consulates, tourist attractions etc in India before my trip."
"

Now invincible!

"

"I was given very thorough and efficient service in preparation for my trip to India, prior to my appointment, during and following."
Do I Need a Visa or Passport for India?
Nationals of all countries, including Canadian citizens with a valid passport, require a visa. E-visas take 3-10 days to process and are valid for 2 trips up to 60 days' total. The Indian government now allows Canadian citizens to apply for simple tourist and business visas without having to send in a passport.
India Entry Requirements

Do I Need A…
For My Trip to India?

Passport
Tourist Visa
Business Visa
Vaccinations
Sources: Embassy of India and Canadian Travel and Tourism
What Is the Climate Like In India?
India is generally classified as a hot tropical country, except for the Himalayan north. The country has three distinct seasons:
Summer (March to June) – Indian summers are very hot. Temperatures often climb to over 43 degrees.
Monsoon (July to August) – The rainy season brings thunderstorms and heavy rains. These sometimes cause flooding or other damage. Bring an umbrella and be sure to take other precautions.
Winter (October to February) – Winter temperatures are generally mild. Except in the northern regions where they will dip to near or below freezing. Remember, the higher into the mountains you go, the chillier it will get.
How Safe Is India?
India is generally safe, but is still a developing country in many ways. Try to avoid the Indian-Pakistani border, as growing tensions have led to a less safe situation.
Petty crime, especially theft is common. This happens mostly in trains and buses. Pickpocketing is known to occur in some tourist areas. Violent crime is traditionally uncommon, though there has been a slight increase in recent years.
Scamming has become more common in many popular areas. Be especially careful in airports and train stations. If an offer for cheap transportation or hotel rooms seems too good, it probably is. Only use well-known travel agencies when booking your trip and planning activities in-country.
LGBT individuals will want to be especially careful as laws on homosexuality are unclear. While prosecution is rare, LGBT visitors may wish to avoid drawing attention.
What Should I Pack For India?
Packing for India can be a bit tricky, as the country is different from many popular travel destinations:
Pack light– Moving from place to place in India can be a bit tricky. Many forms of transportation have a tight fit and having something you can easily haul around is key. Brining an extra backpack isn't a bad idea either as a purse or small bag may not be enough to carry water, an umbrella and similar items.
Prepare for weather– Be sure to pack according to what season you'll be in the country. Where you are headed is also a key factor as the Himalayas are a much cooler region.
Wear the right footwear– You'll likely be doing a lot of walking (or even standing) in India. Make sure your shoes are up for the trip, your feet will thank you.
Bring a complete first-aid kit– the PHAC has a complete list of recommended health items which can be found here. Some notable items include: sunscreen, insect repellent, hand sanitizer and diarrhea medicine like DiaResQ or other remedies.
Where Is the Canadian Embassy in India?
The Canadian Embassy in India is located at:
High Commission of Canada in New Delhi
7/8 Shantipath, Chanakyapuri,
New Delhi 110 021, India
Telephone: 91 (11) 4178-2000
Whether you are travelling for business or pleasure, India is an absolutely amazing destination. From the Himalyas to the coast of the Indian Ocean, the country's unique culture and feel has something for every type of traveller.
To learn more about what you can do to prepare for an Indian trip, visit your local Passport Health clinic. Book your appointment today by calling or scheduling online now.
On This Page:
Do I Need Vaccines for India?
How To Prevent Delhi Belly (traveller's Diarrhea)
What Are the Entry and Exit Requirements for India?
What Is the Climate Like In India?
How Safe Is India?
What Should I Pack For India?
Where Is the Canadian Embassy in India?