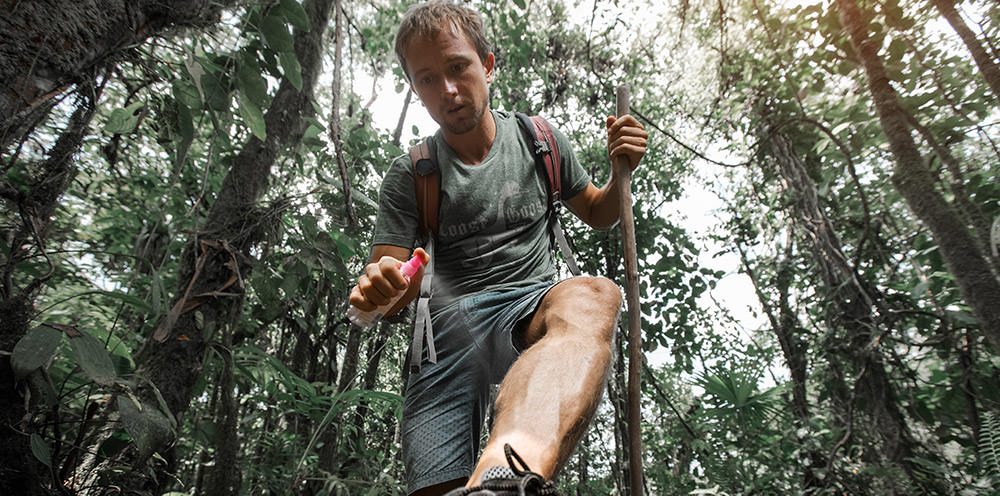 Zika Virus: Prevention and Symptoms
Central and South America, as well as the Caribbean, are some of the most popular destinations for travellers. Whether you are visiting a beach in Puerto Rico or ruins in Mexico, you will encounter mosquitoes. But, Zika is causing major problems, especially for expecting or potential mothers.
What Is Zika Virus?
The Zika virus spreads through mosquito bites with usually fairly light symptoms. Outbreaks have occurred in Africa, Southeast Asia and the Pacific Islands. In recent years, the virus gained a foothold in Brazil. It has since been moving northward infecting mosquitoes and humans in 97 countries. There is currently no vaccine to prevent Zika and no medicine to treat it. The best protection is through preventing mosquito bites and avoiding regions with the virus.
While Zika's symptoms are generally mild, pregnant mothers and their unborn child have the greatest risk. The virus can cause birth defects in babies whose mothers contract the it while pregnant. The exact nature of all defects and when they are most likely to occur is still under investigation.
How Does Zika Virus Spread?
As a mosquito-borne disease, Zika spreads among mosquito populations and from them to humans.
The species that carry Zika virus are the Aedes aegypti mosquitoes.
The Aedes aegypti also carry dengue fever, yellow fever and chikungunya. They usually lives in tropical areas, with populations in Asia, Africa, Australia and the Americas. Not every region has active Zika transmission. The Aedes aegypti mosquitoes bite in day. But, they be found at night in busy areas.
A mosquito will be infected with the virus after biting a person who has Zika. The insect can then spread Zika to any human it bites.
Zika can also be transferred from person-to-person through sexual contact. A person can spread the virus to a sexual partner even if they are not showing any symptoms. Men carry Zika for a longer period of time than women and can spread the virus at least 6 months after infection.
Rarely, a mother infected with the virus will pass it on to her child in utero. This form of transmission is under investigation by global health organizations. There have been no reports of infants contracting the virus through breast feeding.
Customer Reviews
Passport Health – Zika Prevention
Overall rating: 5 stars – 3 reviews
"

Great Experience

"

"Our Nurse was very informative, patient and thorough. We felt much more at ease with the information provided especially on diseases like dengue and Zika and would refer your services to friends."
"

Thank You!

"

"Thorough and friendly. Received all the necessary information and options. Left with a comprehensive plan to stay protected from non-vaccination diseases like Zika. Instructions were clear and file provided was great for reference."
"

Great experience

"

"Provided great information and extremely friendly. Everything from azithromicin to Zika was explained well. I would refer anyone who asked me about vaccinations to this clinic."
How To Prevent Zika Virus?
Zika is a mosquito-borne disease that has no vaccine nor cure. The best form of prevention is avoiding or repelling mosquitoes. PHAC recommendations include:
Use insect repellents containing DEET, picaridin, OLE or IR3535.
Wear clothing treated with a repellent like permethrin.
Wear long-sleeve shirts and long pants to cover exposed skin.
Stay and sleep in screened or air conditioned rooms. Consider using mosquito netting depending on your itinerary.
Avoid non-essential travel to areas affected by Zika if you are pregnant or may become pregnant. See our section below on Zika and pregnancy. Many organizations recommend travellers speak with a travel health clinic like Passport Health before leaving. Schedule an appointment at the Passport Health clinic nearest you today!
Is There a Vaccine for Zika Virus?
There is currently no vaccine for Zika virus. Many vaccines are in development for a solution to the Zika virus.
A potential vaccine manufactured in Canada is undergoing trial testing. Tests will focus in countries throughout the Americas.
We will update this section as more information becomes available.
What Are the Symptoms of Zika Virus?
Zika is a generally mild disease, though there are some possible complications. Only about 20 percent of those infected with the virus fall ill. Symptoms are usually mild and last anywhere from several days to a week. Severe illness is uncommon and deaths are rare.
If infected, the virus will often stay in a person's blood for one week. Seek medical attention if you have these symptoms.
Health agencies recommend travellers speak with a travel health specialist before visiting areas with Zika. If you are traveling to an affected area, call or schedule your appointment online with Passport Health today!
Zika Symptoms

Common
High Risk

Fever
Fetal Infection
Rash
Birth Defects
Joint/Muscle Pain
Microcephaly
Headache
Asymptomatic Transmission
Conjunctivitis
(pink eye)
Long-term Sexual
Transmission (up to 6 months)
Source: PHAC
Zika Virus and Pregnancy
Research shows the Zika virus can spread from a pregnant mother to her unborn baby. Studies show the virus can cause microcephaly (shrinking of a baby's head) and other health complications. Zika may also increase chances of miscarriage for pregnant women.
Up to 1 in 10 pregnant women in Canada with Zika virus experienced some birth defect for the fetus. The effects of Zika on pregnant mothers and their children are under investigation. The PHAC recommends special precautions for:
Women who are pregnant (in any trimester):
Consider postponing travel to any area where Zika may be present.
If you must travel to these areas, speak to your doctor before traveling.
Strictly follow all methods outlined above to avoid mosquito bites.
Women who are trying to become pregnant:
Talk to your doctor about your plans to become pregnant and the risks of Zika virus.
Strictly follow all methods outlined above to avoid mosquito bites.
Where Is Zika Virus Found?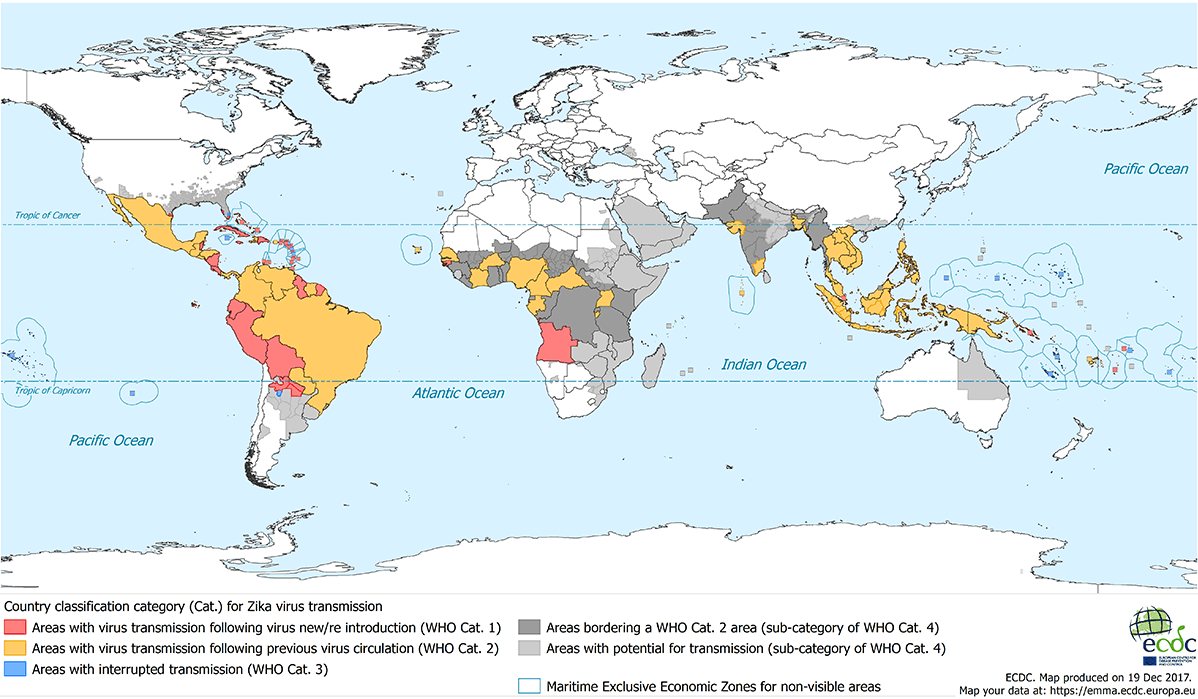 Source: PHAC, ECDC
After originating in Uganda 70 years ago, the virus made its way to nearby regions that were home to the same mosquitoes. Today, Zika poses a risk in 97 countries, from Southeast Asia to Africa, the Caribbean and the Americas. Billions of people around the world are at risk of catching the virus.
The regions that pose an elevated risk for Zika virus are:
The virus is present in other countries. Be sure to check our destination advice section to learn if Zika could affect your trip.
For more information on the Zika virus or to schedule your appointment feel free to call at or book online now!
On This Page:
What Is Zika Virus?
How Does Zika Virus Spread?
How To Prevent Zika Virus?
Is There a Vaccine for Zika Virus?
What Are the Symptoms of Zika Virus?
Zika Virus and Pregnancy
Where Is Zika Virus Found?