Hepatitis A, typhoid and cholera are some of the most commonly needed vaccinations for travellers of all types. Make sure you're protected before your trip.
This mosquito-borne disease is potentially deadly and found in many popular travel destinations like Brazil and Ghana. Passport Health clinics are Registered Yellow Fever Centres with PHAC and can provide you with the vaccine and documentation. Note, proof of yellow fever vaccination is required for some countries.
Your time is important to us. We keep speciality and routine immunizations like Japanese encephalitis, measles, mumps and rubella and rabies in-stock and ready for your visit. No need to return on a different date. We strive to be your one-stop-shop for travel health needs.
Each trip is unique, shouldn't your travel health experience be the same? We provide clients with personalized care for their individual trip. You will also receive an itinerary outlining some of the most important items for you to be aware of before, during and after your trip.
Details & Directions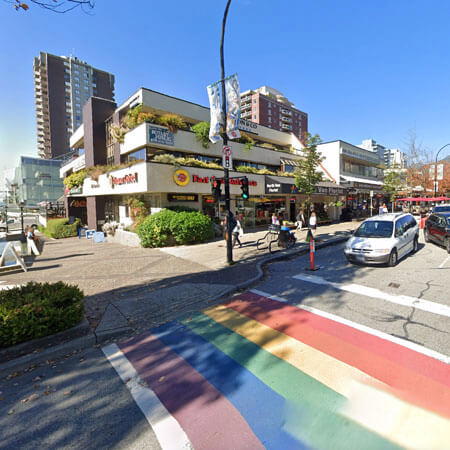 Our North Vancouver office is located near corner of 14th Street East and Lonsdale Avenue. The clinic is one block West of Lion's Gate Hospital.
Schedule an appointment today by booking online or calling .
Customer Reviews
"

5 Star Experience

"

"Easy, Efficient, and Personally Enjoyable. Our provider put us at ease and provided the vaccinations with competence and ease. 5 out of 5 star experience!"
"

Fantastic!

"

"My clinician is amazing – she really knows her stuff and has an incredible personality. Definitely recommend before making any international trips."
"

Great Information

"

"Friendly, helpful consultation with lots of good medical/travel information for the countries we plan to visit. We chose not to purchase the vaccines because the cost was too high for the risk."
"

Excellent service, couldn't be bettered

"

"We were seen on time and our questions were answered clearly and professional. The inject was painless and I didn't faint:) Thank you for taking care of us."
"

Most accomodating clinic

"

"We needed the yellow fever shots and was disappointed that the drive was over 3 hours, but the customer service exceeded our expectations so much that we didnt mind the long drive. Thank you so much!"
"

Very good

"

"My nurse was very knowledgeable and very helpful with process"